Social networking, mobile-optimized websites, content marketing — there's a lot you need to consider to get your business seen online. What are the steps that are essential to ranking well in Google and other search engines? And how do you turn that traffic into qualified leads?
Search engine rankings can drive organic traffic to your site, leading to everything from increased visibility to more leads and customers. Search engine optimization (SEO) — the discipline that helps website owners stand out more easily online — is rapidly changing. The good news for entrepreneurs and business owners is that there's plenty you can do without getting too technical.
It's possible to rank well in Google — and maximize SEO lead generation — by taking heed of expert tips. Here's a closer look at ten strategies to help you rank well and capture leads. 
1. Evolve Your Keyword Strategy
Is your business's keyword strategy primarily focused on search volume and difficulty? If yes, you're missing out.
Search Engines, especially Google, are acutely focused on delivering the best possible search experience, so they have been refining their core algorithm to better identify the intent of a search. They are experts at it.
As you determine what keywords are right for your business, you must check the SERP (search engine results page) for that keyword to see what the current ranking content is. If your purposes matches their intent, bingo! Develop content that's better and more authoritative than theirs, and you'll be on your way.
Your keywords should be included in the content and metadata of each page on your site. The most important are your page titles, which show up as the primary text and point to your site from Google's search result pages.
The second place to use keywords is in the textual content of the page, which is traditionally called the body content. Use keywords in an organic way, but make sure they're consistently reflected throughout your website. An SEO agency or web designer can help you make these updates if needed.
A third useful place is the meta description that tells the potential customer what the web page is about. It's what shows up as the description text below the link in Google during a search. For example:

Appealing to the right keywords will allow you to pull in an audience that's qualified to become a viable lead. Go too broad, and you'll get interested traffic that doesn't actually have purchasing intent in their future. Go too specific, and you might miss out on so many users that are searching for information prior to submitting lead information. 
2. Regularly Publish New Content
Regularly publishing new content is an essential component of having a website that ranks well in search engines and entices users to bring them to the point of conversion, or lead. Google looks at freshly posted content as a sign that your business is healthy and active. Users see it as continued value, which compels them to contact you. 
Blogging is one of the easiest ways to achieve this goal. Companies that blog regularly generate 126% more leads from their websites. What's more, companies that blog can get more links back to their website. Links are one of the most important factors in how well you rank.
Once you've set up a blog, focus on publishing high-quality content that speaks directly to your customers, ideally with titles that contain your target keywords. Some easy places to start with generating content ideas include:
How each of your products or services can help customers

Commonly asked questions and answers

How-tos or advice for solving common customer problems

Recommendations or expert suggestions related to your industry

Tips for what to look for in a product or service

Commentary on current events relevant to your business
Your content should bring the user on a journey that eventually converts them into a lead. 
3. Build Links from High-Quality Sources
Links are an important part of the SEO equation and therefore an essential part of SEO lead generation. Search engines assume that when links point to your website from high-quality sources, it's an endorsement of the quality of your business. Yet, business owners don't have to resort to complex link-building schemes.
Start with real-world organizations you're already part of. For example, are you a member of the Better Business Bureau or your local chamber of commerce? Look into potential links from trade organizations and industry associations that you belong to or support. 
Have you been invited to speak at an event or have you partnered with other organizations to sponsor a cause? Often these opportunities represent quick wins for building links back to your site.
If you have Google Alerts set up for your business name, those are great opportunities to get a website link built to a currently unlinked brand mention. 
For the full scoop on link building for SEO and lead generation, head here. 
4. Sign Up for Google My Business — I'm Talking to You, Too, Non-Stores

Google remains the leading search engine in the market today. More people use Google to find information than any other source on the planet. 
As a result, it's in your best interest for your business to be easy to find on Google. Registering for Google My Business is the first step. It helps ensure your website is in Google's index. Your information will also appear on Google Maps when users are searching for local business options.
To get started, visit the Google My Business page. You'll be asked to log in and provide contact information and other details about your business.
Signing up for this free service is the easiest way to ensure your contact information is accurate and up-to-date at all times. When your details change, simply log back into your account and update them.
It's also a major branding play — when users conduct a branded search, having your business's Google My Business profile pop up is an important signal that they're in the right place. 
What's more, Google My Business allows you to track metrics such as discoveries, phone calls, and clicks, to help you attribute leads and conversions to the platform. 
5. Claim Local Listings for Reviews & Display Accurate Contact Information
Customer reviews play a more important role than ever before in helping you attract new business. A survey by Podium found 93% of customers say their buying decisions are influenced by online reviews. 
Review sites ranging from Yelp to TripAdvisor — not to mention that Google My Business profile you just set up — all provide a platform for consumers to share their experiences. These review sites can often rank on the first page of search results for your business.
Each site lets business owners claim their profile. Claiming your profile allows you to update your business description and add pictures, hours of operation, menu details and more. Your company's name, address and phone number (often referred to as NAP data) should be the same across these websites.
Many sites also allow you to respond to reviews and offer coupons to promote your business. Work with an SEO agency experienced in local SEO that can obtain and manage your citations — and better yet, get them indexed.
All this to say — your local presence is imperative to driving lead generation via the ever-frequented local listings, even when an in-person visit isn't the goal. 
6. Promote Customer Reviews
Taking control of your online profiles on review sites is the first step. It's also important to populate those sites with reviews. 
Take the time to ask your clients to leave you a review. It's okay to choose one site to prioritize, such as Yelp, Google, or an industry-specific site.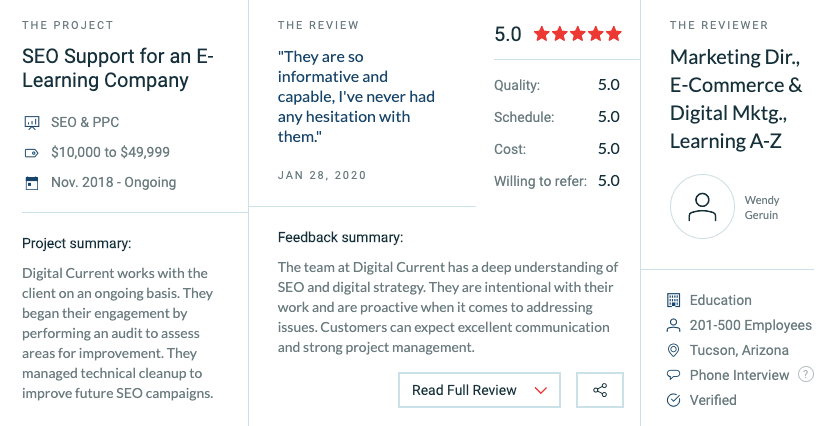 It's also possible to include a request for reviews on receipts or via postcards. Some businesses have had success by asking past customers or reaching out directly through their mailing list. The goal is to get some buzz going on these sites about your company.
This is where you really lean into the "loyalty" and "advocacy" stages of your customers' journey and use that to inform other users within the "consideration" phases who are looking for trust signals. Those trust signals are essential before they submit contact info and become a customer or lead. 
7. Add a Call to Action to Each Web Page
Once the traffic starts arriving at your website thanks to organic search results, will these prospective customers know what to do next? How will you turn them into a lead?
Make it easy for first-time visitors to find information, buy your products or get in touch. Each page on your website — whether it's an information page or an educational blog post — should have a clear call to action (CTA).
A CTA simply states what a person should do next.  It can be a link or an image button. A CTA should be a clear action statement that immediately tells the user what they'll get if they follow your instructions.
So You're Getting Website Visitors from Your SEO Efforts – What Next?
 "I don't understand. We've spent so much time on SEO. Why aren't we getting more leads?"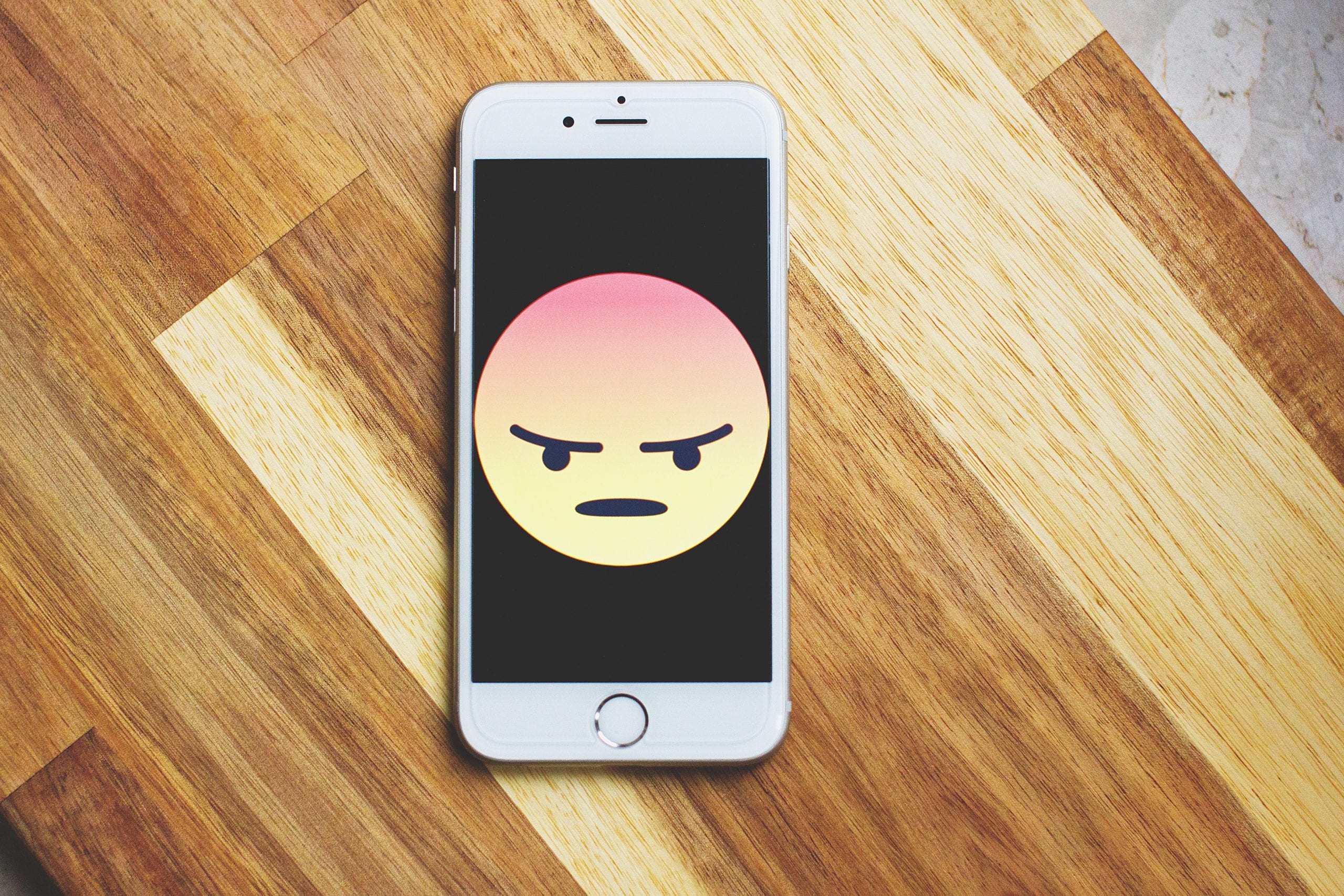 If this sounds familiar – maybe you (or your boss) has asked this or a similar question – you aren't alone. Many marketers misunderstand the role that SEO plays in a broader marketing program. More specifically, they expect that nailing their SEO will result in a flood of leads – and, eventually, sales – and are disappointed when the SEO doesn't accomplish anything more than an increase in web traffic.
Not understanding the relationship between SEO and lead generation will lead to disappointment, but that doesn't mean you should give up.
Much like a map or GPS will only get you to your destination, it also won't help you get your errands done once you arrive.
SEO won't generate leads for you on its own. Expecting your SEO campaign to supply you with workable leads is a lot like expecting your GPS device to handle your grocery shopping for you.
That's why it's incredibly important to hire a conversion rate optimization specialist. 
Ideally, you should employ multiple lead generation techniques to convert visitors into sales on your site, as long as they don't interfere with the usability of your site. 
And, of course, lead generation is only the beginning. How you follow through on the lead, and how well you can meet your customers' needs, will determine the final value of that lead – and the success of your SEO campaign.
So what can you do in the spirit of SEO lead generation to turn users into leads once they're on your site?
8. Include the Right Forms
If you have a website, it probably contains some forms. 
Web forms are the workhorse of website marketing, but use your imagination and look beyond the standard "Contact us" forms that generate your leads. 
For example, place a form at the top of each blog post or article on your site. Label the form as a call to action, such as, "Ask a question about this topic," or, "Learn more about our company."
9. Offer Freebies
Who doesn't want to get something for free? Everyone loves to feel like they've gotten a deal, and marketers have tapped into that desire for decades. 
When you're trying to generate leads online, perhaps nothing works as well as a freebie. Offer a strong incentive, like a free report, ebook, webinar, whitepaper or podcast, for example – and you can generate a steady stream of leads through your website. 
The trick is to offer something of value, so that when you follow up with them later on using the contact information you've captured (and you will follow up!) they're eager and happy to hear from you.
10. Provide an Online Chat Option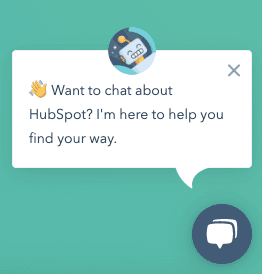 Have you ever been researching a product or service and wished you could ask a question or get more information on a specific issue right away? Your users have the same issue. 
Add an online chat feature to your site, a pop-up that gives visitors an opportunity to chat in real time with a customer service rep who can address inquiries immediately. Connecting is completely optional, but when you do receive an inquiry, you're catching visitors when they're actively researching your products or services. 
Instead of clicking away to another site when they can't find the answers they need, they get an immediate answer and you get a hot lead.
One More Tip: Work With an Expert Agency for SEO Lead Generation
Improperly optimized websites — SEO, content, and CRO we're talking here —  struggle to earn the trust and authority needed to compete in today's online marketplace. Digital Current can show you how to give your potential customers the content they crave so they can give you the ROI you desire.