Some marketers think never-ending blog content is the key to success. But focusing only on pushing out new blog content can take resources away from other types of content that can impact your website's SEO. 
There is no universal answer to what type of content every organization should invest in, which is why it's important to consider what's available. Instead of focusing solely on blogging, explore whether content marketing without a blog better matches your audience, business offerings and goals. 
Blogging isn't for every company, but all organizations should optimize written content for search to drive traffic and convert visitors.
Too often businesses resort to blogging without reviewing the full spectrum of content options to choose from. Blogging does drive results for many businesses, but it's not a universal medium every organization must adopt. There are plenty of tactics to improve SEO without a blog. (That's not to say there isn't tremendous value in a blog. Here's how to start one.)
HubSpot reports blogging is the third-most used form of content marketing, behind video and infographics. Yet according to a 2020 survey by Lucid, 40% of people never read blogs.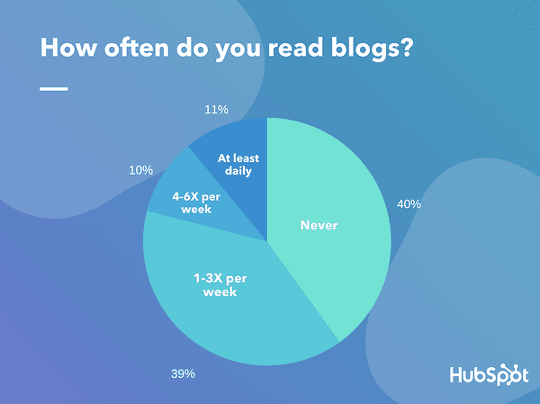 "Many businesses begin a blog with the belief that it will solve their marketing woes," says Rebekah Radice, CMO of Post Planner. "Need more traffic? Check. Gain visibility? Check. Want a legion of loyal readers that hang on your every word? Sure…that's easy. Or at least that's what some believe." Radice adds, "In reality, building a blog and a solid content marketing plan takes time and effort. And whether you have a blog or not, you can still create a content strategy."
To drive links to a website, quality traffic, search rankings and conversions online from search, an organization needs to create a content strategy to plan what types of written content you'll create, where will it live, why you're creating it and how it'll be distributed to the right audience.
According to Radice, these are the three elements to consider when developing an effective content marketing strategy for your company:
Your audience's likes, dislikes, wants and needs

The struggles they face daily (and the solution you provide)

How you'll leverage content platforms (social, email, etc.) to spread your message
Let's discuss four major content options for strategically positioning a site in search with written content not found on your blog.
1. Develop In-Depth Product Pages & Landing Pages
In lieu of a consistently updated content hub like a blog, focus on the creation of in-depth, copy-rich product pages and landing pages throughout your website.
The goal of a product page is to convince a browser to purchase the item if it suits their needs.
The inclusion of copy and any other form of content on a product page should never distract from driving a purchase, but if executed correctly, it can help drive additional visibility to the page in search, while promoting the product.
For example, the typical elements of a product page, like the product image, product description, pricing, specifications, etc., should be featured prominently at the top of the page, while more in-depth written content is provided on the lower half of the page.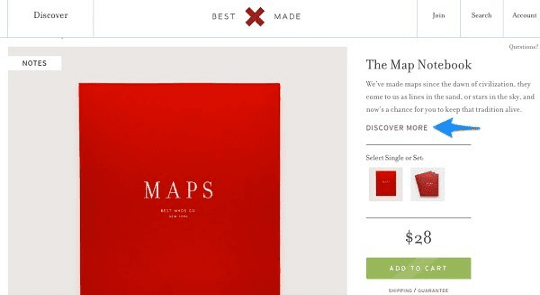 Best Made Company executes this strategy across their product pages by including the most pertinent information about their product at the top of the page, but if a user clicks on the Discover More button or scrolls to the bottom of the page, they can view additional written content and a video related to the product.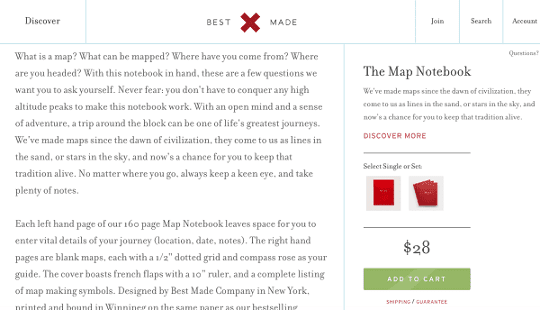 This in-depth information can be additional backstory around the creation of the product, examples of the product in use, articles or videos about different ways the product is beneficial to customers as a solution to their problems and more.
This additional content adds more context to a product page, helping in two ways: 
It allows customers to learn more about the product.

It improves search engines' understanding of the page.
Consider experimenting with different formats of content-driven product pages to see what drives the most amount of search traffic visibility without reducing conversions.
Here are a few types of content-focused product pages to consider:
Pages with in-depth product descriptions of 500 words and up

Pages with in-depth product descriptions paired with multiple optimized images

Pages with in-depth video showcasing products and their various uses

Pages with links to related articles explaining different ways a product solves an issue

Pages with an in-depth video and transcribed text from the video

Pages that incorporate a combination of images, in-depth copy and video
Similar to the approach to product pages, the inclusion of copy or other forms of content on a landing page should not be at the expense of driving visitors to complete the desired conversion.
When creating campaign-specific landing pages or revamping existing pages, integrate additional copy, videos or images that explain the value of filling out the form, downloading a resource or whatever conversion the page is centered on.
For instance, WebDAM promoted a guide on a campaign-driven landing page and included additional text below the fold to convince visitors to convert and provide context for search engines.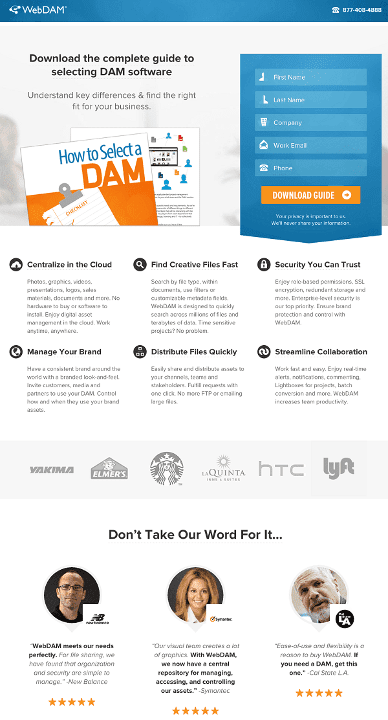 WebDam could have finished creating their landing page above the fold, but instead included copy on the lower section of the page explaining the main benefits covered in the resource. There are also logos from existing customers and client testimonials.
It's important to think creatively when creating landing pages to best strike the balance between adding more valuable written copy to a page without distracting visitors from converting.
Add copy to a landing page to describe one or a few of the following elements:
Match the content to a visitor's previous source for consistency

Add the benefits of filling out the page's signup form

Summarize the contents of a guide, whitepaper, e-book, etc.

Present a description of an included image or video

Feature customer testimonials, endorsements and other forms of social proof
However, be sure you don't stuff as much copy as possible on a landing page or product page, but instead identify opportunities across each type of page where adding copy can provide value to a customer and additional context to the search engines.
2. Produce Content on Third-Party Platforms
Another method of reaching an audience without blog content on your own website is contributing content to third-party platforms with built-in distribution like social media and blogging sites.
While there are many third-party content platforms to consider, some of the most popular ones are:
Facebook

LinkedIn

Twitter

Medium

Tumblr
Creating content for these channels allows an organization to still compete in search with relevant information related to their expertise and product offerings without having to maintain their own blog.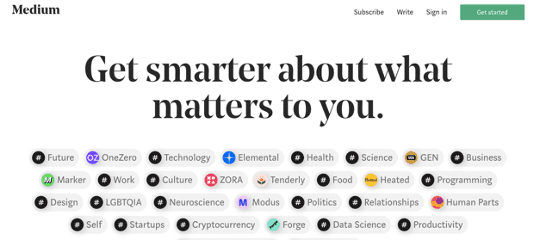 An additional benefit of sharing content on third-party platforms is that they already have a large built-in audience. The audience of a third-party platform increases the likelihood of viewership and interaction with content compared to the visibility content on a company's website might generate.
A downside to sharing content on a third-party website is that links to the content aren't pointing to your website. Readers aren't on your website when they're consuming content, so it may be easier for them to view content from different authors outside of your company.
To address this issue, include relevant links within the content submitted to third-party platforms that point to related resources hosted on your website, like whitepapers, landing pages, etc.
In addition, add a call to action at the end of any content shared on these third-party sites to drive traffic back to your website with a relevant offer.
For example, consider sharing articles on LinkedIn, as the social network offers any professional with a profile the ability to blog from their account and share the content with their network.
"The Publisher platform on LinkedIn gives you an amazing opportunity to create content that can position you as a thought leader or expert, create greater visibility for you and your business, help you to better establish your brand and generate engagement with your target market," says LinkedIn expert Viveka von Rosen, owner of LinkedIntoBusiness.
According to Rosen, even if your organization does have staff with strong writing skills, you can gather and curate content from others like:
Quotes from other influencers and industry leaders

Book reviews of industry titles

Recorded and transcribed interviews with influencers and industry leaders

Recorded and transcribed how-to videos
Sharing content in the form of a Facebook post or tweet on Twitter is significantly different than sharing a full article on Medium, LinkedIn or Tumblr.
To succeed with driving attention in search with short-form content shared on Twitter or Facebook, consistently use these platforms to build an audience. Cater content to the channel and ensure some of the content shared on these channels is evergreen.
When sharing content on Twitter with the goal of ranking in search, generate interaction with the content that lives on a website like a landing page, product page or case study by tweeting about it and encouraging others to tweet about it, as well.
The more genuine engagement a content item gets from Twitter over time, the more likely Google will take those social signals into consideration and rank the resource accordingly.
"Twitter is a great platform for written content," says Madalyn Sklar, Twitter Smarter podcast host and Twitter marketing coach and consultant. "While most people shrug at the thought of getting a quality message out in [a limited amount of] characters, you can actually do this in a series of tweets. It's a great way to build up hype and anticipation."
Using Twitter to impact the ranking of the non-blog content resources on a website requires being consistently active on the network. Alternate the company's tweets by including content from others with your own resources to build an audience over time.
When creating short-form content adapted for Twitter, consider covering one of these four focus areas with your organization's tweets:
Provide straightforward and immediately useful information

Offer analysis on what a particular topic means

Share a brief explanation of how this information applies to the target audience

Occasionally add entertaining tweets to diversify the content being shared
After considering one of the four focus areas for company tweets, get inspiration for the subject of these tweets from content on-site and the relevant content of others. Here are some examples of what to consider tweeting about your written content:
Tweet quotes included in your long-form content

Share interesting facts, figures and statistics pulled from a resource

Integrate video, images and GIFs from your content

Highlight an influencer's participation in a resource

Tweet the section headers of a piece of content

Review the lessons learned from and the benefits of a resource
Lastly, it is less common for a tweet or a Facebook post itself to rank in search than it is to have those posts influence the ranking of your on-site content. If it does happen, it's ideal if that content is evergreen.
Not all of the content shared to Twitter or Facebook needs to be evergreen, but it's recommended that a majority of it is to prevent it from expiring and reducing its value in the long-term. For the best opportunity to rank a company's social content, incorporate both timely, news-related insights with evergreen content as a part of the overall schedule.
3. Invest in PDF-Focused Content
Whitepapers, ebooks and case studies are three different types of content most often delivered in PDF format that are too often overlooked when organizations consider how to increase their search rankings.
PDF-focused content is usually more in-depth than a blog post or an article. It's not meant to be skimmed, but rather read thoroughly by prospects with a deeper interest in a company's offerings.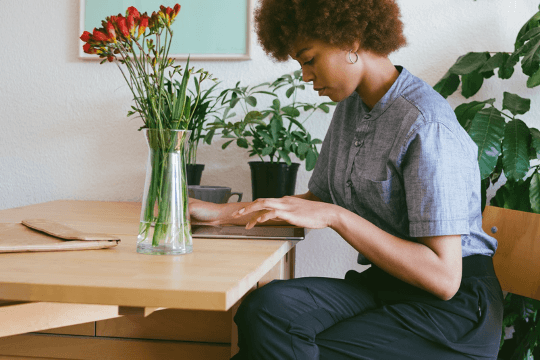 "The difference between just a piece of content and content marketing is the destination," says Michael Brenner, CEO of Marketing Insider Group and one of the leading voices in marketing today. 
The destination or end goal of PDF-focused content is very different than a traditional blog post, as it's addressing customers at a deeper part of the marketing funnel, whereas blog posts are more focused on driving awareness of an idea, company or product at the very top of the funnel.
Brenner argues that not knowing the distinction between different types of written content and how they impact a business shows a lack of commitment in content marketing and will ultimately lead to the failure of a program.
"If a brand does not have a real focus and a true commitment, they shouldn't bother with content marketing," Brenner says.
Optimizing PDF content for search entails ensuring these documents are primarily text-based. PDFs certainly provide an opportunity to add a unique visual presentation of a company's data and expertise, as long as the design of a document is not at the expense of including quality copy.
Include an enthralling title tag and meta description for any PDF document by updating its document properties in whichever PDF creator tool you're using.
With most PDF tools, there is an author field. Here, add the company's name as the author of the content from the document's properties. If the option is available, add keywords and tags if relevant keywords and/or tag fields exist.
Add a keyword-rich file name for the PDF, as it will become part of the document's URL, which needs to be as SEO-friendly as possible.
Don't neglect to link to other content internally within PDFs. Include keywords in the body copy, and optimize all images included with ALT tags.
To ensure PDFs aren't downloaded and then reuploaded to another website with its links removed, write-protect each document. That makes it far more difficult for anyone to edit it.
Consider repurposing some of these PDFs into HTML content, as well, by either taking parts of a document or all of a document to build out a landing page, product page, etc.
When turning PDFs into HTML, avoid any duplicate content issues to ensure these efforts with content are helpful and not hurtful to the company's search profile.
Lastly, ensure the file size for PDF content is reduced to be as small as possible. A document with a large file size will take longer to load, which affects how the search engine crawls the item, not to mention a person's experience with the content.
4. Repurpose Your Existing Content
Finally, get more mileage out of your existing written content by transforming it into new assets. There's a secret every good writer and creative person knows, and it will change the way you market your business:
You don't need a new idea every time you create new content.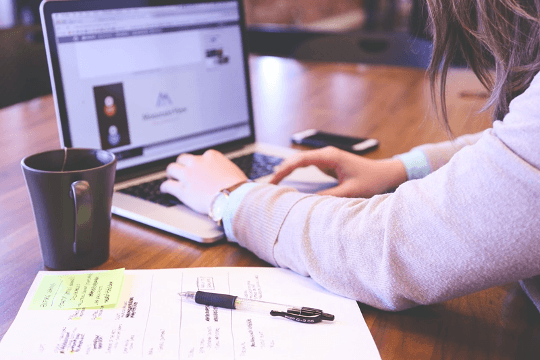 Imagine you work for an accounting firm. A new state tax law goes into effect, so you decide to create a PowerPoint about the new law and do a presentation for your local chamber of commerce. Someone shoots a video of your presentation, and you upload it on YouTube, share it on your social networks and send it to your email subscribers.
You then use the content to create a podcast episode, and you design an infographic showing how the law affects your clients. All of your thinking, writing and discussion about the issue inspires you to write an ebook about the law. You can break down that ebook into smaller blog posts.
With any type of content you produce, think about how you can repurpose it into other forms of written content that gives you SEO a boost. Start with your most popular recent posts or evergreen posts. Here are some ideas:
Turn a slideshow into an ebook.

Turn a video or podcast transcription into a series of quotes for Twitter that link back to the transcription.

Turn a video into a slideshow. Feature an in-depth summary of the slideshow below.

Turn an ebook into a series of Medium posts that link back to the full ebook.

Turn a case study with lots of data into an infographic. Add a written summary or updated take on the case study below the infographic.

Turn a slideshow into an explainer video. Add a full transcription to the video.
After transforming your first existing piece of content into something new, ask yourself if you could express it another way… and then another. This process takes ideas from the past and reworks them into something fresh and new with minimal effort.
Once you've gone through the repurposing process with content you already have, you'll think about new ideas in a different way. Each idea can be used in multiple forms of written content beyond blogs, including video transcriptions, e-books and case studies. If you don't yet have a blog but have other forms of content, you can start a blog by repurposing content into blog posts — or as content on third-party sources, as discussed above. 
Do You Already Market Content Beyond a Blog?
What challenges does your company face when devoting time, effort and resources to creating non-blog content? What types of content tend to drive results for your organization and why? We would love to hear about your experience with content marketing without a blog over on Twitter @DigitalCurrent.
If you have any questions on content strategy/planning or need help getting more traffic to your content, please reach out to Digital Current.