Notice
: Undefined index: button_title in
/var/www/html/digitalcurrent.com/wp-content/themes/digitalcurrent/includes/lib/titan_helper.php
on line
207
It all started a few years ago with an old, uncomfortable mattress.
When a couple of eco-warrior entrepreneurs set out to replace their mattress, they were looking for something that fit their values — natural, organic, and sustainable — and their budget. 
But all they found was misrepresentations and hefty price tags. 
So, they started their own Certified B-Corp, founded on the principle of sustainability with products designed and manufactured in the US in a nearly zero-waste, renewably powered factory. 
They developed products using organic cotton and wool from their own spoiled herd — selling primarily through e-commerce with a few showroom locations. They backed their merchandise with the best guarantees and warranties in the industry showing how confident they were in their products and practices. 
And they have every right to be. Nearly everyone who trials their mattress, bedding, yoga pillows and more, becomes a major advocate. 
They got the word out with digital ads, billboards, TV commercials, radio spots and word of mouth. Over three years, they saw steady growth— albeit slower than they'd like. 
Then, one day, about a year ago, they knocked on our (virtual) door 
We knew instantly that their products, mission and drive put them ahead of the pack in so many ways. But they needed help getting the brand in front of the right people at the right time – especially during the later stages of the buyer's journey. 
We were more than happy to help. 
Determining where we needed to focus to drive results
It's estimated that 70 – 80% of searchers ignore paid results and skip straight to organic
While their marketing strategy was robust and effective — all of which did help them rank organically for branded keywords — there was one major gap: actively pursuing organic rankings for product and category related keywords.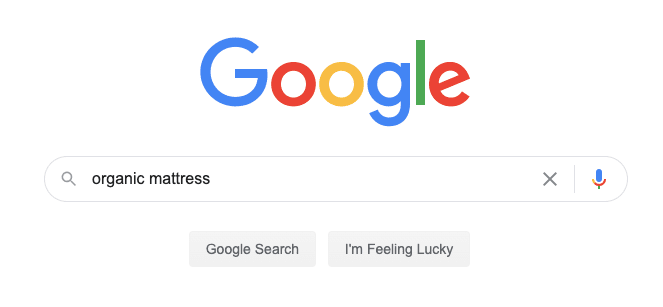 81% of retail shoppers research online before buying according to GE Capital Retail Bank
By earning top spots on the SERPs (search engine results pages) for these queries, they'd be able to get in front of people actively shopping for the types of eco-friendly products they sell who have not yet heard of the brand.
If you're ready to see their ecommerce SEO results, let's jump to it! If you want to know what we did, keep reading.
It's estimated that 75% of searchers never click past the first page of results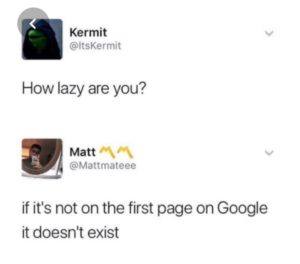 This probably rings true from your own experience — we inherently trust the top organic results because we know search engines are trying to put the best possible results there. We continue to come back to that search engine time and time again, so — quite frankly — they can make money off of us. 
This is a good thing for searchers, brands and SEOs alike. It means that websites providing the best customer experience and information are reaping the benefits of top spots. If your brand provides something better, different, that truly solves a problem — you have an opportunity to rank well if you employ the right SEO strategy. 
Building a custom SEO strategy
But how do you show your customers and search engines alike that you deserve those spots — especially when it's an algorithm that's evaluating your site making the determination, not a human trying out every mattress?
Search algorithms today are highly focused on establishing the ease of use of your site and the authority it has on the given topic. 
They do this by sending little bots called spiders crawling the entire internet. If the spiders hit a roadblock, like broken or block code, slow speeds or confusing structuring, for example, they devalue your site. 
To determine your site's value and expertise on the given topic, the spiders "read" all of the content on your site and with AI, assess the meaning and relationship of the information. Additionally, Google evaluates how many and of what quality are the links from other websites pointing back to yours (backlinks). 
Why do they care about backlinks? Think of each backlink as a vote in an eighth-grade class president election. 
The more eighth-grade students that vote for you, the more likely you are to win the election. But if you cheat and stuff the box with fake votes or get the seventh graders to cast votes and the principal finds out, you'll get booted from the election — just like you would from Google. 
We used our proven process that takes all of this into account to build out a custom SEO strategy for this brand. Including with:  
Our technical audit findings
The Digital Current technical audit examines over 180 different potential issues with the "health" of a site. Using tools like SEMRush, aHrefs and manual research. We then prioritize them by rating the level of impact they'll have if fixed and the level of effort it will take to do so. We do this audit typically on a quarterly or bi-annual basis to ensure changes were made properly and that we're catching anything new — as we did with this client. 
For the first audit with this brand, we found 43 issues, 13 of which were high impact. While we are able to include implementation in retainers, this client had an in house web dev team to take it on all the technical fixes. 
We delivered them with a presentation explaining each issue, its implication and the details on the solve, as well as a Google Sheet distilled version we could both use to track implementation (partially pictured below).

Their dev team started implementing while we continued our work. 
The need for speed: auditing for opportunity 
It's no surprise that search engines value speed when you think of your own experience. How frustrating do you find it when a page takes a long time to load? How often do you completely abandon the site you were aiming to open?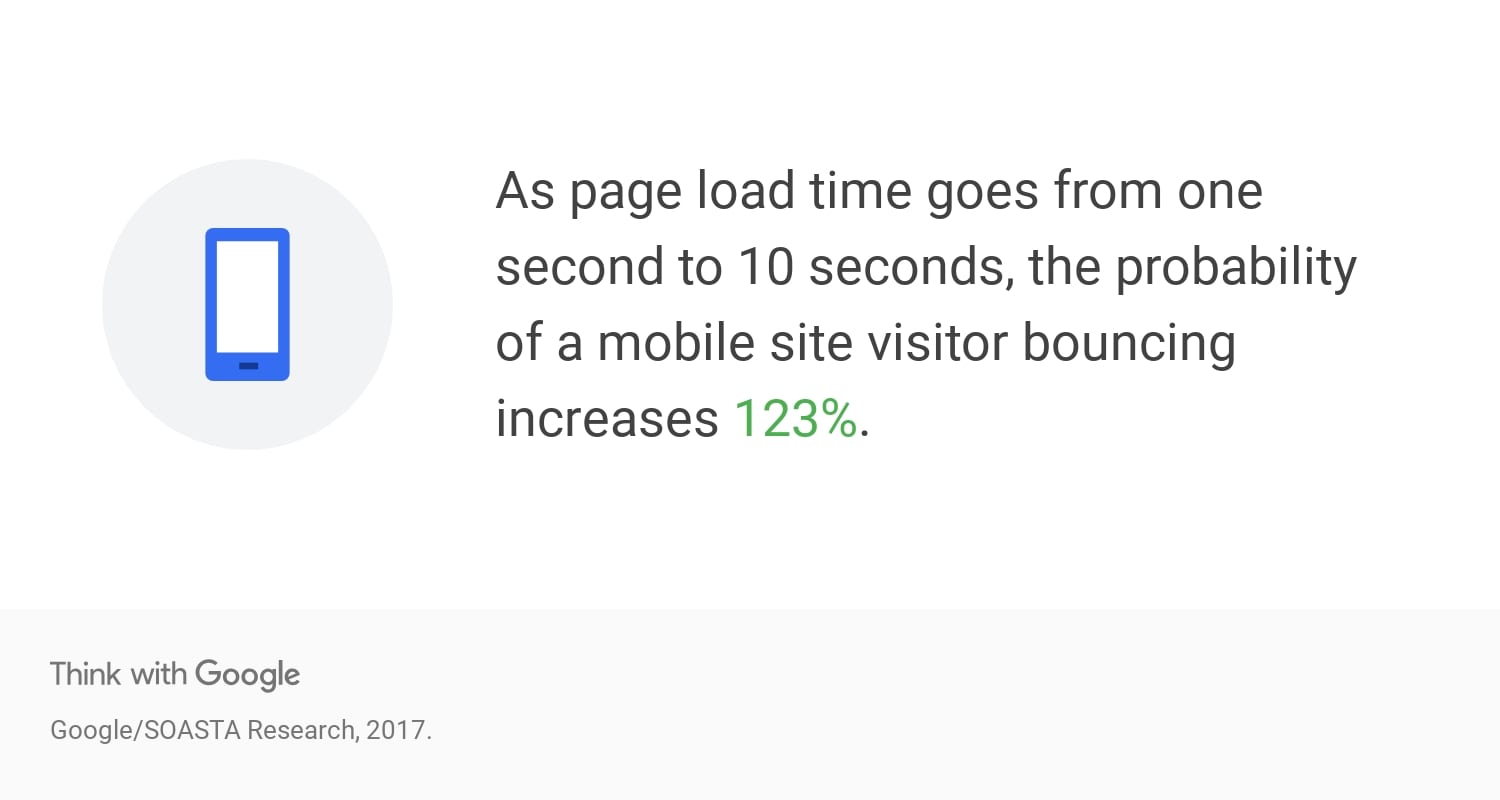 Speed was certainly an issue when it came to this client's site. While their top competitors were scoring 81/100 and 54/100 on their speed tests, our client came to us at a score of 4. 
As we dove deeper into the root cause looking at the home page, product pages and blog — one thing stuck out like a sore thumb: their images. 
While images are incredibly important for UI and visual appeal, traditional formats and uncompressed photos require a lot of computing. Luckily, today there are next-gen formats like JPEG 2000, JPEG XR, and WebP that solve this problem with superior compression and quality. 
Checking for quality votes: backlink audit and disavow
As we mentioned above, getting quality backlinks are just as — if not more so — important as the quantity of backlinks. 
All too often we see brands who are doing everything "right" in search, but they're not getting the rankings they want. When we dive in, we find they're still being held back by toxic links either built intentionally through black hat methods or an intentional attack from a competitor. 
Fortunately, the young brand hadn't experienced either, but it's also natural to get some low-quality backlinks pointing to your site over time, and they had some. 
Leveraging a plethora of tools and manual research, our SEO evaluated each linking domain and either assigned it as a "keep" or a "remove" — specifying the reason. 
For this organization, we determine 7 of the 114 toxic and potentially toxic domains were actually having a negative effect on the website's authority and rankings. While we'd typically split the file and wait for results, with just 7, we were able to upload the disavow all at once and see quick, lasting results (more on that soon)! 
Keyword research and mapping: going beyond search volume and difficulty 
If you've been reading along, you'll have likely noticed we bring up "keywords" a few times. This is for a very good reason: search — whether through typing or voice — is word-based. As search engine algorithms get more and more sophisticated, they're able to understand what the searcher is truly looking for when they type or speak a query. 
That's why keyword research of yesteryear — where SEOs identified keywords to chase based on the number of searches a month (search volume) and difficulty (a measure of the competition for ranking that word) — is no longer enough. We need to know what kind of content is ranking today — and how we can do it better.
But manually assessing every single relevant keyword for intent is a tall order — especially when you know we identified 25,197 keywords for this brand! 
So, based on their budget and keyword landscape, we narrowed the field down to 187 based on the traditional metrics, then evaluated the intent by looking at the top SERP results. 
Search results for keywords like "best organic mattresses" were dominated by highly authoritative news sources with lists ranking products. We knew instantly that putting in the effort to ranking top 5 for this term wouldn't deliver great return because the competition was stiff and our desire to rank for a product page didn't match what searchers were looking for. 
Instead, we realized there was great opportunity in reaching out and securing spots on these lists (more to come on that). 
As for keywords, we narrowed our initial focus on 23 words in the consideration and action stages of the buyer's journey. We mapped those keywords to the pages on the site that best suited the results of that search — in some cases deciding that even though a page was already ranking for a term at the position, say 28, another different page would have a better chance of ranking top 5 if we were to optimize for it. 
Getting the rankings: page optimizations, content development, internal linking strategy and link building 
With 23 keywords, most targeting unique pages and a limited budget, we once again had to prioritize. We looked to profit margins and conversion rates for the product and pages the keywords corresponded to, and started with those that would generate the most ROI when we would drive more traffic to it. 
Some pages needed simple optimizations — adding a phrase to the H1, reworking the title, improving the schema. Others needed more extensive rewrites or to be created altogether. 
As we wrote, we used the insights from the SERP reviews to recommend content that matched intent and was more customer-centric, robust and a better experience than the current champion content. 
We reinforced the value of the selected page with a robust internal linking strategy. Just as backlinks are like casting "votes" for the quality of content, linking from one page of your website to another shows search engines the hierarchy of your information and sends signals one which to prioritize for keyword rankings. 
And we didn't stop there. Those outside votes are critical for increasing keyword rankings and the overall authority of the site. And as a newer site, they needed trust signals desperately. 
Many industry experts estimate backlinks account for up to 70% of Google's algorithm's ranking factors. 
Not any old links will do, however. When we founded the backlinking industry 17 years ago as TextLinkBrokers, that was not the case. Links were bought and sold on sites dedicated to that purpose. But Google got smarter — they didn't want SEOs to be able to manipulate their algorithm. They wanted to genuinely provide the best results. 
As TLB, we quickly knew the direction they were heading and moved into value-based placements. When penguin hit in 2012 — a Google algorithm update that penalized sites using paid link building techniques — all of our clients maintained and/or gained SERP rankings, while others were wiped from Google's results for months or years to come. 
Today, we continue to build links for our clients using value-based placements — at that's exactly what we did for this brand, targeting the 23 priority keywords and pages. 
This not only exponentially increased the value the search engines saw in these updated and new pages, but it also helped to get the changes indexed and ranking more quickly, so we saw great early and compounding results. 
Buyers journey audit: uncovering more opportunities 
When it comes to getting more business out of your ecommerce website, there are two triggers to pull: getting more traffic and/or converting more of the traffic you have. We like to do both for maximum ROI. 
As our efforts started gaining traction and delivering significantly more traffic, we expanded our efforts to more keywords and turned some of our attention to conversion rate optimization (CRO). 
We looked at how users were engaging with and moving through the site to understand where they were dropping off. Then, we dug deeper into the "why." 
There are so many changes and tests you can run with CRO — in fact, it's a limitless exercise that you should be continuously engaging with. 
For this brand, we found initial opportunities to improve CTAs throughout the site, adding more trust signals and customer reviews, while identifying and leveraging the best-converting pages. We also recommended content optimizations to focus the user on value, features, and benefits. 
Most importantly, we found huge drop off where people got lost in the weeds with jargon on the non-product pages. With some minor tweaks, we saw a huge jump in retention and engagement. 
Competitive and keyword gap analysis: land more SERPs 
Continuing our quest to get this best-in-class brand in front of the most people possible, we also conducted several competitive checks. 
These serve a dual purpose: to ensure no one is suddenly on pace to unrightfully unseat us and to find keywords that we should be ranking for — most were a part of that original list of 25,197, but the competitive angle is another effective way to develop our next priorities for optimizations, content development, internal linking and backlink building. 
One year later, we're celebrating major success together
As the brand continues to grow through its other channels as well, we are so grateful to be a huge part of this brand's ongoing organic ecommerce success and to help spread their mission of sustainability through our work.  
Early results 
Make no mistake, SEO is a long-term strategy, but at Digital Current, we work extremely hard to ensure we see positive movement as early as possible so our clients are able to see a return as soon as three months. 
This relationship was no exception. In our first quarter working together, we saw positive movement in traffic and engagement metrics: 
Quarter Over Quarter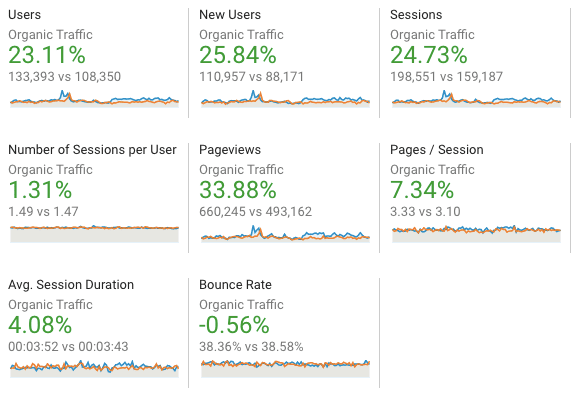 Compounding results: 12 months of ecommerce SEO
As we approach the one-year mark of partnering with this incredible company, the results only continue to get stronger. Keyword rankings and authority measurements are all up, but more importantly, is traffic, conversion rate and revenue!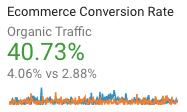 And, if the title of this case study wasn't any indication, to-date our efforts have yielded 53,571.82% in organic ROI! 
This brand is changing the world for the better, and we're so grateful to be a part of that. 
Next up: you!
Are you ready to grow your business exponentially? Great! We're here to help!
*Disclosure: We only feature services and products we honestly believe in and use ourselves. This post may contain affiliate links from which we earn a small commission, at no additional cost to you.