Your Cyber Monday and Black Friday campaign concept is well underway: you have a killer promotion locked in, your print and digital ads with your designer, your marketing emails in legal review and the web mockups in your inbox. 
You are ready to capitalize on the biggest spending season of the year, which will be a big one according to eMarketer — they're predicting e-commerce spend to increase by 13.9% to $156.69 billion.
But have you thought about how to decrease your CACs with organic SEO, or how to increase the percentage of people who actually purchase during your sales? 
Search engine optimization (SEO) and conversion rate optimization (CRO) are must-dos ahead of the holiday rush — if you don't, you could miss out on millions. 
But you might be wondering what that looks like, and if there's still time.
Isn't SEO a long-term play?
Do I really want to be making CRO and SEO changes on my site during the busiest time of the year? 
Short answer: there are some no-brainer, "just fix it" optimizations you need to identify and take action on now in order to lift conversion rates and boost sales.
Should I really do SEO and CRO for the holiday season?
SEO as a medium is typically focused on driving long-term success. However there is an opportunity to adjust your SEO strategy and generate results in the short term by customizing campaigns based on seasonal events like winter holidays and other relevant occasions.
CRO, on the other hand, is all about quick wins. And there's no better time to be testing and observing site traffic then when it's at its peak.
Think about it this way — if you make one tweak on your site and it boosts your conversion rate by 1%, can you really afford not to?
Here's a simple example of a CRO A/B test for eComm. Let's imagine you're A/B testing product images on your most-trafficked shop pages. Here's how it works: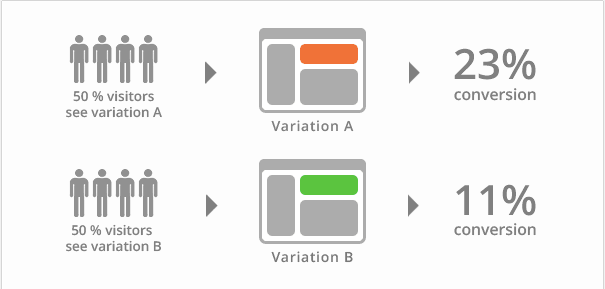 We'd all love to have a page that converts at 23%. In this case, the result of the test is a whopping 12% lift in conversion rate.
Think about it: What's a 12% increase in conversions on your most-trafficked product pages worth?
Too much to ignore.
Timing Seasonal SEO Campaigns
SEO as a marketing medium typically takes months to produce results. Timing is one of the biggest concerns to consider when investing in a seasonal campaign since failing to prepare ahead of time can result in missing the height of the holiday shopping period.
According to Julien Berard, Senior SEO Strategist at Gaming giant Electronic Arts, the main benefit of adapting to seasonality is being in the "right place at the right time to catch the largest possible audience when they are ready to purchase." And really, that's good advice for any time of the year, too — it's all about understanding your audience and their buying journey.
However, most marketers disagree on exactly when to start optimizing SEO for a seasonal event. Recommendations vary from two to six months ahead of time.
In most cases, the "45 day rule" is still held in high regard throughout the SEO world. The concept gained ground back in 2015, but the 45 day rule has held true in the following years — so listen up:
If an organization wants to participate in over 90 percent of the search traffic around a given holiday, content specific to a seasonal event needs to be published at least 45 days prior.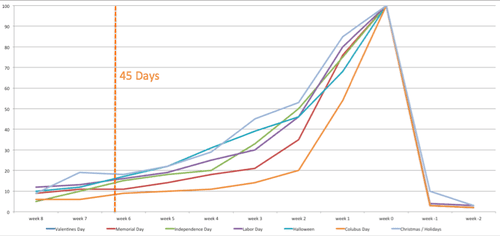 If your big SEO focus comes through the lens of content marketing, then you may need a longer lead time. Search Engine Journal recommends six to eight months of lead time to really impact holiday traffic when utilizing content. That makes sense — you need to audit your existing content, reuse old stuff, plan out a new editorial calendar and then actually produce the blogs. 
But every SEO strategy is different. If you're thinking about holiday seasonality and how it affects your SEO strategy now, you're in better shape than if you put it off for another month. What's essential now is getting to work on implementing your holiday SEO strategy ASAP!
To best align the timing of a holiday-specific SEO campaigns, coordinate them with what's happening across other marketing channels ahead of a seasonal event.
The more coordinated each marketing channel is online and offline, the better the chance your holiday specific content will gain traction in search at the right time.
How to Cater SEO to Holiday Seasonality
The first step to success with adapting SEO strategy for holidays, vacation season or another occasion is identifying which targets to focus on. Start by mapping out the holiday shopping seasons. 
Once it is clear which seasonal events are of relevance to your company, refer to your analytics to analyze year-over-year activity to see which holidays and events drove the most sales, conversions and engagement previously. 
Then, compare industry data with your company's more specific analytics. Any overlap shows an opportunity to grow your sales by capitalizing on a hungry audience.
Refer to Google Trends to see what search patterns emerge during specific holidays to begin building an optimization road map for that campaign.
See the chart below, for instance. Searches for "Christmas gifts" rises steadily from about November through the actual holiday, while "Black Friday sales" searches increase and peak much sooner. Consider, then, the value of going after each of these: do you typically make more money on Black Friday sales, or throughout the Christmas season in general? Asking questions like these help you prioritize your holiday SEO planning. 
The third step is building out a list of keywords the organization will focus on based on what's being searched for during a specific event like Christmas.
One of the goals of this process is to find keywords related to both the company's offerings and the specific holiday that illustrate a user's intent to purchase. For example, an apparel company might plan to optimize for "best t-shirts of 2020" or "top-rated clothes of 2020."
Next, begin optimizing pages across a website with content focused around this list of relevant keywords for the holiday season. This will entail creating new pages on a website, but also optimizing existing pages with refreshed information, paragraph headers, title tags, updated timestamps and more. Focusing optimization on existing pages is the most effective way to scale your seasonal SEO efforts.
Our tip? Build out landing pages that appeal to specific holiday shopping audiences, then customize them every year to point to products you're selling currently. 
Next year, you just need to update your holiday messaging and product links and you're all set. With permanent holiday landing pages optimized for holiday keywords, your content gains SEO traction and authority year-round, and doesn't have to start from square one every year. Plus, you have the chance to continuously test and optimize them for maximum conversions. 
Lastly, after updating content across a website to resonate during a particular holiday, monitor results to ensure pages are performing as planned or if they require further optimization.
The "Just Fix It" Changes You Have to Make During Your Busiest Season
For most e-commerce companies, the stakes are incredibly high at the end of the year — that's when you make a majority of your revenue. So doing anything to your site from November – December sounds… well risky. 
You know what's more risky? Missing out on a 16% lift in conversion rate.
. . . Which is exactly what we did by removing one simple graphic that was leading to "dead clicks" and customer frustration on a client's product page. 
That's what conversion rate optimization (CRO) is all about: finding the little things that make a world of difference. 
So, how can you capitalize on the treasure trove that is CRO while mitigating the risks associated with site changes during the busy season?
If you're creating a new page for the season, have it vetted by a CRO pro before it goes live.

Run tests with a larger control group and a smaller test group. The actual size of these will depend on your traffic volume because you'll want to establish statistical significance quickly. If you do strike gold, you can push the winner live sooner rather than later and capitalize on that boost.

Backup the site before implementing any of the test results, so you can revert if you make a mistake in the code. Or, if you're really hesitant to touch the code, rely on the testing tools to show the winning page version throughout the season and make the permanent change in January.
Hire a CRO agency to conduct a CRO audit NOW before traffic starts peaking so you can get any "just fix it" changes (recommendations based on best practices and years of industry experience) implemented. 
Measuring Short-Term Success
The most important part of running a seasonal campaign is measuring progress as it is happening, since there is typically only a short window of time to drive results.
Year-over-year organic traffic to seasonal pages provides the clearest indication of success.
When optimizing for the winter holidays, we typically look at organic visitors, conversion rates, average order value, time on page and bounce rates from August through December —and then compare that time range to the previous three years.
Then, identify which pages need to be further optimized in order to better perform during this highly competitive shopping season.
Remember: your competition will keep coming for you, so stay on your toes!
It doesn't do any good to rank number one 10 months of the year if you get outranked during the two months that drive 90% of the traffic. There's often a huge flux in rankings right around the peak season as all the sites gear up their SEO efforts.
Revenue Is On the Line, So Prioritize SEO & CRO
Now's the time to make those "Just Fix It" SEO and CRO fixes—the low-hanging fruit that will give your ecomm site an immediate boost this holiday.
By custom-tailoring your SEO strategy to include seasonal campaigns and supporting that with conversion rate optimization, you'll get ahead of your competitors.
How does your organization promote your site during the holiday seasons? Has your organization seen success with building organic rankings around key holidays?
What about this year — are you SEO and CRO-ready for the holidays? Let's start getting you prepared for this season.