Creating awesome content ideas doesn't have to be hard. In fact, once you know what you're trying to say and whom you want to say it to, coming up with content ideas is the easy part — especially if you use the tools that are right at your fingertips.
From topic and title generators to news aggregators, there are plenty of places to find blog ideas that will breathe life into your content. Whether you're trying to find a new angle on an idea that's been covered to death, or you're at a loss for a clever title that all but guarantees readers will click on your article, try these tools and content writing tips for inspiration without the frustration.
Content Title and Idea Generators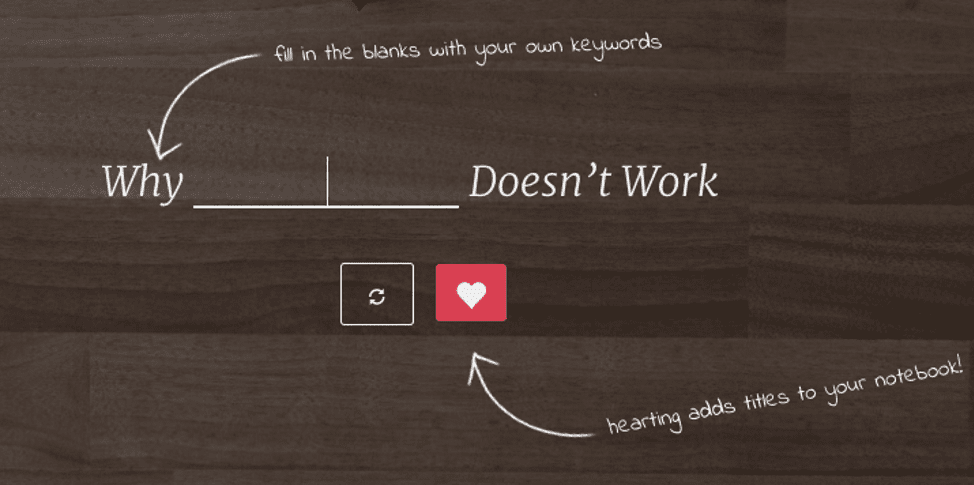 (Source: BlogAbout)
When you're stumped for content ideas, a title or idea generator can be your best friend. Simply enter your keywords or topic into the box, hit Enter and — presto! — you have a list of ideas to choose from.
Sometimes, the ideas are usable as is. But most of the time, they need some tweaking.
Try looking at the suggested title from the opposite perspective or from a different point of view. For example, if the suggestion is "5 Reasons You Should Herd Your Cats," you might write "5 Reasons Herding Cats Is a Bad Idea" instead. Approach title generators as a means to jumpstart your own creativity.
There are several idea generators to choose from, so try using a few different ones to see which works best for you.
News and Curation Sites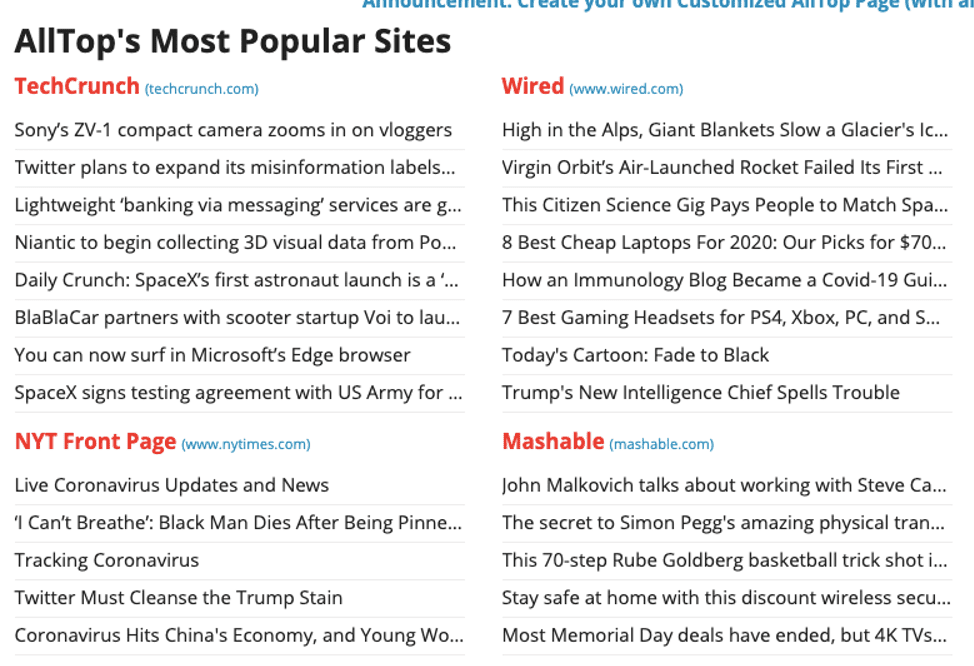 (Source: Alltop)
Title and idea generators will help you generate content ideas in seconds, but for content that truly resonates with your audience, it helps to know what they're talking about and what they're saying.
You can find out what's most buzz-worthy by looking to sites that aggregate other content. The content that's trending or getting attention on other sites shows you what people care about and what they may want to know more about.
Turn to news aggregators to determine what your audience sees as the most important issues in your industry — and to see what's getting buzz, either positive or negative.
Don't just report the news, though. Offer interpretation and insight to help your audience make sense of what's happening around them.
To do that, check out some of these sites that offer relevant, timely content writing tips.
Alltop.

Want to see the top stories from across the web? Visit this site, which links to the most popular content on some of the biggest online news sources, including CNN.com, The New York Times, Mashable, Reuters and TechCrunch. Want to customize your content? Add your own favorite sites, or choose from custom-curated lists from leaders in a variety of industries.

LinkedIn.

LinkedIn collects the trending posts contributed by LinkedIn users and displays them on each user's homepage feed on the right side in "Today's News & Views." The stories are curated by LinkedIn editors and are updated frequently throughout the day.

BuzzSumo.

Want to see what topics related to your keywords are trending? Try entering your terms into BuzzSumo's search engine. You'll get a list of recent blog posts, news articles and other content ranked in terms of how often it's been shared on social media.

Google Trends.

You can find just about anything you want to know about trending searches using Google Trends. From which terms are generating buzz where, to which terms are trending in response to news and events, you can find it here. Subscribe to

Google Alerts

, so when the topics you're interested in are trending, you'll be among the first to know.

Industry/trade associations.

Almost every industry has an association to provide networking, advocacy and education. Most keep members updated on news and trends through their content, which can inspire your own blog ideas.

Quora.

One of the best ways to give your audience what they want is to answer their questions. Quora will tell you exactly what those questions are. Sign up for a free account, choose the categories you want to learn more about, and you'll see questions and answers from other users. As a member, you can

answer questions directly, or use others' queries to spur ideas for content

.

Yahoo! Answers.

Yahoo! Answers isn't as developed as Quora is, but it works in a similar way. An added advantage to getting ideas from Q&A and community sites is that once you've written your article, you can promote it by addressing the questions on the Q&A sites and concluding with a link to the article on your blog for people who want a more comprehensive answer.

Reddit.

A quick visit to a relevant category (called a subreddit) on Reddit will usually yield a series of questions people want answers to. You can take things to the next level and go to the "Hot" tab showing the most popular articles in the subreddit of your choice. You can then let these popular articles inspire ideas for your own blog posts.
Social Listening
Your mother might have told you that eavesdropping is rude, but when it comes to social media, all bets are off.
Listening to what others are saying online — about you, about others, about your industry, about anything, really — is one of the best sources of content inspiration there is.
In the simplest terms, social listening is market research. Using defined search terms — your company name, keywords, industry terminology — you can determine what people are saying (and where) to gain insights.
Some companies use social listening for customer service, staying alert to customer complaints on Twitter or Facebook to address issues proactively. Other companies use it to measure brand performance and engagement.
In terms of content, social listening is the perfect way to determine what your audience is talking about. What questions do they have? What do they love — and hate? What are they sharing?
By watching what your audience is saying on social media, you can identify the gaps in their experience and fill them with your content.
The good news is that you have a wide array of tools at your fingertips to help you listen in on social conversations.
Business Feedback & Industry Experts
Your own customers and employees are vast sources of content ideas. Customers ask questions, provide praise and complaints, and share feedback. Your customer-facing employees, like your customer service team and sales team, probably have a wealth of topics they could provide based on what they're hearing from customers. 
When you're stuck, look within. Talk to your staff and pay attention to the discussions on your own channels, including blog comments and social media posts. 
Competitor analysis and breaking industry developments can also give you blog inspiration. You can feature interviews and hot takes on trending topics using industry experts and your own staff as sources.
The following are ways to glean ideas directly from customers and employees and from within your industry so you can address important topics.
Surveys.

Even if you have a defined customer persona and plenty of market research, asking your audience what they want guarantees your content is on the right track. Use a free survey tool to gauge interest and ask for ideas, request feedback in the comments or even institute a regular Q&A feature where you answer customer questions directly. Try getting your sales team involved. Ask them which questions customers and prospects ask the most. Then tailor your content to fill the gaps.

Industry news.

Becoming a thought leader in your industry requires sharing a unique perspective on the issues and news that affect your business. Look for opportunities where you can share insight. For example, if you sell sporting goods, share your thoughts on news stories involving athletes, or explain rule changes, or offer ideas for improving performance.

Resources your team uses.

Most leaders are on a continuous quest for the best books, apps, resources and services to help them grow their business. Why not share your finds with your audience? Enlist your team to write reviews on the tools they're using that customers would find helpful, too. 

Case studies.

When things go very right – or horribly wrong – for a company, others want to know how they did it. Write articles or case studies offering your expert insight into what others are doing right, or analysis of what they're doing wrong and how they can improve. One caveat: badmouthing other enterprises, especially the competition, reflects poorly on you. When analyzing a failure or mistake, be sure to focus on the facts and present your analysis as a constructive criticism.

Your own products and/or services.

When you're creating content, consider your company's core values, how customers use your products and services, and develop related content. Another way you can employ this strategy is to develop simple how-tos for using your products or field guides and troubleshooting tips related to a trending topic. 

Blog comments.

You can get blog post ideas by paying attention to comments made on blog posts in your industry. These could be comments made on your own blog or comments made on other popular blogs. Start by taking note of the blogs that get the most comments in your niche. Dedicate time to going through those comments. Pay close attention to common questions being asked in the comment section. These include questions that are asked directly and indirectly.

Interview insights.

Interviews, including video interviews, are easy and effective forms of content. An industry leader sharing their thoughts on a particular topic can draw a substantial audience, especially if the interviewee is someone your audience wouldn't otherwise meet or have access to. An idea: develop a standard list of 5, 10 or 20 questions to ask every subject. Publish their answers verbatim. Readers will look forward to seeing the different answers and gaining some insight from thought leaders. Another approach is to post a round-up. Ask the same question to 5 or 10 thought leaders, and share their responses. It's quick and easy. Your audience will appreciate the diverse perspectives.

Other related content.

Use content curation to collect the best content on a topic and share links to it with insight as to why you're sharing. Don't forget to curate your own content, as well. A weekend wrap-up post of the week's most resonant content or updates of older posts give your existing content a second life.
Combine Various Content Idea Strategies
The most successful content strategies use a combination of methods to develop topics that speak to the intended audiences.
Set aside some time to explore these tools and brainstorm ideas for several weeks' worth of content. The most successful marketers develop content calendars that map out a strategy for posting regular content for several weeks or months at a time. You can always add in late-breaking news or a one-off post when brilliance strikes.
Even if you think your topic is too "boring" to inspire great content, or you feel like you're out of fresh ideas, there's always something new to write about. With all of these tools, you might even find you have more content ideas than you could ever possibly use — an enviable position for any marketer.
Need help creating content to boost your search marketing performance?
Content that resonates at the right points in the sales funnel is key to a successful search marketing campaign. Digital Current's team has more than a decade of experience making search marketing campaigns perform at the maximum, giving you more performance and more conversions for your sales funnel.