Consider YouTube SEO if you're looking for additional avenues for boosting your company's digital marketing efforts.
Most businesses focus on creating written content to compete in search, but an investment in developing YouTube videos is an additional opportunity to rank and drive traffic with less competition.
According to eMarketer, only 9 percent of small businesses are using YouTube to market their offerings, while at the same time, brands across major industries aren't publishing many videos either, especially in energy, transportation, luxury, and other sectors.
[su_shadow style="bottom"]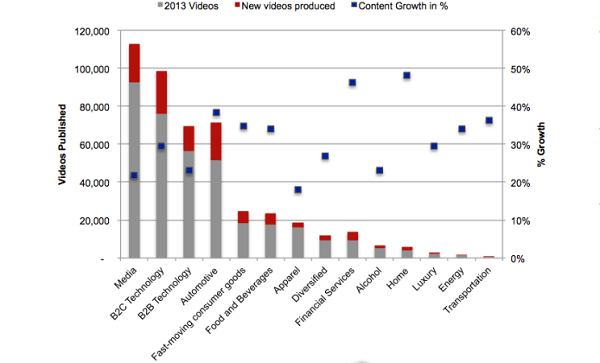 [/su_shadow]
Still, many organizations are active on YouTube, 300 hours of video are uploaded to YouTube every minute, but it's more difficult to produce a video as compared to an article or a landing page.
Since YouTube videos often take more time and require additional resources than written content, fewer businesses are willing to make the investment. For that reason, creating YouTube videos is an opportunity for your organization to make a commitment to stand out in your niche.
[su_shadow style="bottom"]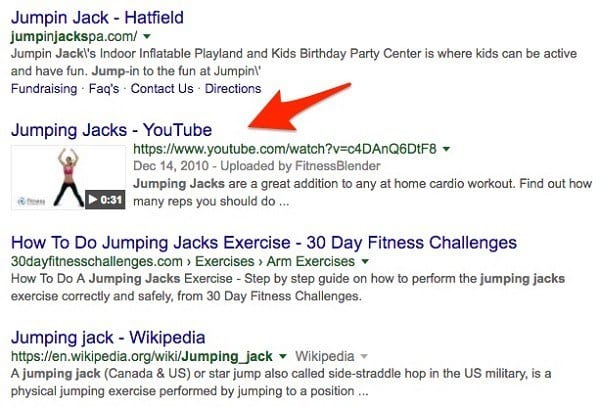 [/su_shadow]
Ranking with YouTube videos on Google can help your enterprise stand out in the search listings, not to mention your video content will also rank in YouTube search. Interest in YouTube from consumers is also on the rise as searches of how-to videos are growing 70 percent year over year.
Follow this suggested strategy to incorporate YouTube videos into your SEO approach to increase your company's visibility, improve rankings, and generate relevant traffic.
Part I: Research, Planning, & Production
1. Conduct a Competitive Analysis
Start to brainstorm what types of subjects and keywords you're going to focus on with your videos. An ideal video for any company is one that educates, entertains, and builds trust with your customer base without being overly promotional or salesy.
Write down a few ideas and the keywords that a person would search to find your videos. This process doesn't need to be overly formalized as it is part of your initial research phase of developing the right videos.
With these topics in mind, review what videos already exist on the subjects you'd like to cover by searching on both Google and YouTube. The point of this analysis is to reverse engineer why videos from competitors are ranking for certain keyword searches.
This analysis will inform how you'll produce and optimize videos of even higher quality to compete with them, rank, and drive qualified traffic.
Take note of the following elements in videos from competitors to understand how to create more compelling video content on behalf of your business:
How many YouTube videos, if any, rank for your keyword choices on the first page of Google's search listings?
Which YouTube videos rank on the first page of YouTube's search listings?
What companies are producing the most highly ranked videos for your topic choices?
The title and description choices used with each competitor's video.
The number of comments, views, and likes and dislikes each video receives.
The amount of subscribers a video's YouTube channel has.
Thumbnail choices on top ranking videos for your keywords.
Annotations and linking used throughout each video.
Length of each highly ranked video by minutes.
Video quality including lighting, audio, framing, and stability.
The depth a video goes into on a particular subject, whether it's for beginners, intermediate, or advanced viewers.
Type of video: Q&A, time-lapse, interview, presentation, walkthroughs, how-to tutorials, product reviews, commentaries, educational shorts, etc.
2. Start With Keyword Research
With an understanding of how your competitors are performing in search with video, develop a defined list of keywords to direct your YouTube SEO strategy.
Create a list of 30 to 50 keyword ideas for YouTube videos to start to analyze whether people are searching for those terms or not. It is important that this list includes some of the same keywords you're currently ranking for, as well as keywords you'd like to rank for on your website.
This level of SEO coordination is essential to ensure the company's time and resources are spent efficiently to rank for the most amount of relevant keywords in the shortest period of time.
"The best starting point for thinking of a topic for a YouTube video with the goal of ranking highly in search is to cross reference your ideas with the Google Keyword Planner," says Sunny Lenarduzzi, YouTube expert and social media strategist.
[su_shadow style="bottom"]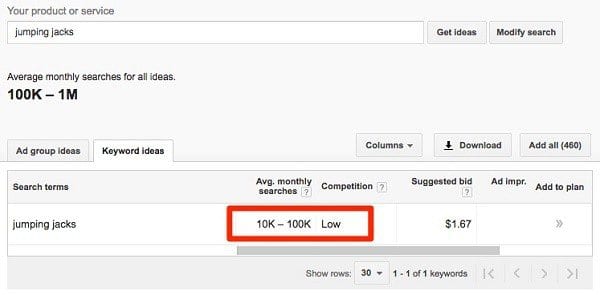 [/su_shadow]
"You want to look for high search volume (anything above 1,000) and low competition, in an ideal situation. That way you know there is an audience interested in your video topic and you're guaranteed to get targeted views from your potential customers."
Your team now has a list of in-demand keywords to create YouTube videos around that are both relevant to your audience and can compete against existing videos from competitors.
3. Create High-Quality, Original Videos
If your videos themselves aren't educational, entertaining, or convincing on the right topics, then the keywords selected, optimizations made, and any promotional efforts won't matter.
With your company's list of targeted keywords, create videos to address the topics that can compete against the existing videos on the subject.
To make a YouTube video that resonates with your customer base:
Address a unique angle on a topic with your video.
Cover a particular topic more in-depth than others.
Discuss how to solve challenges your audience faces.
Keep your videos both short (under five minutes) and informative.
Produce the video in a format that hasn't been previously used.
Compare and contrast two different viewpoints on a topic.
Take risks with your video to stand out in a memorable way.
Be energetic and passionate about your coverage of a topic, it shows.
Next, plan out the video from start to finish to ensure you're putting together a high-quality video and that the process of creating it leaves little room for improvising. This includes planning out the list of all the different shots you'll need, the storyboard, any props needed, and any B-roll footage that will come in handy during the editing process.
In addition, all of your videos should have quality lighting, audio, framing, and stability, which doesn't mean your business needs an expensive professional studio, but instead take the time to ensure those elements are accounted for to create high-performing videos.
Part II: Optimization and Promotion
4. Optimize Your Video Metadata: Title, Description, etc.
After recording and uploading a YouTube video to your channel, it's important to optimize your videos before publishing them to your audience.
"You cannot solely rely only on keywords when it comes to YouTube optimization," says Adel de Meyer, a new media specialist, brand ambassador, and author. "To rank in YouTube, your videos need to generate consistent comments, likes, dislikes, and views in a timely manner to drive visibility with the network's search algorithm."
Meyer recommends being purposeful about the choices made with each video's metadata, specifically with the title, description, and annotations in order to rank higher in search.
Each section of metadata helps informs YouTube of the subject of your video, which is why it is important to fill out every field with informative and straight-forward copy.
[su_shadow style="bottom"]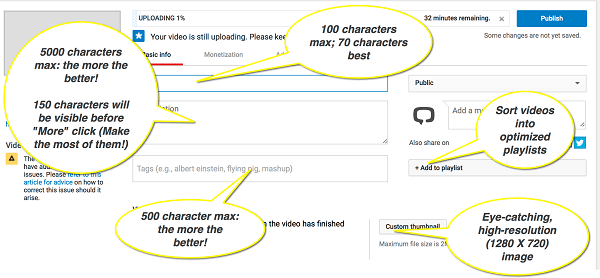 [/su_shadow]
"A video's metadata helps it perform with the YouTube and Google search algorithm and makes the subject clearer to viewers by simply providing more context as to what the video is actually about," says Ann Smarty, SEO expert and founder of MyBlogU.
As seen above, optimize the following elements of a YouTube video before publishing it:
Video Title: 100 characters max; 70 characters best
Video Description: 5000 characters max; 150 characters will be visible before the "Show more" tab
Video Tags: 500 character max
Video Playlists: Sort videos into optimized playlists
Video Thumbnail: Include an eye-catching, high-resolution 1280×720 image
5. Promote Your Videos in Blog Posts and Elsewhere
Once a video is published, it's essential for YouTube SEO that the video is promoted widely in order to perform in search and drive traffic and visibility to your company.
Start by integrating video into other forms of content using the embed feature.
"Create YouTube videos for every current article on your website, then embed them into these blog posts," suggests Sam Hurley, founder of digital consultancy OPTIM-EYEZ. "Embedding video on your landing pages can help increase conversions as much as 80 percent."
Also consider adding your YouTube videos to guest posts, product pages, white papers, online courses, and more.
The value from repurposing videos and adding them to other content goes both ways when driving additional visibility from search.
"Never craft a YouTube video without first transcribing the juicy, indexable copy and placing it on a page within your website," says Hurley. "It's a great repurposing opportunity for double the ranking impact."
Next, share the entire YouTube video or trailers for the full video across social media to drive short-term viewership and rankings in the long term.
"Google takes social signals into account for universal search," says Dennis Yu, the CTO of BlitzMetrics. "So to get more traffic to your YouTube videos, embed them in your guest posts where appropriate, and also post natively to your Facebook page."
Yu adds, "If you get good engagement on that content, especially with captioning and including an attention-getting intro, Google will notice it and show your video amongst the search results."
Partnering with other YouTube channels is another technique for building more viewership and rankings in the long term. Identify YouTube channels in your industry that aren't competitors but reach a similar audience.
Create videos together to host on each of your channels and regularly promote each other's videos with the goal of driving added visibility from each other's audience.
There are many techniques for promoting a YouTube video for greater search visibility, but embedding each video in other forms of content, transcribing your videos into blog posts, sharing across social media, and collaborating with other YouTube creators are some of the most effective strategies for seeing success in search with video.
With all of these promotional tactics, practice moderation as overdoing any of these approaches may backfire, if done to excess.
Start Optimizing Your YouTube Videos
How does your company integrate YouTube videos into your SEO strategy? What's the best way to promote a YouTube video based on your experience? Let us know about your YouTube SEO efforts over on Twitter @DigitalCurrent.