Implement these three SEO tactics in this ultimate semantic SEO guide for 2017 to fully optimize for voice search and the progression of Google search engine results.
Semantics are now at the core of every search query answered on Google. As important as semantics are to Google, semantic SEO should hold equal value in your digital strategy for 2017 and the future.
That means you need to be well equipped with powerful search optimization tactics to rank content above your competitors on the largest search engine in the world — the search engine that caters for at least 5.5 BILLION searches every day.
If you care about earning "free" traffic to your website, it's a volume you simply can't afford to disregard.
I'm soon going to unveil three killer tactics you can use to dominate semantic search this year. But first, a solid understand of semantic search is essential…
*Disclosure: We only feature services and products we honestly believe in and our perspectives are genuinely our own expert perspective. This post may contain affiliate links from which we earn a small commission, at no additional cost to you.
A Definition of Semantics and How They Affect SEO
In simple terms: Semantics describes the differences and/or similarities in perceived meanings of words, sentences, and/or phrases, relative to context.
A flower may be yellow, but the same shade of hair color would be known as blonde. "Bottle it" means to wimp out of doing something…or it could mean to place something in a bottle. A child could be known as a kid…which is also the name for a young goat!
How Does This Relate to SEO?
Well, considering the few examples above, you can begin to appreciate how tricky it becomes for Google to return relevant results for each and every query — especially with the progression of voice search and its unique complexities.
In light of these trends, Google's ever-growing list of patents suggests a huge shift in their comprehension of such data:
This ultimately requires a similar evolution of your SEO strategy.
How Does Google Handle Semantics?
Google's artificial intelligence algorithm (RankBrain) detects patterns of search queries, their context and consequent user behavior.
Here is a fantastic, visual representation of such contextual patterns from David Harry (with red paths depicting strongest relations, blue showing the weakest):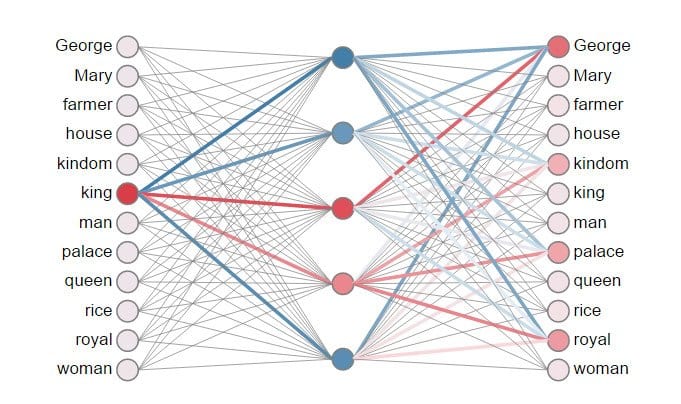 Some queries may appear to be unrelated at first, but in fact turn out to be connected.
This is a hugely simplified example of how RankBrain might operate. Of course, nobody really knows (aside from Google employees)…
You can bet your rankings the machine learning component of RankBrain is constantly updating itself on the fly, learning and adapting with each search made. This is when latent semantic indexing (LSI) comes into play.
What Is Latent Semantic Indexing?
Don't worry about the mathematical jargon — in the context of SEO, it just means optimizing your content for collective topics (rather than single keywords alone).
LSI is your ranking ally. If you're not already thinking this way when crafting your content, now is the time to start.
Aiming to rank for "Best summer days out" would mean strategically including that phrase PLUS an abundance of wider, conversational and topical keywords/phrases such as:
Things to do in the sun
Where to go in the sunshine
Mid-year fun activities
Top hot tourist attractions
Affordable sunny places to go
Nice weather but bored
LSI keywords are so powerful, Google results occasionally appear that don't include the original search query at all — an increasingly common occurrence.
To provide further insight into how Google deciphers user searches, here is an instance of a contextual search result: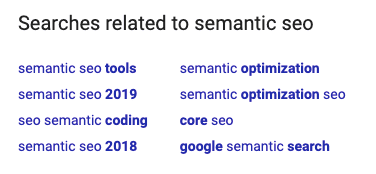 My search for "semantic seo" returned a related search (at the bottom of the SERP) for Google's Keyword Planner tool…likely because Google has discovered the segment of people who search for SEO topics are also likely to be interested in their Keyword Planner.
(Or they simply placed it there to advertise the uptake of AdWords.)
But you get the idea…
What About Recency?
Over on The Next Web, I described a hypothetical example of how RankBrain might operate in terms of recency…
The search "gimme pizza close" returns pretty old results for a kids' TV show. What if, all of a sudden, there is an influx of fresh searches for this query (due to a new TV ad portraying this slogan) — and these people actually want takeaway pizza, close to their home?
RankBrain would measure user behavior (clicks/no clicks, scroll, dwell time, pogo-sticking, rate of new search queries made) and learn from this data, progressively altering results to show those relevant to the desired pizza outlet — the result most likely to be in demand right now.
Another clue for Google would take the form of possible searches like "gimme pizza ad." And a curveball for Google? Those searching "gimme pizza close" may also be looking for daily closing times of the outlet!
Gradually, after numerous searches and data gathered, all pieces of the query jigsaw fit together and paint a clear picture for the search engine to display increasingly relevant results.
So, how exactly do you rank in Google using semantic SEO in 2017? Here are the three dominating tactics, as promised…
Tactic #1: Craft Killer Contextual Content
Semantics is an incredibly vast subject — but you don't need to be an expert to start applying it skilfully to your content today.
Google now cares less about keywords and more about topics — particularly the conversational value of your content (to appease voice search queries).
REMEMBER: Google's job is to return the best/most relevant result to every user. Constantly think about user-intent when creating your content.
Here are my own content rules:
Make it long form
Make it remarkable
Make it recent
Make it relevant
Make it count
Constantly transform your content by catering for semantics and related terms. Single-keyword mentality is old-hat now…
Spend More Time on Keyword Research
Always use a combination of tools like SEMrush, Ahrefs, and Keyword Tool for a wide array of ideas and evidence
Plug your well-ranking competitors into SEMrush and spy on their keywords to gain fresh ideas for long-tail search queries
Long Tail Pro is an exceptional tool to consider for your arsenal — one of the best I've used
Turn to Quora and other communities like Reddit to see what your target audience are asking, then answer them via content on your own website
Finally, use a tool that many under-utilize: Google's very own auto-suggest feature, answer boxes, accordions and the "related links" section at the bottom of SERPs
These results contain many GOLDEN nuggets — Google is practically telling you how to rank by showing you its interpretations!
Create Meaningful Buckets of Content
Craft 10 in-depth, semantically-rich articles that collectively funnel into one main "money" keyword phrase. Then repeat this for all money keyword phrases…
Money keyword phrase (housed within an article):
Best Real Estate Agent
Semantic article topics (internally-linked to above article):
How much should I pay for a specialist property agent
Where to find trusted real estate agents
How to hire a top agent to sell my house
What are the optimal times to sell your estate
Why this real estate expert won X awards
The best real estate agents in 2017
The ultimate guide to buying and selling your home
Spend More Time Creating and Distributing Your Content
This one should now go without saying — I recently explained why you should craft content masterpieces each and every time
Don't just forget about your old content — go back, blow off the dust, and make every blog post EPIC
Ensure all your content is tactically connected by applying relevant internal links within each piece. You will notice I have done so in this guide!
This significantly aids Google by providing it with a metaphorical spider's web — which, when complete, presents "the bigger picture" and greatly increases your chance of ranking for desirable money terms.
However, you can't just rely on awesome content to gain visibility…
Are you using correct semantic markup on all your pages?
Header tags (H1, H2, H3, etc.)
Paragraphs ( <p> tags)
Lists/bullets (<ul> and/or <ol> tags)
Of course, don't forget your other on-page basics like meta descriptions and title tags!
Your site needs to be regularly checked and maintained, along with any technical improvements following a detailed, up-to-date SEO audit — then optimized to efficiently convert visitors into sales via conversion optimization.
Every page of your website should provide exceptional user experience (UX):
Quick to load with a mobile-first approach
Visually pleasing
A supreme work of art in terms of:

Content
Structure
Technical elements
Tactic #2: Master Google's Knowledge Graph
80% of online searches are people looking for answers.
10% are people looking for a specific product or service.
10% are people trying to get to a specific website.
(Source)
Google's Knowledge Graph is Google's way of holding as many users on their pages as possible, without any clicks on organic results…while still providing answers to queries.
That said, it still pays to get featured.
Why?
1) For brand recognition
and
2) Because a portion of searchers will click through anyway
You would rather be featured instead of your competition, right? You undoubtedly have noticed direct answer boxes (also known as featured snippets or rich answers) and various other types of Knowledge Graph results on page one.
Google connects the dots from sources such as your website's structured data markup, Google+, Wikipedia, and Wikidata to serve up direct answers and "entity-focused" results.
[Note: Due to their "immediate" nature, Knowledge Graph results are appearing on mobile SERPs more than ever…so it pays to focus your attention toward this aspect of search. 78 percent of teens use a smartphone today — just imagine the total when the next generation grow up!]
How to Appear in the Knowledge Graph on Google?
Structured data is another incredibly vast subject, so I will point you to this amazing guide which covers pretty much everything you need to optimize for the Knowledge Graph (plus exactly how to do it) — and here is a more technically-detailed guide for the developers among us.
How to Specifically Appear in Answer Boxes on Google?
Discover a popular question your target audience is asking
Craft an in-depth article answering this specific question
Include a bulleted, step-by-step explanation
Apply all relevant markup
Distribute this article heavily to gain links and social signals
Emphasise the author, especially if they have built a prominent personal brand
The Knowledge Graph has become a fundamental component of semantic search. Optimize for it ASAP.
Tactic #3: Supercharge Your Brand Presence
Do you recall the SEO trends, named "co-citation" and "co-occurrence"? A few years ago, they made a big impact in SEO news…but discussion surrounding them seems to have vanished as they seamlessly blend into semantic search.
They matter more than ever today.
Co-citation describes unlinked mentions of you and/or your brand across the web
Co-occurrence describes related terms that become associated with a brand
Sometimes, we can't obtain links from particular sources — but mentions and co-occurrences are valuable, too!
Google is clever enough to recognize brand presence of this nature and it all helps toward building that "big picture"; piecing the search jigsaw together and rewarding more visibility to those with a concrete reputation.
Brand Superchargers to Pursue:
Personal branding
Thought-leading articles
Blogger/influencer roundups
Press features
Awards (get nominated)
In-depth bios
Social signals (invest time and money into your social presence)
Public speaking gigs
Link building to all the above (not just building links to your own website)
Why Is Brand Presence Absolutely Essential?
When we speak of "rankings" today, it isn't the same game of 10+ years ago. Personalization plays a massive role in what searchers actually see on SERPs.
Often, Google results will be completely tailored to the individual.
SERPs are personalized by:
Device: Results fluctuate depending on screen resolution — particularly critical in view of Google's upcoming mobile-first search index
Location: Country, town, street, and language variations return very different results
Online history: Past search behavior and historical visits affect new searches
Sign-in status: Another determining factor, including searches using verbatim and incognito modes
That said, you can see why powerful branding is imperative to your visibility in the world of semantic search. When people know your brand and search your name, YOU will appear.
Even if others share your name (even in the same industry!), your chances of being seen are far greater than competing for a search term like "SEO Services."
How to Track Rankings Across Personalized Search?
Due to personalization, it's no longer a case of simply saying, "We rank #1…" but more of a case of measuring organic traffic, average rankings, and conversions across a whole range of personalized SERPs for themed buckets of search terms.
THEN you can say:
"On average, we rank in positions one through five for this range of themed search queries across X personalization models, with X featured snippet results. This totals in excess of 5,000 organic visits per month to our prime content, with a conversion rate of 12 percent."
Are you ahead of the curve and thinking this way?

[Note 1: Linkdex is one of the few robust SEO tools that provides monitoring of Knowledge Graph appearances.]
[Note 2: Rank Tracker is another SEO monitoring tool that tracks rankings across personalized SERPs.]
REMEMBER:
Semantic SEO is just ONE component of your overall SEO strategy. It's hard work these days — yet with a solid link building strategy running in harmony; you are on the right track to rankings success in Google.