Learn where some of the worst marketing campaigns failed so your own content marketing efforts don't end up struggling.
Research shows that 74 percent of companies are increasing lead quality and quantity from content marketing by fueling search and social media with information that serves their target audience.
However, most companies investing in content marketing don't see results as they approach the process all wrong by too quickly jumping into the medium without building a proper strategy.
According to Content Marketing Institute, only 6 percent of B2B marketers consider their organization very effective at using content marketing.
To avoid wasting time and resources on content that underperforms, learn from some of the worst marketing campaigns when investing in content and how your organization can excel instead.
1. Neglecting to build a comprehensive content strategy to maintain awareness in saturated markets.
Only 32 percent of B2B marketers have a documented content marketing strategy, which is unfortunate. When a company doesn't develop a strategy, it's easy to neglect key parts of the process and not properly plan how to keep a customer's attention for the long term.
An example of an organization that could have used a far more comprehensive content strategy to hold the attention of its audience is Heinz Ketchup during the promotion of their Heinz EZ Squirt product line. In 2000, the brand launched green colored ketchup as a partnership with the movie "Shrek" and then eventually purple, blue, pink, orange and teal ketchup as well.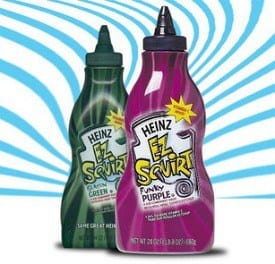 The strangely colored ketchup created for children sold 25 million bottles at its height and at the time helped Heinz win 60 percent of the U.S. ketchup market, but by 2006, sales fell dramatically and the product was pulled from shelves.
Heinz lost the attention of younger consumers as the association with the "Shrek" movie and TV commercials featuring the product became stale, but what they could have done is used educational and entertaining content to keep their target audience interested in the product line.
It seems the company didn't have a strategy in place to account for their long-term content marketing initiatives to continue to build awareness for the product.
One angle of their existing product marketing that could have been supported heavily with content is the ability to draw on food with the ketchup bottle's nozzle.
By regularly creating articles featuring fun recipes parents could do with their kids, instructional videos, and other how-to related content, Heinz could have given its customers more ideas on how to use the product to decorate different kinds of meals to involve children in cooking.
Developing content around a contest or a competition for the best drawing with Heinz EZ Squirt is another technique the brand could have used to keep their audience engaged with the product.
| | |
| --- | --- |
| | Lesson Learned: |
Having an in-depth content strategy in place may have better positioned Heinz's products to stay top of mind of its customers, instead of quickly fading into obscurity.
A documented content strategy helps every department involved with a product understand the types of information needed and the formats of content that will be created to maintain a conversation about the product, how it's used, and related topics of value to its audience.
Building a consistent rapport with your audience requires the creation of content on a regular basis, accounted for on a timeline within a documented content strategy.
2. Not spending time doing the necessary research especially when covering social issues, current events, or trending news.
Addressing social issues in your content marketing is a powerful way to connect with customers, educate them, and establish where your organization stands on relevant issues outside of its product offerings.
However, ensure your organization conducts thorough research understanding the complexities, context, and possible reactions to covering current events within your content.
In 2015, Starbucks wanted to take a stand on the ongoing racial tension across America by launching a campaign called Race Together.
The effort on behalf of the company was meant to show Starbucks support for bringing everyone in on the conversation on fixing social issues facing the country.
Starbucks ran ads in major newspapers with the words "Shall We Overcome?" in the center and the hashtag #RaceTogether and the Starbucks logo at the bottom. In addition, they developed videos, blog posts, and images about the campaign to explain their position on the subject.
These content assets alone may have helped the initiative succeed, but Starbucks also encouraged staffers at their locations to write RaceTogether on the coffee cups of customers.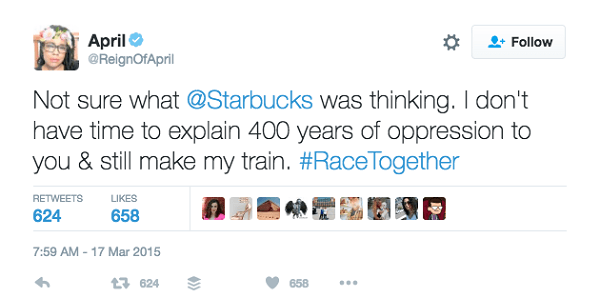 This part made customers feel uncomfortable, leading to widespread backlash across social media driving 2.5 billion impressions in 48 hours. Lots of negative press for the campaign started to appear since many found it disruptive to talk about race while in line at the coffee shop with strangers.
| | |
| --- | --- |
| | Lesson Learned: |
When including current news, trending topics, and sensitive or controversial subjects within your content marketing, take your time and research the best way for the organization to take part in the conversation.
Consider the context of your inclusion and the possible consequences of chiming in through one format of content or another. Avoid overly selling your opinion about social issues, as being too aggressive with content of this nature can cause backlash.
Don't interrupt your audience, your content should align with their needs, not change them in an abrasive manner. Don't include current events in your content for the sake of being overly promotional or sales driven as this will clearly illustrate poor intentions on your part.
3. Not having adequate patience for a long-term content commitment.
Consistency is important with content marketing, but patience and a willingness to experiment matter even more. Building trust, engagement, and sales is a lengthy process. Content doesn't drive results overnight, but instead over the long term as developing an ongoing cadence with your audience takes multiple interactions.
Every time a person encounters your content, they analyze if the information presented to them is relevant, timely, actionable, and even entertaining in some instances. Not to mention, ranking in search with blog posts, videos, and other formats of content can take months, illustrating that SEO results from content aren't always immediate.
In 2014, Honda set out to make their YouTube channel and the Honda Stage website a destination for music lovers interested in watching performances from their favorite artists at Honda-sponsored concerts.
Honda pulled the plug on this content effort, citing that the audience didn't grow to the level they had hoped for, despite generating 2 billion fan impressions across digital, social media, and live events.
Content marketing campaigns like this fail all the time, but Honda's mistake here was giving up only seven months into building out their YouTube channel.
There are also other factors at play that only the Honda marketing team knows about, but from an outside perspective, spending less than a year on making content marketing work cut short any opportunity for the program to grow into a long-term success.
| | |
| --- | --- |
| | Lesson Learned: |
Like any marketing effort, an investment in content requires iteration to continually test different ways of creating and promoting content to see what resonates. This process requires a long-term time commitment, not to be confused with a large budget, in order to demonstrate measurable results.
Give any campaign a chance to succeed by dedicating a minimum of a year to test various formats of content, types of information shared, promotional techniques, distribution channels and more. To best account for the timing of your approach to content marketing, clarify the timeline within your documented content strategy.
4. Interrupting or forcing your audience to view content, instead of providing valuable info to customers who opt-in.
Content marketing is the opposite of an advertisement. A company's content should be sought out and enjoyed by prospects, while advertising is often overlooked and considered a necessary evil.
From the beginning, position your content to educate, entertain, or convince your customers and prospects, while leaving the direct selling and promotion of your offerings to other marketing mediums.
One example of a failure that should serve as a lesson to companies focusing on content is the partnership between U2 and Apple in 2014. Apple included a free album from the group on every iTunes store account with the launch of the iPhone 6, which may have sounded like a generous idea, but wasn't well received.
The band isn't universally popular, the album took up space on everyone's phone, and no one gave Apple or U2 permission to download the album to their music library in the first place.
This experience was meant to deliver quality content, free of charge, but instead inconvenienced iPhones users on a massive scale hurting the reputation of both partners.
| | |
| --- | --- |
| | Lesson Learned: |
Provide tangible value to customers with content and ask their permission when serving it to them. Don't mass email all your customers with your latest podcast episode or tweet every person following the company on Twitter with a link to a new article.
Instead, integrate content across the customer experience to provide them with utility whenever they interact with your organization.
Recommend related resources on your blog, suggest content to customer's offline in stores or over the phone, and ask them what types of content and topics they'd like to see and deliver on this feedback.
Customers that opt-in to a company's content have a stronger affinity for a brand than those who were forced to view it without any consideration for their preferences.
Overcoming Your Worst Marketing Campaigns' Mistakes
What mistakes have you experienced with content marketing first hand? Most importantly, what did you learn from these failures with content? Share your experiences in succeeding and failing with content marketing over on Twitter @DigitalCurrent.