Brands both large and small have come to terms with the fact that traditional media outreach alone no longer works. Many brands are now turning their focus towards influencers in order to reach their target audiences.
For a very long time, a select few gatekeepers and executives controlled the lion's share of the world's media and influence.
Times have rapidly changed, and all of that centralized influence has diffused throughout an ever-widening pool of niche influencers. Long gone are the days of broad appeal and marketing "average products for average people."
A strategy for growing your brand and its reputation is to not only seek out individual thought leaders, but creating your own influencers to exclusively support your brand for the long-term.
The New Rules of Reputation
I would argue that the defining invention of the internet age is U.S. Patent 6285999. This is the patent that Larry Page and Sergey Brin submitted in 1998 while at Stanford University for what they called the PageRank algorithm.
We now know it as Google.
You might be wondering what this has to do with influencer marketing. In actuality, the basic idea behind PageRank (which would go on to become the underlying structure of the entire modern web), has everything to do with influence.
This algorithm has rewritten the rules of reputation, and democratized authority in a radical and underappreciated way.
Any website can rank highly if it's clear that it's a trusted source on a given subject, no matter if the website is from a Fortune 500 brand or a person in their basement.
Similarly, earning a strong reputation as an influencer is now far more accessible for any person or company that showcases expertise on a subject.
Instead of paying their way to the top, the new rules of engagement for attaining status require that brands and individuals alike actually deserve it.
The Tipping Point and the Sneezers
Now you might be thinking: what do these new rules of reputation mean for brands?
The first ramification of these changes is that influence must be earned. The second, related rule is that your reputation must be won within a specific group to matter all that much.
Since no singular entity decides what gets out there and what doesn't, decisions regarding what ideas matter also aren't made for the masses.
Certain large-scale changes can spill over from one particularly influential niche, but in order to successfully incubate a trend, idea, fashion, or brand, the initial reputation must be built within a contained audience.
Two key big ideas from marketing thought leaders apply here.
The first is Seth Godin's notion of ideas as a virus, and that there are certain highly connected people acting as "sneezers" that can disproportionately cause an idea to spread.
The second is Malcolm Gladwell's formulation of the "Tipping Point." The crucial juncture where an "ideavirus" incubated in a small population can suddenly spill over to the general public and catch like wildfire.
These two factors combined contribute to the poorly understood phenomenon of "going viral."
While it's unrealistic to ever depend on mass, runaway success, you can increase your chances of smaller scale virality given the information we just went over.
To make these theories work to your advantage, start by narrowly identifying a group susceptible to your particular ideavirus, and then pinpoint the individuals with the most leverage in that group.
Find Your #1 Fan
The most important factor for success on social media is to be self-aware and avoid coming off as impersonal at all costs. Brands that win big on social media are those that come off as natural, authentic, and genuine.
Leading truly remarkable online communities requires balancing authority with authenticity — being neither a faceless voice, nor just a basic fan.
Remarkable branded leaders act with enthusiasm and passion. They aren't just spokespeople, they're the brand's biggest fans.
Instead of hiring an anonymous community manager to pretend to be your brand champion, why not hire a real influencer in your space (someone with leverage and a following) and sponsor them to just keep on doing what they're doing? This way the individual can promote your brand in a full-time capacity and have actual impact on what's happening at your company.
Micro-Celebrity Endorsements
For the longest time, traditional brands did things like this with either celebrity endorsements (Jordan + Nike) or fictional mascots (Progressive + Flo). And while both of these models have proven highly successful in the past, the changing landscape of social influence is necessitating an updated version of this strategy.
Just look at what Australian sunglass designer Quay did with their most recent collection.
They brought on YouTube makeup star Chrisspy to partner exclusively and act as creative director for the entire line of sunglasses.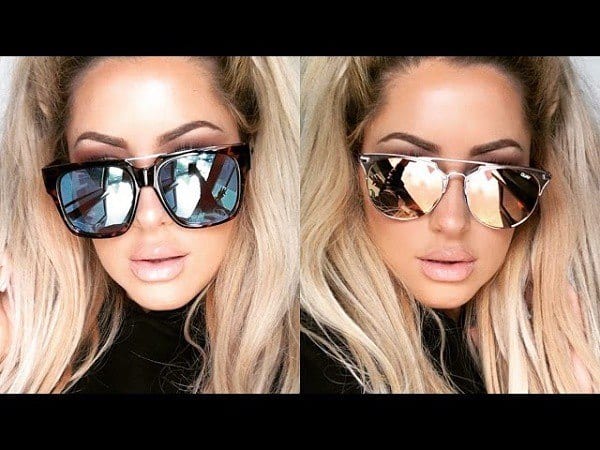 Instead of pursuing a more traditional influencer partnership, Quay went all in, and enjoyed massive results. Garnering hundreds of thousands of views, likes, and mentions, Quay was able to leverage the niche influence of Chrisspy within their community and win big.
Another brand that also does this well, albeit on a smaller scale, is boutique women's apparel shop ModCloth.
Modcloth has a short-list of hyper-niche influencers that they partner with to cross-promote their posts on a semi-regular basis.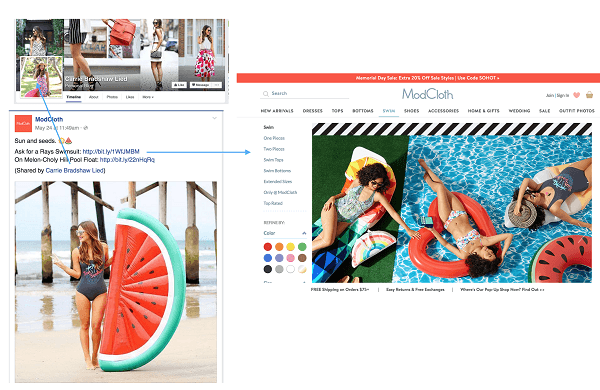 Whether you go all in with one influencer, or bring on smaller influencers for a more limited partnership, there are certain, distinct benefits to exclusivity.
Credibility Through Trust
First and foremost, you gain more credibility within an influencer's dedicated audience by having repeat exposure.
These aren't just people that are paid to push ModCloth, but individuals that are invested in the brand and because of this promote the organization in a natural, ongoing manner as opposed to one to five one-off posts.
Most of the social currency that online influencers have is in the form of trust, and there is something about an exclusive, long-term partnership that seems more genuine than a single sponsored post.
Symbiotic Relationship
Another more subtle benefit, is that these types of partnerships are easier to initiate because there is mutual gains to be had by both sides.
Influencers are just as protective of their brands as any company, and exclusive partnerships allow more integrity and stability than your typical one-shot deal.
This fact, though, is where many traditionally-minded brands might get scared away. Because central to this strategy is a condition that runs directly against the corporate instinct: Brands need to share credit.
Don't Claim Authorship, Claim Patronage
Attracting and maintaining quality influencers will require you (by definition) to share credit. And that's alright. Brands tend to get very defensive what it comes to authorship and attribution, but jealously guarding the kudos for content is no longer an effective strategy.
The whole object of effective social media and influencer marketing is to humanize your brand and make it more genuine. Nothing serves to make a brand faceless more than pretending that no actual humans went into making all of their content.
Instead of denying your collaborators recognition, allow them to do what they do (influence) and you take credit for what you're actually doing — allowing them to make great content.
This closely mirrors the age-old concept of patronage going back all the way to the Medici family basically bank-rolling the renaissance.
In fact, there is a brand-new modern day platform to do just that. Not coincidentally, it's called Patreon.

There are thousands of content creators with massive followings getting their audience to contribute small donations per-project.
However, if a large enough brand offered to bankroll a substantial portion of their content, it is well within reason that you could broker an exclusive partnership and bring them on as your own influencer.
As postmodern media continuously fragments and dissipates influence amongst ever-smaller, more targeted niches, it will be the savvy, forward-thinking brands that take the time to find the perfect influencer for their needs.
Old marketers are all about "volumetrics." This volume-obsessed mindset is an example of the old way of looking at influence. Evaluating a potential partnership based on follower count is short-sighted.
Instead of trying to pursue fleeting partnerships with lots of high-ticket influencers, it's much better to choose the right ones (the sneezers that hold the most sway with your target market) and see if you can partner up with them long term.
In this specific focus on influencer marketing, you might not be winning over a massive audience, or getting your name out to as many people as possible. But, more importantly, if you've put thought into choosing the right influencers with the strongest leverage in your group, your patience might pay off and that peer-group could tip.
Placing sustained, intelligent bets on exclusive partnerships is the way to win with influencer marketing and develop partners truly invested in the ongoing support of your brand.
This notion is echoed very fittingly, in the motto of the original patrons of the house Medici: "Make haste, slowly."
Has your brand updated its approach to influencer marketing yet? Are you aware of what influencers exist in your industry? Have you developed an extensive influencer strategy? Share your thoughts with us over on Twitter @DigitalCurrent.