Here are 14 unique tactics your business needs to implement when promoting content to boost awareness and engagement.
Getting your content in front of more people is no easy task.
Many companies still share their content on their Facebook page and Twitter account thinking they've done their due diligence promoting it.
Unfortunately, using this tactic alone won't have much impact in driving the awareness, interaction, and leads you're looking for from content marketing.
Don't worry! The solution here is to spend your time strategically. You'll start to achieve the results you're after when you spend more time promoting each piece of content, then what it took to produce it.
Consider spending 30 percent of the time creating content for your audience and then the other 70 percent of the time distributing it through a variety of tactics.
With that said, avoid using some of the same marketing tactics and techniques that are widely used by all your competitors. Think outside of the box and experiment to reach your customers wherever they are active.
Here are 14 tactics for promoting content that aren't widely utilized, which increases the likelihood they'll be effective.
Get Included in Industry-Specific Newsletters
While promoting your newly created content on your own email list is a no brainer, getting included in someone else's newsletter can be even more beneficial.
Regardless of what industry you're in, there's a newsletter out there that covers your niche, the topics you're addressing, and serves your target audience.
Other than the team behind a newsletter discovering your content on their own, there are two additional ways to get included in a particular newsletter.
The first way is to build a relationship with the owner of a newsletter, whether that's an individual or someone at a company that runs it. Do your research and reach out to the right person behind a relevant newsletter to start a conversation. This is not an overnight process, but one that requires you to build a genuine rapport with the person. Once you know them, ask them to consider adding your content to their newsletter.
The second way is to pay for your content to be added to a newsletter. Often referred to as a sponsored listing, a company can pay to have a link to their content included. This specific approach takes less time, but requires a budget.
To find a newsletter relevant to your content and audience, here's a list of 50 email newsletters worth checking out across industries and topics. There's certainly more out there, it just requires research to find them.
Develop Customer-Centric Content
Marketers have a tendency to mainly focus on reaching new consumers with their content and other messaging. There's an addiction to growing your audience, but less attention is given to fostering existing customer relationships.
Instead, create content specifically catered to your existing customer base to spur sharing and interaction with your content.
"One of the most underutilized ways to spread content is leveraging your existing customers," says Sujan Patel, the GM and co-founder of Web Profits and Voila Norbert.
"It starts with creating content your customers might find useful or addressing problems your customers are facing. I've noticed customers are more likely to share your content. Doing this consistently generates the best results."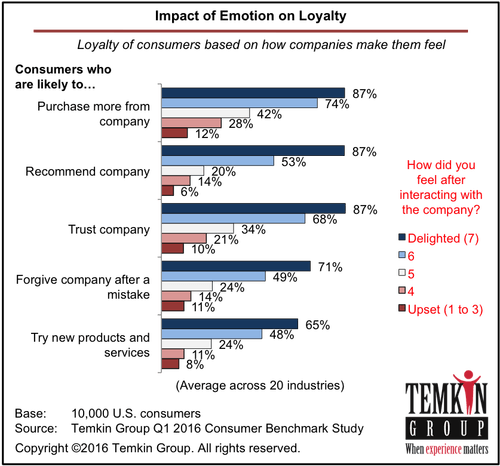 Research from Temkin Group found that customers that have a positive emotional experience with an organization through content or otherwise are 15.1 times more likely to recommend a company, 8.4 times more likely to trust a company, and 7.1 times more likely to make another purchase from a company and more.
Customer-centric content might cover how to better use your products like Asana's YouTube series called How to Asana or comparing your product and service offerings to competitors based off of reviews, ratings, and pricing like Yale Appliance does in their blog posts.
Make Your Own Sponsored Content Opportunities
Big publishers like the New York Times and Time Magazine are known for their premium sponsored content offerings to brands, which drive massive exposure, but are pricey.
A more affordable way to get your content in front of a wider, relevant audience is to find opportunities to sponsor content on small to mid-size blogs, platforms, and channels, even if they don't expressly offer sponsored content or advertising on their website.
For instance, sponsoring an article on a local Brooklyn blog, like Car2Go did on Brokelyn here, is a good example of a content destination that has an active audience, but is still affordable to advertise since their exposure is limited to one market.
If you've found a Snapchat account, a blog, a podcast, or another content channel that attracts the attention of your audience, reach out to them to express interest in sponsoring your content on their platform.
The idea here is that their audience is engaged or large enough that you'll get relevant exposure at an affordable cost, since they don't typically advertise on their channel.
Position the arrangement as a test run to see if the sponsoring content on the channel drives results or not, which will help you bargain for an affordable starting rate.
The rule of thumb here is that it can't hurt to ask. Cottonelle actually reached out to Gawker and asked to sponsor an article that was already published on a relevant topic, which proved to be a smart opportunity for the brand even though it was unconventional.
Focus on Manual and Personalized Influencer Outreach
Nowadays there are many tools to automate and systemize the process of finding influencers and reaching out to them for partnerships. Some of my favorite tools are BuzzSumo and Followerwonk, but at times it feels like there's a shift towards over-relying on these kinds of tools.
Instead, find a balance between using these tools to automate aspects of the process like conducting an initial search for voices in a niche, but then manually continue the research phase through Google searches, asking your contacts for recommendations and more.
Personalized outreach to influencers is required and shouldn't be automated. If you don't have time to personalize a call, DM, or email to an influencer, then it's worth reconsidering whether influencer partnerships are the right match.
"Reaching out directly to relevant influencers, communities, and other targeted media and platforms is much more effective, but this requires forethought and strategic planning," says Rebecca Lieb, analyst, author, and advisor.
It may be time-consuming, but this way you're able to do the necessary research and outreach that fosters the most meaningful influencer relationships to promote your content.
"It's work, but if content is not effectively distributed and promoted, it's the proverbial tree falling in the woods that nobody hears," adds Lieb.
Micro-Influencers for the Win
"Want to promote your content on a shoestring? You might consider working with not-so-famous influencers," says Seth Price, vice president at Placester, keynote speaker, and author of The Road to Recognition.
For example, in lieu of working with a widely known influencer on a particular channel with 300,000 followers, try partnering with a few micro-influencers with 10,000 followers.
"Highly targeted micro-influencers can help your content gain flight and awareness on the web," says Price.
With a small audience size, influencers with less impact will likely have more bandwidth to partner and be more affordable to work with to share your content.
Working with a few micro-influencers gives you the opportunity to reach an audience similar in size to a larger influencer and they are likely more engaged, too.

An analysis by Markerly found that Instagram influencers with 1,000 to 10,000 followers earned Likes at a 4 percent rate, meanwhile influencers with 10,000 to 100,000 followers had a 2.4 percent Like rate. The engagement rate continues to fall the larger an audience is.
Repurpose Video for Use on Pinterest and Twitter
According to HubSpot, 87 percent of online marketers use video content today, primarily on both YouTube and Facebook. Yet since most organizations share video on those channels, competition for viewers is high.
To promote your content to a wider audience, repurpose your videos for use on Pinterest and Twitter as video isn't the primary form of content shared there. As a result, video is more likely to stand out in the newsfeed of these social networks.
Consider creating a trailer resized to match the dimensions of Pinterest or Twitter that links to the full video on YouTube, your website, or elsewhere. Here's info on how to pay to promote your video on Pinterest or Twitter to reach a wider audience.
Encourage Employees to Authentically Share
If your company has 100 employees, each with an average of 250 followers on their personal social media accounts, there's the possibility of reaching 25,000 people with your company's content. Getting employees to share company content on your behalf is known as employee advocacy.
However, you can't demand or require employees to share your content on their social media accounts as that'd be an invasion of your staff's privacy and would be inauthentic.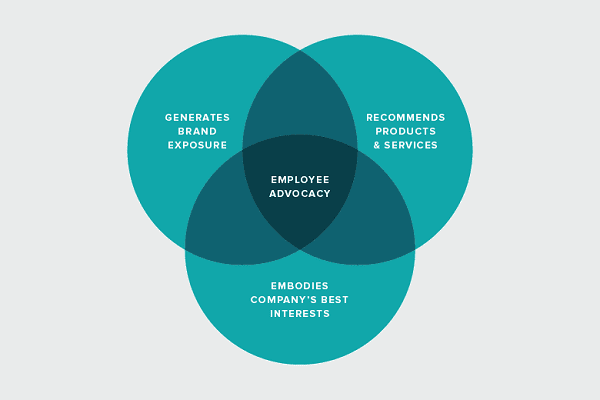 Your organization must first develop guidelines for employee social media use and training to show them how to best reflect the company on specific social networks.
Next, circulate relevant content to staff and encourage them to share if they find it relevant and useful. There are formal employee engagement platforms like EveryoneSocial and Bambu that can help with this process, but depending on the size of your team, much of this process can be done manually over email in the short term.
Niche Down: Cater to a Specific Persona
We can only consume so much content in a day, yet the amount of content being published for free online keeps increasing significantly.
Basically, we don't have enough attention span to account for all the content being created. This means that a lot of the content published today won't ever be seen, which is known as content shock.
"The serpent has eaten its tail when it comes to content marketing," says Joe Chernov, vice president of marketing at InsightSquared.
"What started as a rebellion against interruptive collateral has turned into more playfully written interruptive collateral. My advice to businesses would be to strive for less."
Basically, instead of trying to reach large audiences with your approach to content marketing, it's important to niche down and get specific with who you want to influence.
"Produce or tailor content to narrowly defined persona or, depending on your business, even specific companies," adds Chernov.
"The larger the audience you try to please, the more certain you are to disappoint. Don't try to out-cute or out-clever your counterparts. Out-focus them."
Create Audiograms as Trailers for Your Content
Audiograms are snippets of audio with a still image overlay that can be shared on Facebook, Instagram, and elsewhere. It's basically a video with audio that only features a single still image. Here's an example from HubSpot's Facebook page.
These audio shorts can describe other formats of content, act as a trailer to a longer piece, feature an interview, or act as a transcript of an article.
Rank as a Direct Answer in Google for Long-Term Visibility
Direct Answers are snippets pulled from useful content that are featured at the top of a search results page on Google.
These snippets tend to provide information on "how to" and "what is" types of searches, but cover other types of searches too like movie listings, menu options, data charts, maps of a destination, and more.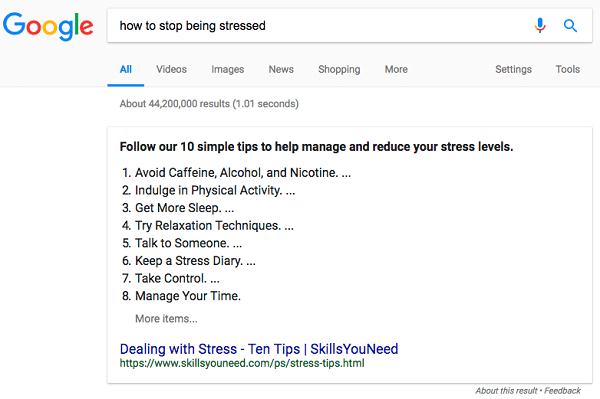 Direct Answers occasionally feature enough information to completely address a searcher's question, while other times it acts as a preview for the rest of an article.
If your content ranks high in search, your articles may be featured as a Direct Answer and earn more real estate on a particular search results page, leading to more traffic.
To rank your content as a Direct Answer, here are optimization tips directly from Search Engine Land:
Select a topic that's relevant to your audience.
Create quality content related to the theme.
Organize the page with user experience in mind.
When relevant, include a how-to list, including the phrase "how to" in content and bullet points clearly presenting your answers.
Incorporate SEO practices such as on-page optimization, internal linking strategies, and technical SEO tactics.
Customize Content Per Channel
"I'm a big believer in cross-pollinating content across platforms," says Renee Blodgett, founder of We Blog the World and Magic Sauce Media.
"Find out where your customers spend most of their time and push content to them regularly — don't expect them to find you."
This tip is fairly well-known, but not many marketers have the patience, understanding, or resources to customize the content they're creating for sharing on each channel.
For example, when your company publishes an article, it should be promoted uniquely on each of the social networks you're active on to get the most exposure.
This might mean sharing an image of a chart from the article on Facebook, tweeting stats from the article on Twitter, and then creating a vertical image with a text overlay for publishing on Pinterest.
Invest in GIFs
We've all seen a GIF online, but it's less common for brands to use them as part of their social media efforts than you'd think as they are often thought of as unprofessional.
In reality, it all depends on how you're using GIFs as part of your overall messaging.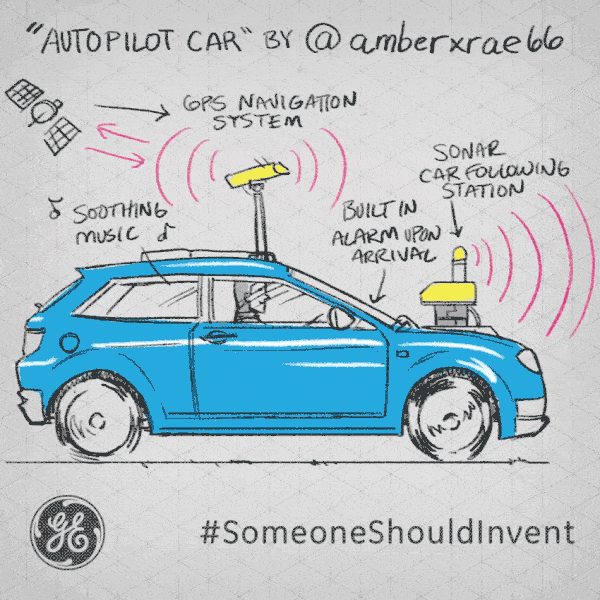 GIFs are better than images, but cheaper than video and can help your content on social media stand out in the feeds of each channel, regardless of your industry.
Whether you're showcasing a product, adding a chart to an article, or highlighting an event, use GIFs to promote your content on social media in a surprising way.
Be Purpose Driven
Everything you do as a marketer should be informed by your company's purpose.
"The same amount of strategy and thoughtfulness should go into promotion and distribution as goes into articulating the purpose behind creating the content in the first place," says Carla Johnson, keynote speaker, author, and creative explorer at Type A Communications.
"To understand what makes sense in the promotion, we have to know the purpose behind the content in the first place," Johnson adds. "From there, we look at how we can become more creative in our approach to promotion.
"For example, I love what the company Grasshopper did when they rebranded the company from GotVMail. One of the owners got inspiration from the competition that Doritos did with the Super Bowl a few years ago. He took inspiration from the word-of-mouth marketing that came from it and used that to become more creative with the content they used to rebrand to Grasshopper.
"The results were phenomenal! With a $68,000 budget, they were able to attract the attention of top influencers in the entrepreneur space (their target audience), national news anchors, and even the White House," says Johnson.
"When it comes to content promotion, it's not a templated approach that works, because that's what all of your competitors do. What works for content promotion is becoming more creative by connecting the dots between what engages people on a broader basis, and then using that as inspiration for the work we do."
Master the Omni-Channel Approach
One process still not adopted by enough marketers is coordinating your promotion efforts across channels to deliver one consistent experience.
The messaging shared on one marketing medium used by your company needs to support the other mediums you're using.
"We believe that most businesses don't meet their sales numbers in part due to a lack of marketing reach and frequency," says Brian Carter, international bestselling author, speaker, and consultant at The Carter Group.
To promote a company's content and offerings to a wider audience, Carter recommends combining your SEO and email activities together with Facebook advertising.
This method allows you to not only reach new people, but retarget your existing audience from one coordinated campaign.
"Only about 30 percent of people open your emails, even if you're doing phenomenally (70 percent don't open!), so make sure you show your content to your email lists via Facebook custom audiences," says Carter.
"This email, plus retargeting, plus ads to email contacts strategy ensures you saturate your audience at a higher rate than most of your competitors. Just make sure you change up your ad content and don't allow frequency numbers to exceed two or three on a weekly basis, or people will get annoyed."
Remember that there's no perfect formula for promoting content as the mix of tactics every organization uses is going to vary drastically. Experiment with the above strategies to see what works to drive the results your company is looking for.
What content promotion tactics tend to work the best for your organization? Share your top promotion strategies with us over on Twitter @DigitalCurrent.