In 2018, ShockWatch rebranded to SpotSee, a company that provides damage and temperature monitoring SaaS and hardware solutions for supply chains, transportation networks and heavy industrial equipment. With the new-name rebranding came a new site — a site that caused their organic traffic, keyword rankings and leads to drop significantly. To compensate, SpotSee increased its investment in pay-per-click (PPC) ads, but were faced with an abnormally high cost per acquisition (CPA). 
Insight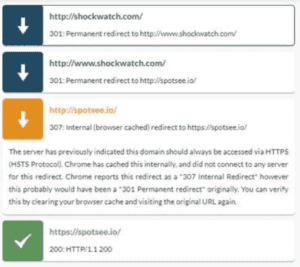 After conducting a complete technical analysis of the site, we uncovered an improper redirect chain from the former website, as well as a manual penalty from an improper schema markup by SpotSee's previous SEO agency. These two factors caused the steep drops in organic traffic and, consequently, leads. 
While executing the technical audit, we also conducted target audience research and uncovered a new messaging approach and keyword set that would resonate best with their prospects. 
Additionally, we completed an audit of SpotSee's PPC campaign setup, during which we uncovered that a large percentage of search impression share was being lost (over 47%) due to low quality score, overabundance of keywords, no use of day parting and an overall deficit of Google best practices for PPC campaign setup. 
Solution 
We helped SpotSee set up proper redirects from the former site and remove the schema markup to get the manual penalty lifted. 
Then we wrote new, optimized titles and descriptions for the core pages of the website to not only help with search engine visibility, but also drive more conversions by re-lensing the copy to customer-centric language. 
Using the same keyword research that enabled us to rework the titles and descriptions, we created two new customer-centric PPC search campaigns. 
Results 
We started seeing results almost immediately after implementation. Month over month we saw increases across the board (and one desirable decrease).