Are you still basing the effectiveness of your search engine optimization strategy solely on keyword rankings? If so, then you might be missing the bigger picture. 
You need to stop focusing on keywords.
No, we're not crazy — trust us. Sure, keywords are a factor. But you need to shift focus to SEO metrics that really determine if your strategy is a winner. 
The History of "Not Provided" Keywords
In 2011, Google stopped sending keywords used by search engine users logged into their Google accounts to Google Analytics. It started as only a loss of a small, single-digit percentage of data. One year later, that percentage had risen to 50% for some websites. Now, the percentage of (not provided) keywords is anywhere from 80% to 100%. In essence, the Organic Keywords report in Google Analytics has become useless.
How many times have you checked your keyword analytics only to find a long list of (not provided) keywords? It seems to foil the whole point of SEO.
Well, not exactly. It just means you need to be viewing analytics with a wider lens. 
Focusing on One Keyword Isn't Enough
While most, if not all, search marketers have mourned the loss of organic keyword data, the change may have been a blessing in disguise. It's forced everyone to stop focusing on keywords.
In the past, many businesses didn't just focus on keywords, but they focused primarily on only one keyword. They aimed every bit of their marketing strategy at ranking number one for that one, single keyword. Anchor text, SEO metadata and tags, even content marketing centered around that keyword.
The problem with this strategy is that many businesses spent so much energy (and money) on that one keyword or phrase that they didn't (or couldn't) focus on anything else. So if they didn't choose a keyword that drove customers, they were investing in something that didn't help their bottom line. But thanks to the obsession with keyword rankings, their appearance on the first page of search was all that was needed for a win.
Long-term, the results of such a keyword-driven strategy were grim. Over-optimized search campaigns led to websites getting hit with a loss in rankings with Google algorithm changes and manual penalties. Businesses that depended on their search visitors suffered a devastating loss of traffic.
Now, if you're invested enough — mentally and financially — in SEO to even be reading this blog, you've probably moved on from a one-keyword strategy already. But it's important to make this point again before moving in to what you should be focusing your strategy on. And if you're still seeing a lot of (not provided) keywords, even if you have expanded focus to more than one, chances are you're also not taking the right measurements of SEO performance — and/or you may be targeting the wrong searchers. 
Metrics That Determine SEO Success
Now that marketers can't track the traffic that particular keywords receive, what should they be tracking to determine if search engine optimization is working?
First, you should look at the growth of your organic search traffic as a whole (this is, of course, a measure not just of your SEO, but your entire engagement strategy). If you look at a year's worth of data or more in Google Analytics, you should see peaks and valleys, but the overall trend should be moving upward — if your SEO strategy is working.

If you see a dramatic decline in organic search traffic, then you'll need to analyze carefully when the decline began. This can alert you to potential problems such as a loss in search visibility due to a Google algorithm change or penalty. Or, it can alert you to something as simple as a change to your website's URL structure that isn't redirecting pages properly.
Second, you should look at the growth of conversions from your organic search traffic. When you track goals with monetary value in Google Analytics, you can see the growth in conversion rate percentage, number of conversions and value from organic search traffic.

If you see your number, rate and/or value of conversions rising, you know that your SEO strategy is working and that you're optimizing for the right keywords. If not, you may be losing out on valuable search traffic, pulling in the wrong kind of user or using a difficult path to purchase. 
Third, you should look at the change in impressions for your website from search. You can find this in your website's Google Webmaster Tools profile under Search Traffic > Search Queries.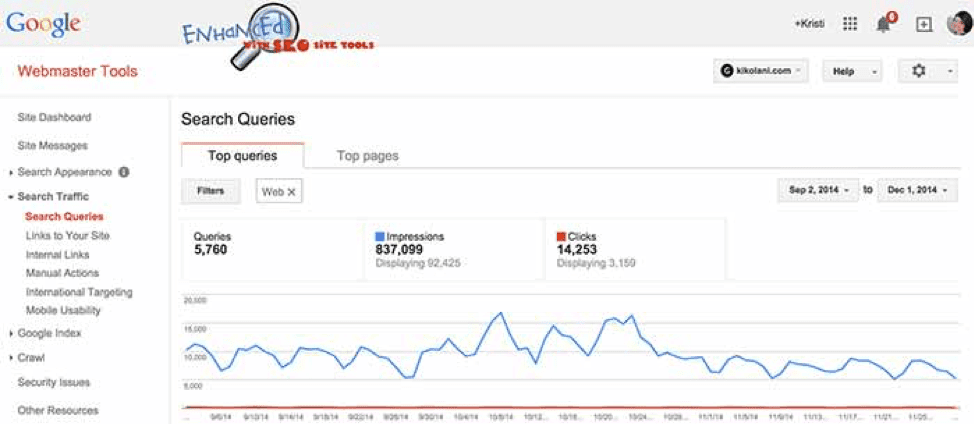 You can view your overall keyword impressions in search, and you can click on specific keywords in the table below the graph to see how your primary keywords are performing.
Long-Tail Keywords and Conversions
When choosing keywords to target in your marketing campaign, many businesses will find long-tail keywords are a more profitable investment. First, it's going to be easier to rank for long-tail keyword phrases. Take the following keyword phrases, for instance:

Once you get to "best wordpress seo plugin," the search volume and results are only a fraction of a percent compared to "wordpress" alone. Difficulty drops here, too. 
Second, the search intent for long-tail keywords is going to be obvious. Someone who searches for WordPress could be looking for anything related to WordPress. "WordPress plugin," while more specific, is still an open door. "WordPress SEO plugin" in much more specific — you know that search user wants an SEO plugin for his or her WordPress website. "Best WordPress SEO plugin" lets you know that the searcher wants just that: the best SEO plugin for WordPress. This lets you know that when they visit your site on SEO plugins, you better be showing them why yours is the best by highlighting features and benefits. You should also have a clear path to purchase, since this person is probably closer to converting that someone searching more broadly. 
Third, because the search intent is specific, the chance of conversion is much higher. You can tell that when you look at the suggested bid amounts for our four keyword phrases.

Click-through rates increase with long-tail keywords, and conversion rates for long-tail keywords are more than double than for short-tail, or head, keywords. Hence, it's no surprise that the bid amount gets higher with each word in a keyword phrase because someone who searches for long-tail keywords like "the best WordPress SEO plugin" is most likely ready to buy or download.
Spending more money isn't really appealing, sure — but remember, we're just researching keywords, not buying PPC ads. (That said, if you are buying PPC ads, consider the ROI of higher-priced keywords. Sure, you're paying more, but the person who clicks is much closer to their conversion stage than a cheaper-bid keyword searcher. More on paid search below.)
How to Link Conversions to Keywords
With the loss of keywords for organic search in Google Analytics, how can you figure out which ones result in the most conversions? It's somewhat of a guessing game, but one that you can play accurately if you try a couple of strategies. 
Create a segment in Google Analytics that allows you to view your organic search traffic separately.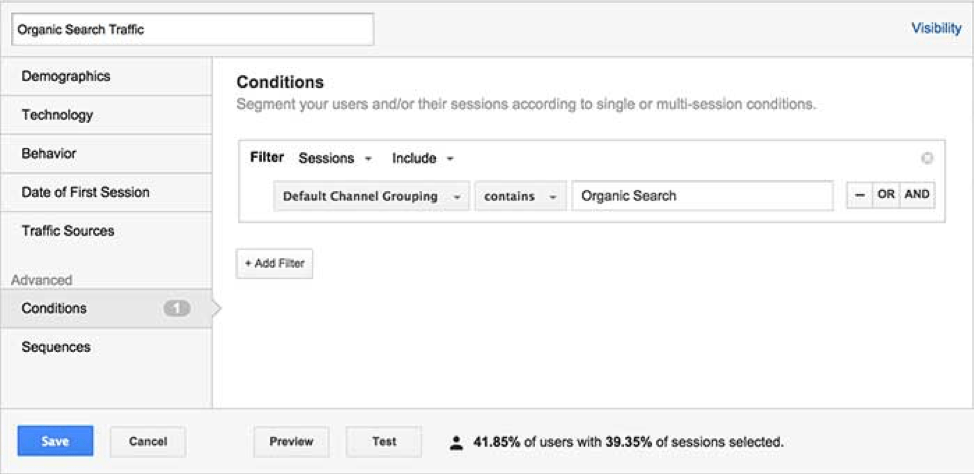 With this segment activated, go to your landing pages report in the Behavior section. You'll now see the top landing pages that search users land upon. Sort it by number of goal completions or goal value to see which ones lead to the most conversions.

From here, you'll likely be able to connect the keywords you optimized these landing pages for and thus know some of the keyword phrases that ultimately lead to conversions. 
For landing pages that are blog posts, you will also need to analyze which calls to action you used, who the post was aimed toward and what formatting was used in the post. All of these elements in conjunction with the keyword could have led to conversions from organic search traffic.
Create a paid search campaign.
If you have a few ideas as to which keywords lead to the most conversions, give them a test with Google AdWords. Prior to running this test, make sure you have linked your Google Analytics and AdWords accounts together. This will allow you to see which paid keywords lead to conversion. Then, run some ads using your top keywords along with their corresponding landing pages.
You can use your paid search campaigns to determine which calls to action would work best in organic search as well by creating different ads for the keywords you're testing. Then, look at which keywords and ad copy receives the most conversions. You should incorporate the ad copy that works into your landing page's SEO title and meta description.
Listen to your customers.
Do your customers email or call you for more information about your products and services? If so, listen to what they say carefully. Many first-time contacts will say that they found you on Google while searching for _____. That _____ is the keyword they likely searched to find your business. Ask your sales reps, call centers and anyone else who talks directly to prospects to note those keywords. If you're not getting these types of responses already, consider having sales staff ask, simply, "how did you find us?"
Going big on PPC? Check this out.
How to Get More Conversions from Search
Once you've done one or both of the above tests, you should be able to see which keywords get the most traffic and which ones have the highest conversion rate. From here, you will want to create a marketing strategy that helps you boost those results even further.
Optimize the best-performing landing pages. 
Unless you're getting 100% conversions on the landing pages, then conversion rate optimization (CRO) should be your first goal. Start optimizing your most trafficked and highest-converting content and work your way down. You can do this by making a direct call to action to drive your visitors to your products, services or mailing list.
Create new content.
Hopefully, you saw that content on specific topics, based on the landing pages report, led to conversions more than others. Create new content on topics that align with your best-performing landing pages. Also, come up with related topics that could rank well for different long-tail keyword phrases so that you can experiment with keywords that have higher conversion potential.
Drive traffic and social engagement. 
The more eyes you can get on your top-converting content, the better. Find ways to share it with others by answering questions in your industry. The more social shares you receive, the more traffic you'll receive. Bloggers who like linking to new content will, hopefully, see your content and link to it in their posts, which also helps boost your SEO.
Fine Tuning is an Ongoing Battle
When you go beyond keyword rankings as a metric of success, you'll open the door to fine-tuning your organic search strategy for what's important: conversions. And when you dive into long-tail keywords, you will be able to tap into a wider variety of content topics and landing pages to help attract and convert more visitors. Just remember, the battle is never over. Your competitors are on your heels. 
Are you ready to work with a transparent SEO agency? We go beyond the rankings to show you how our SEO efforts are impacting your bottom line. Let's chat about how we can help you.