Aligning PPC Strategy With Pain Points
When we took over PPC lead generation for an award-winning provider of SaaS business spend management solutions, their Cost Per Lead (CPL) was high and their Conversion Rate was low. 
With a creative new B2B Google Ads strategy that centers on customer pain points, we've achieved significant quarter-over-quarter improvement:
Conversion Rate rose 180% across the account to 7.24%

Cost per click decreased 22% overall

Cost per conversion is down -3.51% to $68.15

Our best campaign, which drives paid traffic a Whitepaper, converts at 30.27%
This Google Ads chart from inside the account shows steady improvement in the client's Conversion Rate, with the account average at 7.24% and peaks at a whopping 10%.

In B2B lead generation, where the average Google Ads account conversion rate is 3.04%, those are stellar results.
Across all verticals, the benchmark conversion rate for Google Search ads is 3.75%. In Display, it's .77%.
With a 7.24% conversion rate for this SaaS client, we've more than doubled the industry average.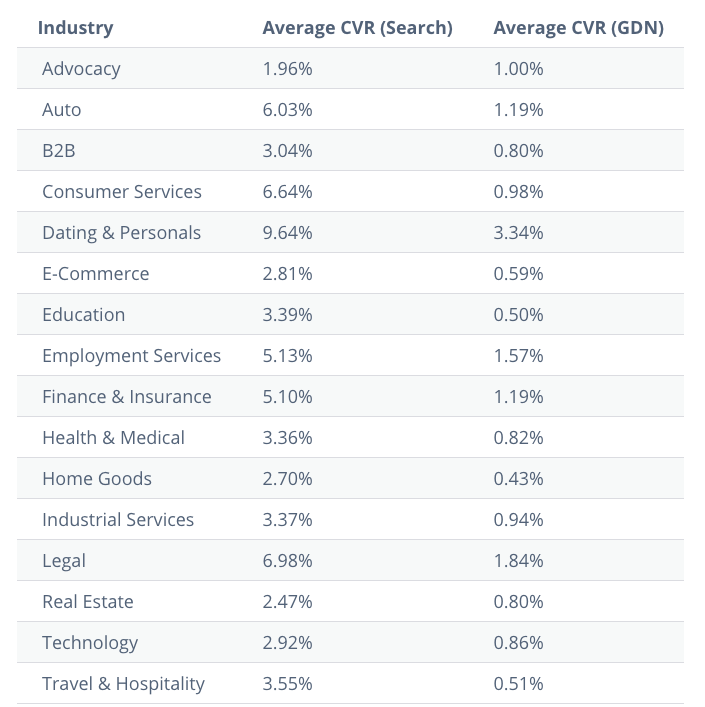 The key to making these gains was aligning PPC strategy with the buyer's journey.
"Their PPC strategy is about the user experience. If you can answer a search query with your ad, and then provide further directions with your landing page, you are bound to succeed!" says Digital Current PPC strategist Mat Nelson.
With a new strategy that aligns keyword targeting, ad copy and content marketing to help new users discover the client's lead generation assets,  Mat and Digital Current's PPC team ensure that our client is visible to the target market when they search for answers to their biggest challenges.
It's part of a robust SaaS marketing strategy that connects the dots between acquisition channels and strategies by focusing on end-user pain points—which is the key to driving down paid CPLS in the highly competitive SaaS industry. Their Google ads support the entire customer journey while creating cost-effective retargeting capabilities that cover the full funnel.
Troubleshooting PPC Lead Generation 
To troubleshoot high CPLs and low conversion rate in Google Ads, the first thing we did was map out and evaluate the strength of their paid search funnel. 
Starting in their Google Ads account, we looked at things like campaign structure, bidding strategy, the keywords being targeted and the copy in each ad group.
Next we looked at the landing pages they were driving paid traffic to. 
We spotted a huge strength: their assets were well written, attractively designed, relevant to their target audience and implement conversion rate optimization best practices. 
"This client really nails their content. Their lead generation assets for PPC campaigns include a mix of eBooks, webinars, reports and white papers. With strong content like 'The 2019 Procurement Insights Report' and a webinar called 'Modernizing Strategic Sourcing Processes,' we knew that there was opportunity to get more mileage out of these high-value pieces, says Smith.
Our PPC ads promise answers to challenges. When users click through to these landing pages, the content delivers.
Another effective SaaS lead generation asset from them is webinars. They use persona-centric subheads to pull users in.
"How to Select the Right Suppliers to Minimize Supply Chain Risk" is an example of a semantic, long-tail keyword we're targeting. Their content marketing directly addresses an issue the customer is trying to solve—and includes a healthy dose of social proof with insights from Forrester, a name that professionals in this industry trust.
But there was one glaring issue: the assets weren't relevant to the keywords being targeted in Google Ads.
A lack of keyword-asset alignment was the underlying cause of their high CPLs and low Conversion Rate.
A SaaS Marketing Strategy that Connects the Dots 
To improve performance, we restructured the Google Ads campaigns according to the content of their lead generation assets and—most critically—the procurement industry challenges they addressed.
Our new Google Ads strategy hones in on pain points that their core customers face by targeting semantic and long-tail keywords.
Geek to human translation: people search the way they talk.
"When people turn to the internet for information, they're looking for answers to their burning questions. They use language that reflects the conversational way they talk," says Abby Smith, Digital Current's Director of Account Services and Strategy.
Their PPC strategy leverages keyword targeting that is informed by user intent. Here's an example of how that strategy works:
When a procurement professional wants to learn "how to create a diverse supply base", they're not going to search for a branded term like "[Company Name] Software." (They'll search for that branded term later—after they've consumed the brand's helpful content, having self-identified as needing the solution that the company provides. When they get to that stage, we'll be right there, retargeting those users with new ads that speak directly to how the product solves procurement challenges.)
"To be clear: we're not saying to forgo bidding on your branded terms – that's still a PPC strategy best practice," says Nelson.
Part of our strategy is to use smart retargeting lists and custom audiences to drive better ROI on branded terms. But it's important to note you can't target just branded terms because they're bottom of funnel. They appeal only to prospects in the conversion phase.
We tested mid-to-bottom of funnel ad copy for the branded term "[Company Name] Software" focusing on end-user pain and gain points: ease of use, integration, and customer service. 
When a user on a retargeting list sees an ad for "[Company Name] software," we're ready with ad copy that pulls marketing psychology levers to drive conversions.
The ad copy includes social proof ("a leader . . . for the 5th year in a row"); a collection of testimonials; and CTAs that drive bottom of funnel conversions. Strategic sitelink extensions provide additional callouts for the social proof and put emphasis on the actions users usually take before they convert (see a demo or book a sales meeting).
The ad copy speaks directly to where the user is in the buyer's journey and nudges them to take the next step.
SaaS is a crowded niche. When you bid on branded terms, do it right: craft ad copy that's specific to overcoming mid to bottom of funnel sales objections. It's what will differentiate you from your competition.
For top of funnel lead generation, PPC ads that target keywords related to the problems your product solves and speak to those challenges—not your brand name—are cheaper and yield better results because they align with the awareness stage in the buyer's journey.
When we aligned the client's customer journey with persona-centric content marketing and PPC keywords, we connected the dots in a major way that led to better results.
So, what's next? Scaling the account by testing more ad types and ad platforms to increase our retargeting reach.
What You Can Learn from This PPC Strategy
"The bottom line is: even in a competitive niche like SaaS, PPC lead generation can still yield cost-effective results that scale. Boosting MRR and RPU with PPC is a matter of outsmarting, rather than outspending, your competitors," says Smith.
Here's what lead generation professionals who rely on paid traffic can learn from this PPC success.
Optimize your landing pages. There are two factors to improving your PPC conversion rate. Ad copy is one of them. However, your landing page is the most critical one. If your ads are doing well, but your landing page doesn't drive users to take action, then money is being wasted.
Constant A/B testing drives ROI. In June of 2020 alone, we tested 9 new audiences in the account. Testing different audiences, ad copy, extensions, landing pages and lead magnets has been critical to Digital Current's success. A/B testing uncovers valuable new ways to connect with your audience.
Manage PPC spend wisely. Pace your budget, reallocating spend to the best performing assets. Turn off ads and kill assets that don't perform. Use data to know when it's time to scale, and hedge your PPC strategy by incorporating many ad types to create robust retargeting.
Don't get into a bidding war with competitors on branded terms. That'll just bleed your budget dry. Instead, seek to lower account-wide CPCs (and outsmart competitors) by targeting keywords that cover the full buyer's journey.
PPC teams need to collaborate with creative teams. Digital Current has tested more than a dozen white papers, webinars, eBook and reports as PPC lead generation assets for this client. Our results show that you can optimize your PPC strategy faster if you have a steady stream of high-quality, keyword-optimized content marketing assets to test.
What would a 180% increase in paid traffic conversion rate mean to you?
How much cheaper would your CPL and CPA be if you were getting results like this?
Never miss your MQL or SQL goals again. Hire an experienced agency with proven results in SaaS marketing strategy. Contact the pros at Digital Current to audit your PPC lead generation campaigns.