Backlinks, content and RankBrain are Google's top three confirmed ranking signals, likely in that order. Despite the industry buzz surrounding backlinks supposedly losing their SEO value, they remain absolutely essential. That means link building strategies are essential to success in digital marketing. 
Explaining links in a nutshell: Links are, effectively, online recommendations. A link is a metaphorical pat on the back from one website owner to another saying, "I trust your information."
Google monitors the credibility of websites linking to yours and adjusts your rankings accordingly (over time) depending on how many authority websites link to you — in addition to the strength of this collective authority.
That said: acquiring frequent, credible links to your website is highly recommended. This process of search engine optimization is known as link building.
So, how exactly do you maximize your link building impact while remaining safely within Google's Webmaster Guidelines?
Shoot up the SERPS with these 5 simple link building strategies that improve what you're already doing. Make sure you're using these link building tools and techniques to get the best results for your business.
#1: Produce Linkable Assets
The first step to dominating search engine results through link building is to create exceptional content that is brilliant enough to consistently earn links — all on its own.
Of course, promotion is always strongly advised. But as a rule for creation — if your content is superior enough to gain links without the need to request them…you're onto a winner.
As marketers and business owners, content is at the heart of everything we do.
Content is the new link building tool!
Link-worthy content is known as a linkable asset — and you want as many of these valuable content assets as possible.
NOTE: I'm not suggesting you pump out hundreds of low-quality pieces of content. That would be pointless. Every piece must be extraordinary. If you can publish quality + volume like HubSpot, that's great. If not, release just one piece every month. And make it phenomenal!
So, why are linkable assets required?
There are more than 4 million blog posts published each and every day. That means unless you invest sufficient time in setting your brand apart from the competition, nobody is going to link to it — and your Google rankings (+ traffic) will suffer as a result.
In contrast: do it right, get noticed and your brand will reap the rewards.
The concept is simple: Make your content relevant and better than anything else you can find in your niche. Then promote it like crazy!
I spend a lot of time creating my content. But that equates to only 5-10 percent of my entire process…the remainder is the distribution of that content.
Once you gain a few links and features, the domino effect often follows.
Focus on:
Headings, title tag, meta description and social meta + structured data

Make it utterly beautiful

User Experience

: Make it a joy for your visitors + keep RankBrain satisfied

Make it intriguing and addictive

What will your visitors take away from your amazing content?

Is it a viable

lead or sales generator

?

Optimize for every channel and spend >90% of your time promoting it
Types of Linkable Assets:
Long-form or colossal content
Data-driven research
Infographics + Gifographics
Quizzes
Free tools
How-tos and highly educational pieces
Interviews
Statistics
Controversial topics or newsworthy linkbait
#2: Utilize Influencer Leverage
Industry influencers hold the keys to the door of huge, engaged audiences — and with such exposure comes heaps of potential social shares and backlinks. You just need to find a way of getting them to unlock that door for you…
Never nag. Never pester. Provide value to influencers first, before even thinking about asking them to do something for you. This is imperative.
When we're talking links, even more caution is required. Social shares, not quite so much…but blatantly asking for links without any previous interaction is very much frowned upon.
You only get one shot at this. Give an influencer the wrong impression and you will be ignored or, even worse, blocked! Initially, you'll need to find relevant influencers.
Twitter is one of the best tools for first-touch communication. It's deemed very low-pressure and also quick because of its word-count limit.
Advanced search operators on Twitter work similarly to how they do in Google search. For example: use phrases in quotation marks, like "small business" (which you can replace with your chosen keyword) and "influencer" (a word you can also replace) into the Twitter search box.
Then, use Twitter's navigation options to segment your search by person, Tweets or multimedia types.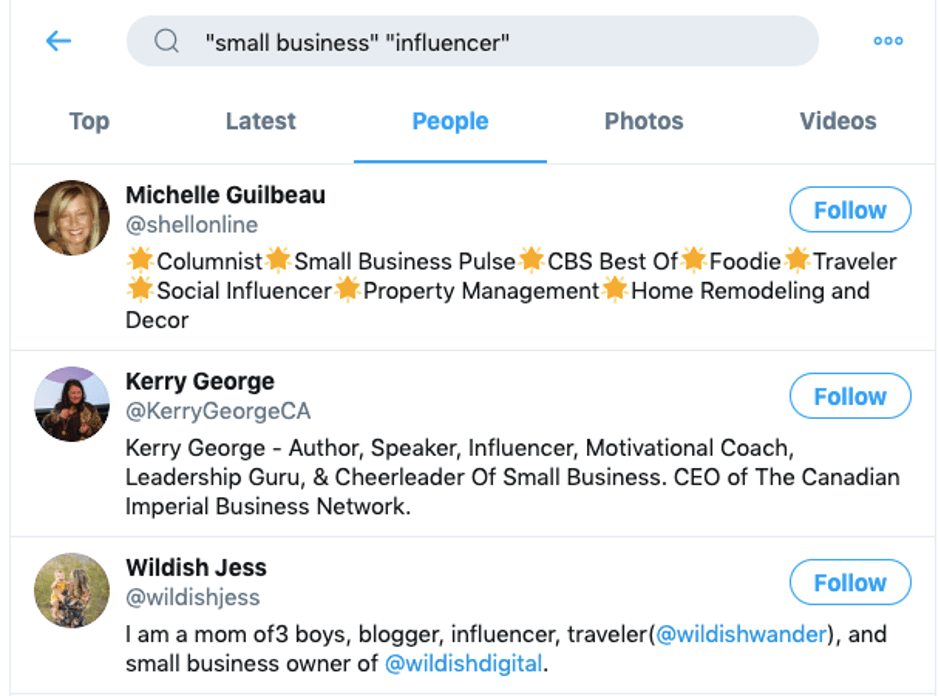 Instead of "influencer," you can try "thought leader," "speaker," "Forbes top 10," "Forbes top 20" or "contributor" to name a few. Discover more ideas like these in influencers' bio sections.
Open each profile in a new tab and weed out those who don't have any engagement and/or large audiences.
Now, begin to connect with your chosen few influencers (sincerely)!
I recommend three levels of engagement, spanning a period of 1 to 3 months:
LEVEL 1 ENGAGEMENT
Follow the influencer on all channels

Share their content

Leave genuine comments on their content
LEVEL 2 ENGAGEMENT
Share their content and engage using a more personal tone

Endorse them on LinkedIn

Cite them in your content (and make sure they see it)
LEVEL 3 ENGAGEMENT
Ask for their contribution to a round-up post 

Ask for their input on your material (careful here…many influencers are BUSY)

Hire them to promote your content!
Finally, when you have surpassed Engagement Level 3, a lot of barriers will have been demolished. This makes it much easier for you to request links and social shares in a much more direct manner, but never forget to be respectful at all times. Influencers get asked for all sorts of favors — all day, every day.
#3: Engage in Link Hustling
This is one of my favorite link building strategies! And although a great tactic for anybody, it is especially valuable for larger businesses with presence and clout. I used this method while developing the SEO strategy of an international construction company.
It involves discovering where you have been mentioned and simply requesting a link instead of settling for an unlinked brand mention. Simple, right? Yet, immensely powerful — depending on how large and/or reputable a company you run.
I have seen cases of thousands, literally thousands of unlinked mentions! It would be a great shame not to make the most of those instances. If a website team has already considered your brand worthy of their material, often you will find there isn't a hefty barrier preventing interaction…which is usually the case when conducting cold link outreach.
To begin your link building hustle, sign up for a paid tool like Mention, which can alert you immediately whenever you get mentioned anywhere across the public web, including social media — which presents opportunistic links. It's a link building tool you don't want to operate without. 
You are able to use advanced Boolean filters to prevent wasted energy and ensure you only get the results worth pursuing. Obviously, this takes some time to optimize.
Another great tool to use is Link Prospector — mainly for its filters. Primarily an SEO citation finder, it provides incredibly useful sorting functions so you can prioritize your link building efforts effectively:
High or low DA (domain authority)
Number of inbound links
Number of outbound links
Relevancy
If required, apply the same outreach tips in #2 to contact relevant employees at these brands. If they aren't on Twitter, chances are good they will be found on LinkedIn!
#4: Optimize Your NAP
An incredibly easy way to help search engines identify your business is to develop a uniform presentation for your business name, address and phone number (NAP). On your website, on any off-page business listing and on any social network account, your NAP should look exactly the same.
Once you've developed a format for your NAP, correct your NAP on all of your website pages so it looks exactly the same. Check your "Contact Us" page, your homepage and any widgets appearing on every page to update all instances of your business NAP. Then, start adding it to sites you already use or to easy-to-join directories. Here are a few suggestions:
Social network profiles
Visit your profile pages for Facebook, Twitter, LinkedIn and other social networks. Add the same NAP to every profile, and add a link back to your website.
Claim listings on review sites and search engine directories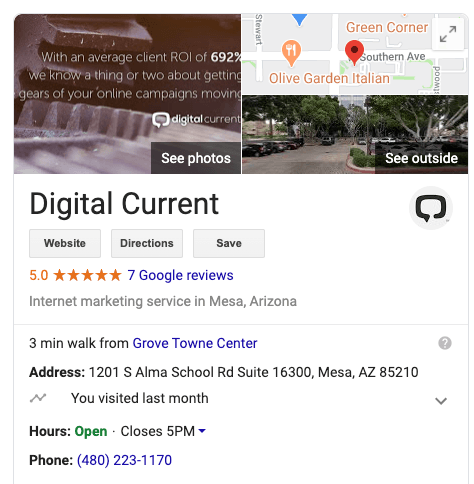 Visit Google My Business, Bing Places for Business and Yahoo Local to either add or claim your business listing for each of the major search engines. Also, visit website review sites relevant to your business, like Yelp or TripAdvisor, and either claim or add your listing. Make sure you use the same NAP for every listing, and when each site sends an email asking you to verify your listing, respond quickly.
Update your professional organization profiles
If you're a member of any professional organizations, add or update your online member listing to include your NAP and business URL.
Update your alumni directory
Contact your university alumni association and add your business contact information, including your updated NAP and web address, to the association's online alumni directory.
Take advantage of community organization directories
If you're a member of the Lion's Club, Rotary Club, Optimist Octagon International or the like, add your business web address and NAP to the online member directory.
Join local small business associations and chambers of commerce
Become a member of local small business associations and your local chamber of commerce. Ask to be listed in their online directories.
#5: Build Awareness and Links Simultaneously
In addition to adding your NAP and links to important referring pages, make link building part of promoting your company in the community. See if one of these options might work for you:
Ask Followers to Share Your Content
Instead of just posting blog post URLs in email newsletters or on social networks, ask your followers to share your content. Your links could end up within their social network feeds, on their blog sites or in other unexpected yet beneficial places.
Participate in Community Events
Sponsor a local charity event, donate to a youth program or rent a booth at a local festival. Ask to include your NAP and URL on promotional web pages, social media posts, email messages and print materials.
Do a Local Newspaper, Radio, Television or Podcast Interview
Seek out opportunities for print, audio and video interviews. On the page where customers can access the interview, ask for a link back to your site, and include your NAP when possible.
Present at a Local Meeting or Conference
Prepare a presentation related to your business or area of expertise, and share your presentation at a local organization. Ask to include your business URL and NAP on the organization's website, Facebook Events page, marketing emails and more.
Commit to Refreshing Your Link Building Strategies in 2021
Link building doesn't have to be hard, and it doesn't have to take a lot of time. Implement these link building tips to improve your inbound link profile, boost your search rankings and get more traffic to your website.
Need help strengthening your authority in order to boost search rankings? Contact Digital Current for an SEO consultation today. We founded the link building industry in 2003, and we're happy to set you up with a link strategy that drives ROI.