Prestigious Placement for Digital Current on Marketing Firms List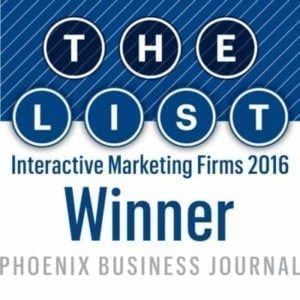 Mesa, Arizona, March 7, 2017 — Phoenix Business Journal's Book of Lists for 2016 has selected Digital Current as one of the Top 5 marketing firms in the Phoenix metropolitan area. This prestigious list, complete with rankings, is used by businesses to make decisions on what firms they choose for their services. Locally, it is the number-one source for local ranking information.
It is also a reference for businesses around the country, with all businesses grouped by industry, which can impact future economic development of the region.
In addition to ranking firms, The Book of Lists also includes the firm's size, revenues, key clients, and reputation. Since 2015, Digital Current moved up the marketing firms list from sixth to the fifth position.
"It's a great honor to be included with these other outstanding companies in The Book of Lists. We continuously strive to improve and expand our company and our offerings, and this award serves as an affirmation of our endeavors," says Jarrod Hunt, the Chief Marketing Officer of Digital Current.
Innovating to create the strongest results for clients, Digital Current recently added a new position not seen at other agencies. The position, Client Performance Engineer, works closely with clients to create the most successful results for their individualized marketing campaigns. Adjusting digital marketing strategies to grow the client's business and maximizing budgets for results are key factors of each campaign.
Digital Current's marketing approach emphasizes conversion optimization, high-performance content, search engine optimization (SEO), authority development, and engagement. Integrating these approaches creates a more thorough client experience that encompasses more of the digital landscape. A recent survey showed content to be the strongest indicator for success in marketing, which is an area in which Digital Current is extremely adept.
Working with clients, Digital Current adjusts and adapts each client's marketing program to include digital strategies that will provide the strongest results to impact their business.
Located in Mesa, Arizona, Digital Current has grown from occupying a two-room strip-mall office in 2003 to a staff of over 60 full-time SEO and digital marketing professionals. With more than a decade of experience, Digital Current has perfected strategies, systems, and technologies that enable the agency to create high-quality, scalable organic search marketing solutions.
About Digital Current
Digital Current is a conversion-driven digital marketing agency specializing in organic search marketing, SEO, high-performance content strategy, conversion optimization, content marketing, and link development. Its mission is to develop lasting and strategic partnerships with its clients by delivering enduring results that maximize the return of their online marketing investments.