When you're looking to improve the number of leads or sales you're getting through your website, the most common lever to pull is SEO. More traffic, more leads! The logic is sound and it works, but there's another lever you should be pulling, too, to get even better results. Conversion rate optimization (CRO) could be your ticket to riches. 
Let's look at some math … 
Say you get 100,000 visitors every month and they convert at a rate of about 10%. That's 10,000 leads or new customers. If their lifetime value is $1,000, you're making $10,000,000.
Hey – that's not bad! Good for you. 
But are you leaving money on the table?
Now, say you're able to increase your conversion rate by just 2 points, to 12%, that brings your leads/customers up to 12,000 and your revenue to $12,000,000. 
And if you're also doing SEO and driving more traffic, say a 10% increase to 110,000 visitors every month, that translates to 13,200 leads/customers and $13,200,000 in revenue. And don't forget, ongoing SEO will continue to increase your traffic month over month, so the growth is exponential! 
Understanding how visitors behave, constantly testing and creating an enticing conversion experience are critical elements for improving your lead generation. Even small, incremental increases in the amount of site visitors that convert can mean big money for your business. 
These six conversion rate optimization (CRO) tools can improve your site's conversion journey, transforming casual visitors into loyal, paying customers.
2 Tools for Tracking How Visitors Explore Your Site
These CRO solutions provide insight into visitor movements on your site and more, empowering you to position your best assets where visitors want to see them.
1. Hotjar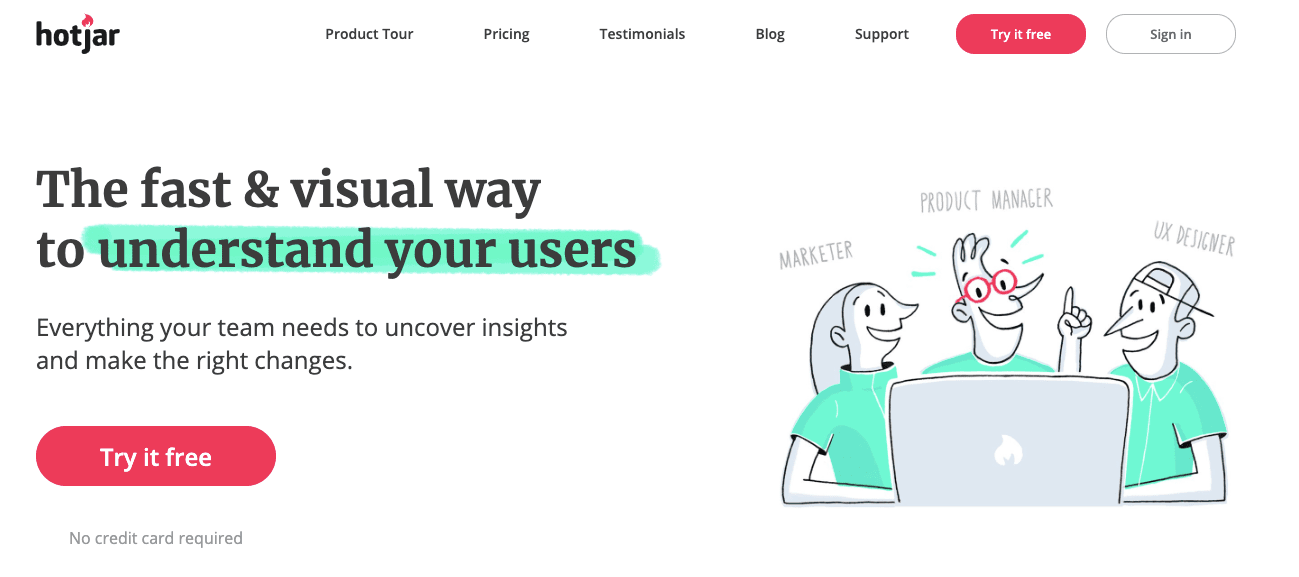 Hotjar offers a range of CRO tools, including heat mapping, individual session video recordings, conversion funnel analysis and form abandonment analysis. If your visitors never look at your left-hand menus, or if they're getting all the way to the cart stage but never actually complete a purchase, Hotjar can help you identify the pitfalls and hone in on what you need to fix.
You'd be amazed what you can discover from user recording. What seems crystal-clear and intuitive to you may actually be confusing to users. What may be a static image or element on your page may actually be enticing users to engage with it — but be let down when they realize they actually can't. Keep an open mind and let the user recording data guide thoughtful, impactful changes to your content and user experience (UX).
2. Crazy Egg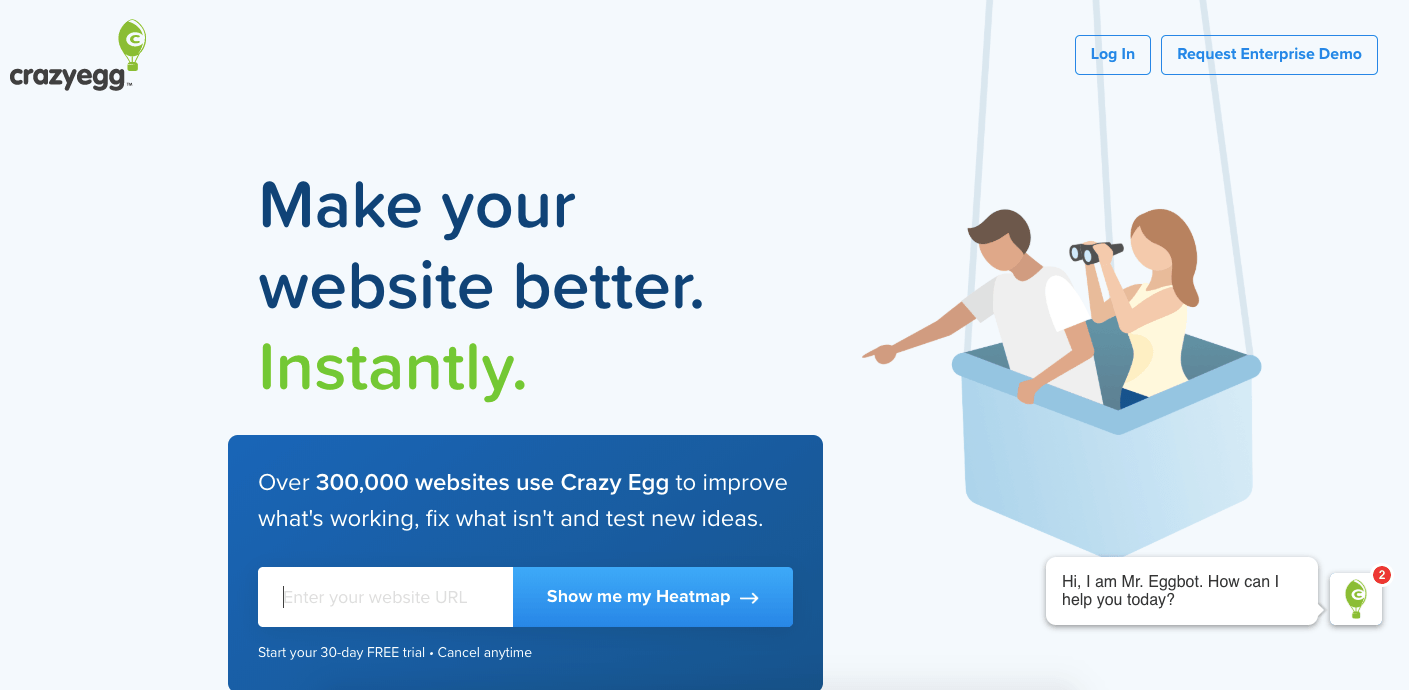 Crazy Egg does one thing very well: Heat mapping. You set it up with just a small snippet of code added to your webpages, and then you paste the URL into Crazy Egg to monitor target pages. You'll see where people click and how they scroll, and you can even segment user patterns by referral source as well as track which visitor patterns more often correlate with completing the conversion task.
If you're thinking of making any navigation changes to your website, use a tool like Crazy Egg first!
3 Tools for Testing Your Pages
Test different value propositions, CTA buttons, landing pages and other visual elements with these three CRO tools for testing pages. It's amazing how simple tweaks to button text — say, going from "Learn More" to "Start Saving" — can drive users to action more successfully. 
3. VWO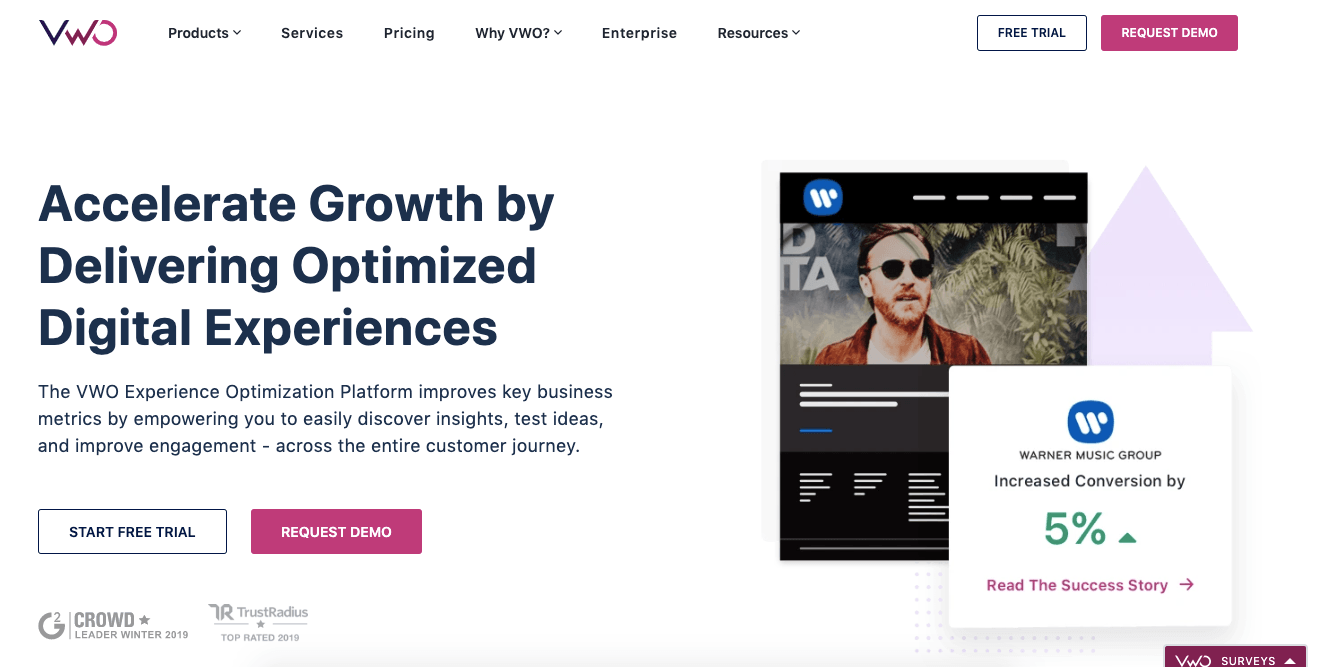 VWO has a ton of great CRO functionality. We love their visual editor for testing. It's easy to use and requires no coding knowledge. With VWO you can do A/B testing, multivariate testing and/or split URL testing. 
4. Google Optimize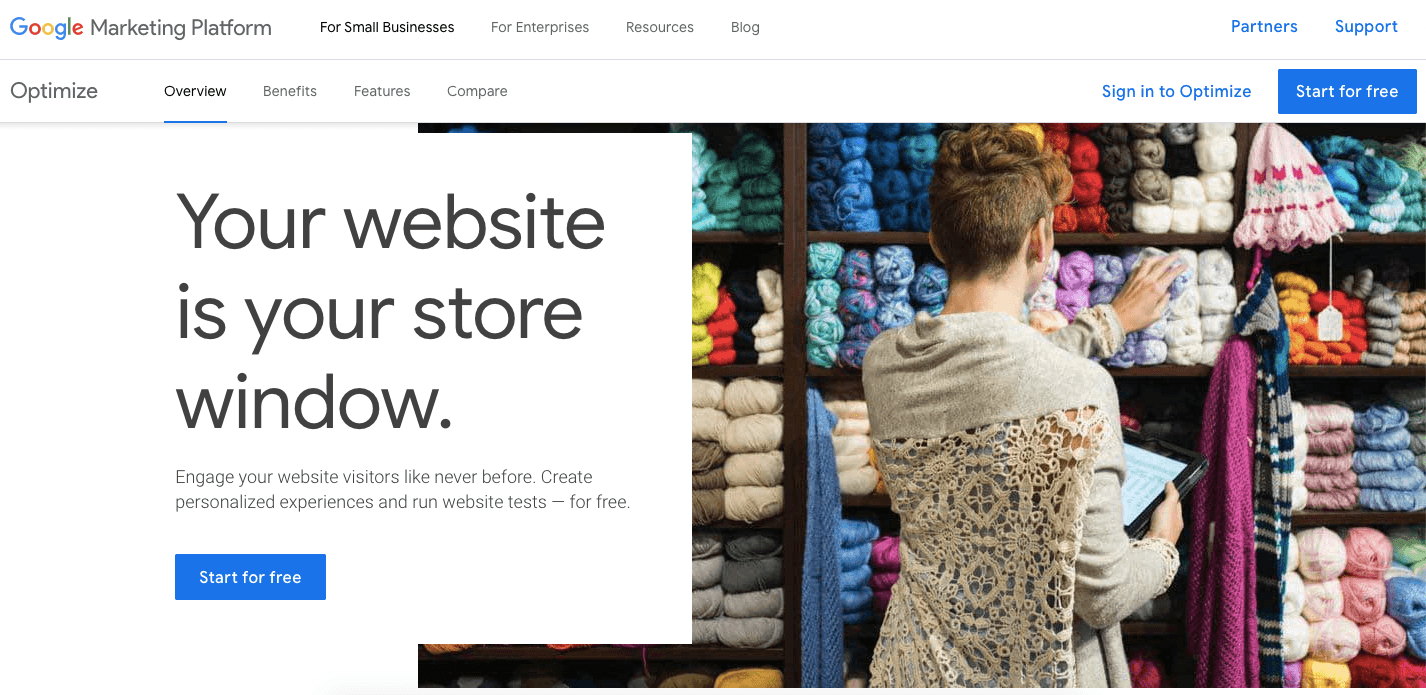 Google Optimize lets you set up multiple A/B, multivariate and redirect tests. Its terrific reporting options for conversion testing and behavior flow analysis — and the fact that it offers many robust tools for free — makes it a great choice for any organization using Google Analytics.
5. Optimizely
In addition to offering experimentation not only for websites but also for applications, devices and channels, Optimizely has expanded from simple A/B testing to delivering full-on automated personalization. With an enterprise-level tool like Optimizely Personalization, you can set a few campaign parameters, identify key customer segments and immediately initiate personalized experiences for each visitor. You can also monitor the effectiveness of automated personalization to ensure you're getting your money's worth.
1 Tool for Creating a Better Form Experience
All this work to create a better user experience, compel users to click and otherwise drive them to the precipice of conversion can be foiled by a form that turns them off. Too many boxes to fill in, questions they can't answer, organization that just doesn't gel — even just a form so basic, so uninspiring they glance right past it. It  could all mean a lead you almost had becomes a lead your competitor gets instead. 
6. Paperform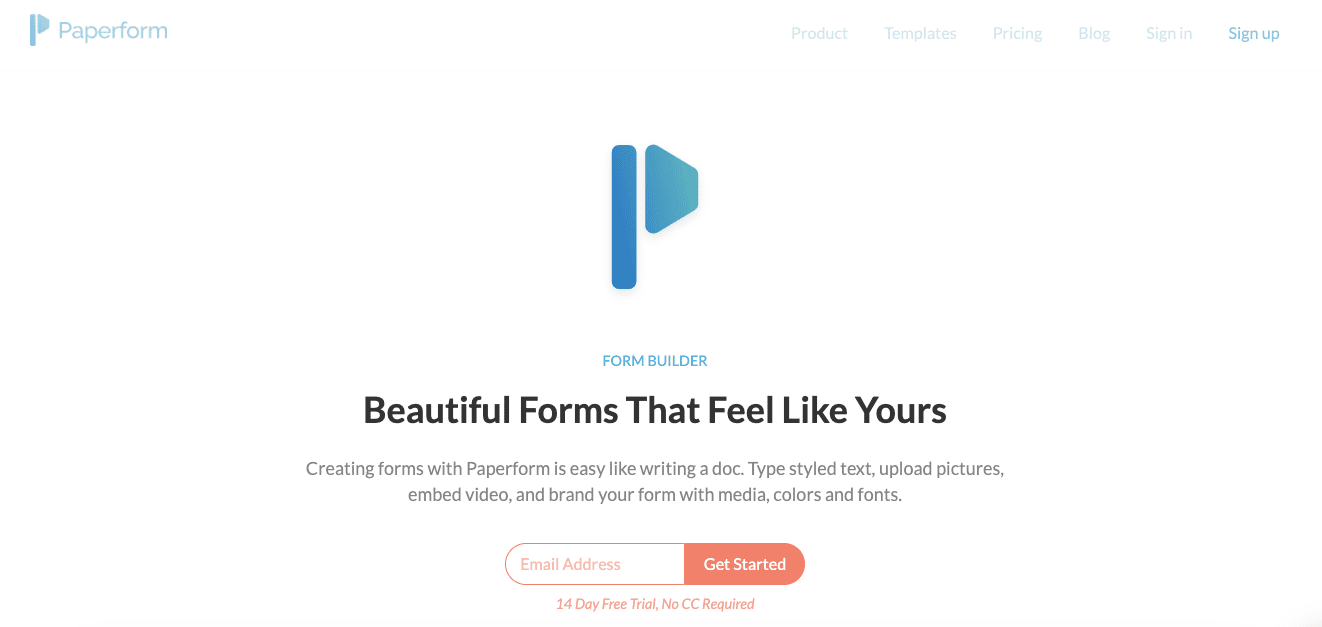 In the way that many people developed "banner blindness" from seeing far too many ads, your site visitors are likely suffering from "form blindness." Creating an eye-catching, unique form that will draw in more customers is what Paperform is all about. Their visual editor is easy to use and the forms embed in your site with a few simple steps.
Listen – users tend to know what they're getting into when they fill out a form. It signifies intent that often takes a lot of mental investment to develop. They know they're going to start getting emails and outreach from you — and that can be a turnoff if they're not quite committed. How can you overcome this and encourage them to bite the bullet and get connected with you, a solution that can help them? Create a form they can't resist. One that makes them remember why they came to you for help in the first place. 
CRO Takes Your Website From Placeholder to Powerhouse
Getting traffic is only half the battle. With these six professional Conversion Rate Optimization tools, you'll transform more visitors into customers, and you'll make your website competitive both today and in the future. 
New to CRO? Start here: how to identify and prioritize conversion optimization opportunities.
Having trouble getting your CRO and SEO tactics to drive results? Register for our free webinar, "CRO vs. SEO: Sync Your Strategies for Powerful Results." Stop optimizing in circles. Report on the right metrics. And start getting more ROI.