Now that we're past all of the "see you next decade" dad jokes and "New Year, New Me" posts clogging every platform, it's time to make sure that you have a solid foundation in your digital marketing strategy for 2020. More traffic, more leads, more clicks, more checkouts  — no matter what your marketing goals are for 2020, you have to make sure you're not getting left behind with the old tactics of 2019. We put together a list of 7 digital marketing trends that get us excited for the trials, tests, tactics and treasures of the year ahead. 2020 can be "your year" with marketing strategies that add the latest research and innovation to a foundation of SEO, content and authority.  
Keeping an eye on these trends will not only help you stay marketing savvy in the new year, but can also give you better ideas on how to reach your goals and connect more thoroughly with your targeted audience, to achieve their goals and yours.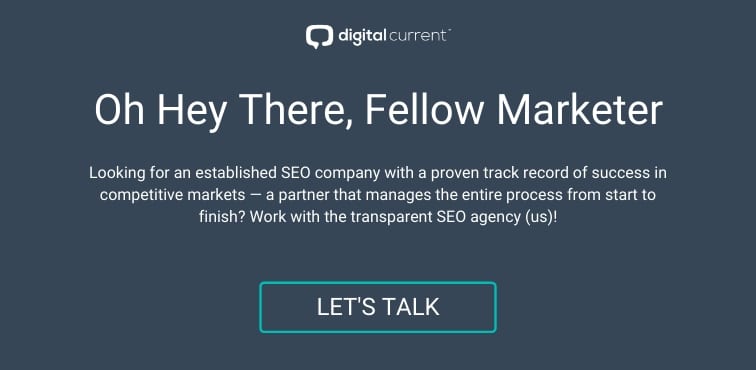 1. Videos are the new blogs
Is this even news to you? Video marketing has grown in popularity because it works. Audiences are more than warmed-up for video content at every turn, they're hungry for more of it. Video is prime for social media, where easily digestible, pause-the-scroll-worthy imagery combined with informative, engaging text (remember that plenty of video users watch without sound!) gets the message across and feeds the user's craving for entertainment, education and amusement. It's a perfect platform to explain a product or service and communicate your most important value propositions. 
Video is known to get more, better-qualified leads, among numerous other benefits. This quick rundown from HubSpot points out video's efficacy in product videos especially. If you're selling something on your website, video is a must — and it doesn't have to be complex or high-budget. A simple demo, explainer or unboxing video can be all it takes to turn a visitor into a customer.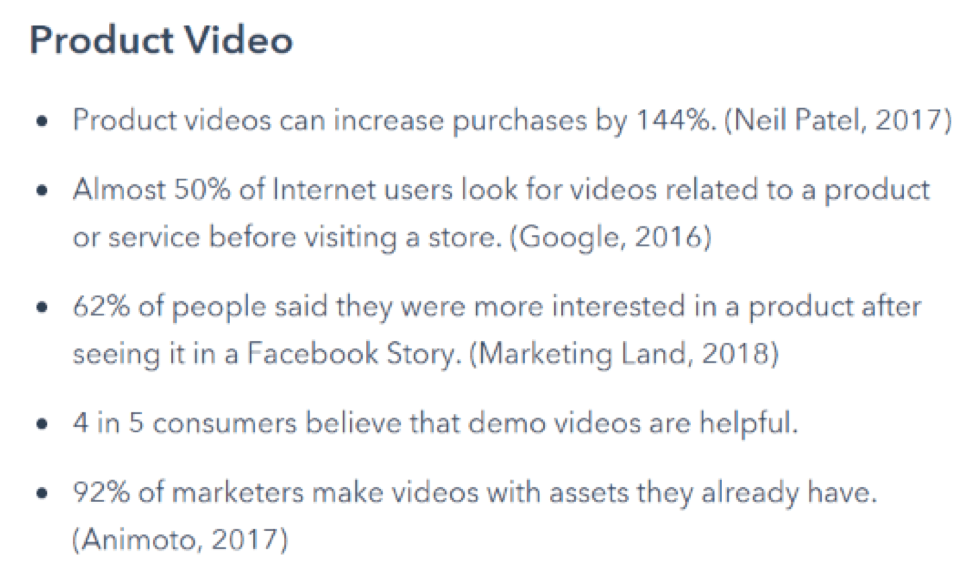 And the opportunities for video are growing every day. From streaming services, to augmented reality (AR) and  virtual reality (VR) (think 360 degrees!), to shoppable videos and those highly personalized, video marketing is becoming an industry in and of itself! 
2. Quality over Quantity in Content – Thanks, BERT
As Google explains on its blog, last year's BERT update took search algorithm preferences from looking at "'keyword-ese,' typing strings of words that they think we'll understand, but aren't actually how they'd naturally ask a question" to prioritizing "models that process words in relation to all the other words in a sentence, rather than one-by-one in order. BERT models can therefore consider the full context of a word by looking at the words that come before and after it—particularly useful for understanding the intent behind search queries."
Basically, the rise of hyper-specific, natural-sounding question searches — especially those made with voice search, a rising fraction — compelled Google to use advanced language processing software to better serve up results. These snapshots from Google lay it out pretty clearly: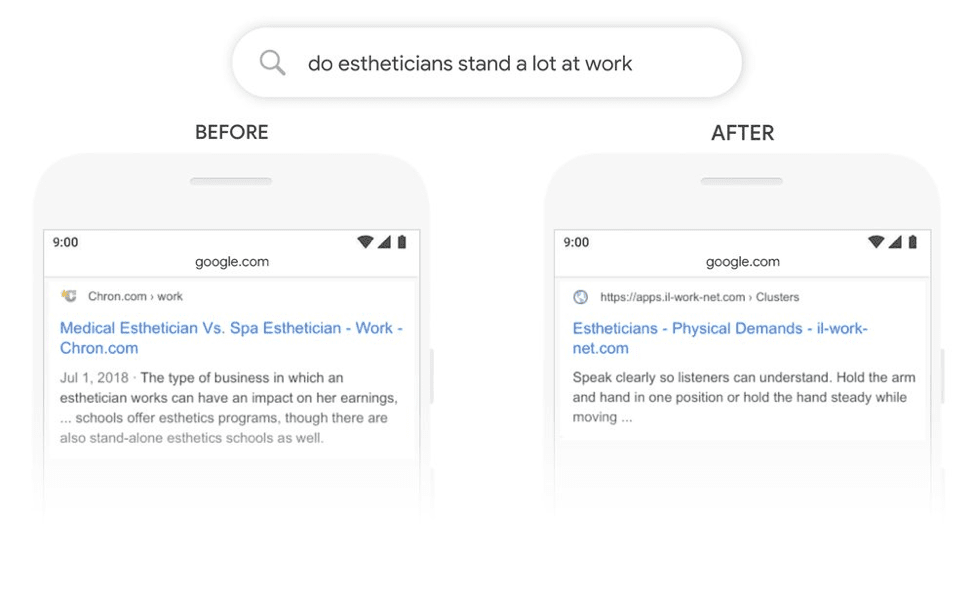 And this also feeds the Featured Snippet machine, a boon to user experience but a tough nut to crack for even the savviest of digital marketers. 
This all means your content should be getting to the point with authority and accuracy, providing the most quality to the user without overindulging in quantity. Answer the right question (know which is right by building a buyer's journey) — and answer it well, and qualified users and leads will follow. 
3. Local SEO
You might think of local SEO as a primarily B2C and small business tactic, but it's imperative for B2B visibility, too. Have you ever been in a situation in which you find out a company that's in your same ZIP code is a customer of your competitor in another state?
Well, if you aren't on top of your local SEO game, then perhaps you didn't show up when they Googled your product or service. Make sure you've optimized your Google My Business listing, have informative location-specific landing pages, create local content and get listed in directories. 
Another pro tip — get up to speed on entity optimization so that customers who find you through a Google search, or when they click to expand your Google listing, get a full picture of your organization. 
4. Speakable Schema, featured snippets and voice search
As Digital Current's Senior SEO Strategist Brandon Alisoglu points out, speakable schema and entity optimization will have a lot of impact on SEO in 2020 — so it's best to get started now.
Well, between entity optimization (SameAs especially) and this, we'll be updating a whole lot of code in Q1. https://t.co/HHJfN0dnIq

— Brandon Alisoglu (@BrandonAlisoglu) December 16, 2019
What is speakable schema? You're familiar with featured snippets — it's why half of Google searches end without a click. Now, speakable schema will tell Google that your content is ripe and ready for voice search results, so it can be spoken aloud by Google's response (typically a featured snippet, in some form).  We expect featured snippet domination to continue, and voice search is becoming more and more popular, so if you're not on board with speakable schema you're going to get left behind. 
5. Privacy – You've Heard of CCPA and GDPR, right? Right!?
If you aren't on top of the latest privacy regulations here in the US and abroad, now's the time. The California Consumer Privacy Act joins the european Union's General Data Protection Regulation. Get all the details you need in our blog post. 
6. Millennial Marketing Becomes the Norm
It's only natural – as the millennial generation ages, they take up a greater percentage of decision-making roles, even in B2B. And even if they're not making the final buying decisions for a business, they're active in the research and consideration phases, which is where most of your marketing is happening.
So how will you update your marketing strategies, even your company's voice, tone and personality, to become more Millennial-savvy? Will you emulate a certain lifestyle or aesthetic that inspires this generation? Will you adopt greater transparency in operations or business philosophies? Maybe you'll tie your product to a cause or a stance, that shows you care about the greater impact of your business on the world.
Sure, some of these seem like stereotypical distillations of an all-too-often critiqued group of adults. But no one will deny that generational differences exist and revamping your marketing approach will set a precedent for buyer who are going to be in the business world for decades to come.  
7. Personalization and the Extended Application of Buyer's Journeys
Here at Digital Current, we're a huge and vocal proponent of buyer's journeys. We see them as essential to a well-rounded digital marketing strategy and we look for any opportunity to leverage the buyer journey (and marketing persona) information with every tactic we engage. 
In 2020, buyer's journeys are becoming even more important as the need for personalization grows. Customers in general are becoming more and more savvy to the martech behind the scenes and can even be turned off by what they perceive as big-batch outreach. Instead, marketers in 2020 need to find ways to create emotional connections developed through an in-depth understanding of the buyer's journey.
That means we can expect the buyer's journey to be useful not just for content marketing, but keyword strategy, CRO (especially CRO!), information architecture and other areas that have yet to move from a mass-appeal to a more focused approach.
What Other Marketing Trends Will 2020 Bring?
We're excited to gain new ground in digital marketing with the opportunities (and challenges, let's be fair) listed above. What's on your horizon in 2020? Digital Current can help you level up your marketing to meet the fresh demands of 2020 — and help you shore up everything else, so your new endeavors start off on sure footing.