The SaaS (software as a service) industry grows more competitive each year, making it evermore difficult to stand out. Updated Summer 2019, discover 7 vital SaaS marketing trends to achieve success.
Software as a Service is an incredibly vibrant, pioneering industry — and one of the most fluid.
It's now also extremely competitive. There isn't much room for 100 percent original solutions; merely attempting to "get there first" and sell a unique SaaS business before maturity is no longer a reliable strategy.
There will always be another fresh, subscription-based startup that offers a similar service. To illustrate further, feast your eyes on the ever-evolving martech landscape and its absolute proliferation from 2018 to 2019: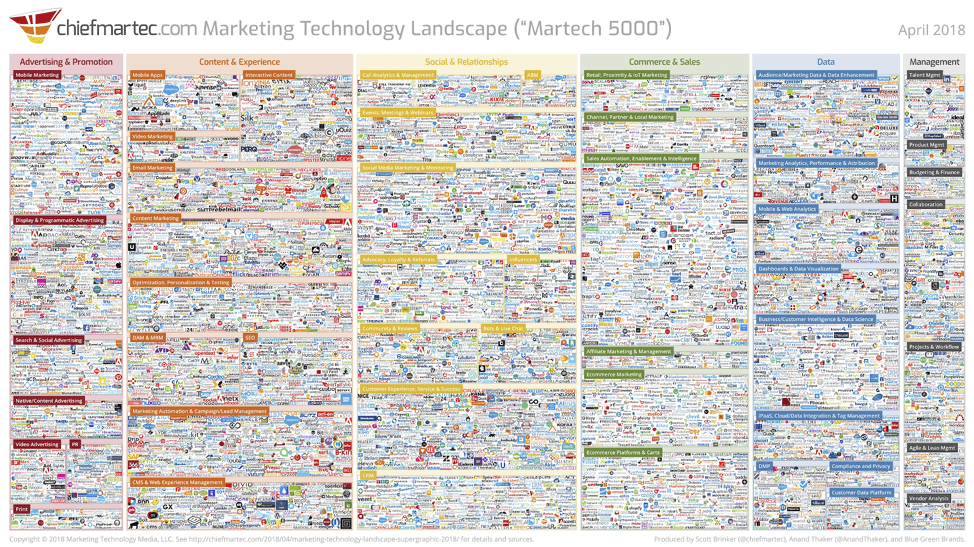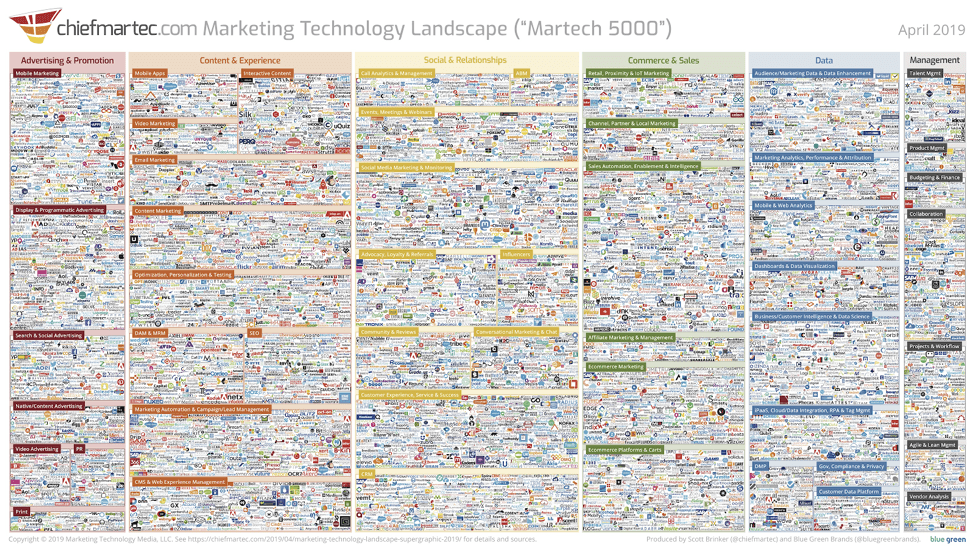 (Insightful Infographics via Scott Brinker | 2019 Full Graphic Here)
What began as the "Martech 5000" a few years ago ballooned to 6,829 companies in 2018  — and then up to 7,040 in 2019. When Scott Brinker started measuring back in 2011, the martech space had about 150 companies and that number roughly doubled for about the next four years. We may not be seeing the same year-over-year percentage increase — perhaps a sign of market saturation — but even today the number of companies in martech is growing rapidly. 
So, how do you overcome this saturation …?
#1) Enter the right market (with a validated product that solves real problems)
And
#2) Do it better than anybody else
Simple concept — not so easy to implement!
However, staying up-to-date with changes in this fast-paced environment already grants you an immediate advantage.
To remain succinct, this guide will largely reference B2B SaaS. Although B2C SaaS marketing techniques are sometimes interchangeable, there are also distinct differences.
That said: Here are seven SaaS marketing trends to consider for your 2019 growth strategy — while reducing churn and maximizing your recurring revenue.
Trend #1: Not Only Vertical vs Horizontal
…But on top.
I'll explain more in a moment.
How you position (or in this case, fit) your software solution into the market will play a huge role in SaaS success or failure.
Vertical SaaS has not only exceeded the growth of horizontal models over the last few years — it boasts another highly attractive benefit: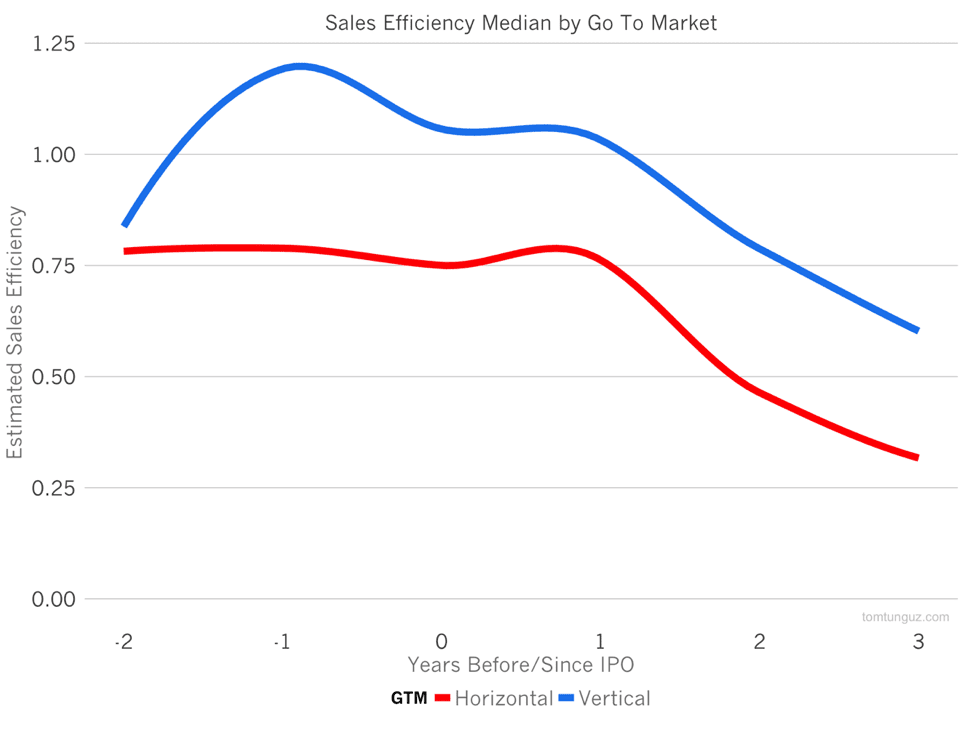 So, what are the modeling options — and what do they mean?
Vertical = Targeted software that caters for a specific industry (e.g., finance, healthcare, legal)
Horizontal = Industry-neutral software that caters for a need (e.g., marketing, accounting, sales) across many industries
And the more recent trend:
On top = Targeted and/or industry-neutral software built to integrate with an existing solution or multiple solutions (e.g,. Zapier that works with Xero, Salesforce, Slack, etc.)
Discovering an opportunity to enhance an existing, popular vendor's product means you instantly gain access to their receptive audience and customer base.
Zapier is a fine example of a horizontally aligned solution that was built with the sole purpose of connecting hundreds of apps so they can talk to each other. For this reason, it could be classed as "fitting on top."
It's also perfectly viable to be vertically aligned, while doing the same. (Think: "A Zapier" that is dedicated to the finance industry…or Veeva, coming up next.)
This concept is a fundamental marketing hack that evidently fosters autonomous growth; consider, for instance, app iterator Zapier, which has grown consistently over the past decade or so to now work with more than 1,000 apps. It seems to be working well for them, since they now earn them anything up to $50 million in annual revenue.
Veeva is the ultimate example of a SaaS brand that applied this model to their pharmaceutical CRM (and other) industry-specific offerings, with astounding results… We're talking $600 million in yearly revenue!
The team structured their vertical service on top of the Salesforce platform, harnessing the colossal power of the already-established brand, without building everything from scratch.
As more brands like Salesforce and HubSpot begin to create proprietary "ecosystems" in this way (known as Platform as a Service or PaaS), other SaaS businesses can tap into this opportunity (just like Veeva did) and go vertical, with the added reassurance of being taken under the wing of a robust brand.
Alternatively, they can also form their own PaaS!
Could it be time to pivot your existing offering?
Trend #2: Feature Marketing
In the end, SaaS marketing all boils down to the product.
However, a certain growing trend is to be increasingly indirect, by creating either surrounding or stand-alone features.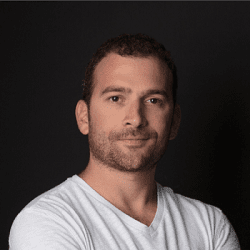 Yam Regev is the SaaS wizard of a popular content and traffic-boosting platform — follow his insights on the topic below:
"In many cases (especially in the Horizontal SaaS case mentioned above), the product becomes humongous. Product and R&D teams are constantly adding more layers, tools, features, and widgets.
For marketing, it can become a huge headache when treated the wrong way. Marketing teams should feel like this is their REAL bonanza — the fact there are lots of new features is just like having more content! Extra features enable Marketing to better inform and engage targeted audiences.
Feature Marketing is a new-age Product Marketing. Breaking down SaaS marketing efforts into Feature Marketing is a trend evolved from Side Product Marketing, where brands create parallel products that present added value to targeted personas, but actually sit separately from their main product.
A good example of Side Product Marketing is Unsplash — owned by Crew — yet it almost became bigger than the Crew platform itself!
We have seen many SaaS companies who took Product Marketing to the extreme. Now, brands are celebrating new features on a whole new level, creating full-swing marketing campaigns around them.
Let's check out a couple of examples:

InVision could be said to be pioneers of Feature Marketing.
Nowadays, many of their core features come with massive landing pages containing tons of explanations, videos, GIFs, animations, and micro-interactions that have one goal: to engage and convert new visitors, while nurturing current users.
Most features are being marketed so well, people actually hunt them on ProductHunt!
MailChimp: Facebook Ads Campaigns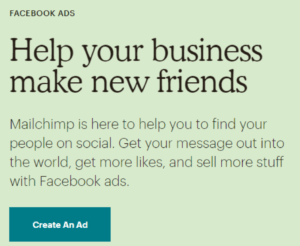 MailChimp are masters of Feature Marketing.
Their Feature Marketing efforts are so well executed, sometimes it feels like a brand-new product is launched. You forget there is a huge, long-standing company standing behind it!
This is authenticity at full scale.
MailChimp is not only creating new features and marketing to perfection, its creating robust, nurturing side-funnels as well — so, from their feature landing pages, you sign up and find yourself starting to flow in their "new-feature" email drip funnel, rather than inside their main funnel.
This new-feature funnel will eventually lead you to their main product funnel (promoting their principal email automation product) — even though your entry point originated solely from their new feature release."
Amazing.
Trend #3: AI and Machine Learning
This trend shouldn't come as any surprise! It increasingly becomes clear that many corners will be turned in marketing (and business overall) by acknowledging the power of Artificial Intelligence (AI) and Machine Learning (ML).
We're amid a marketing revolution — intelligent and automated technology is finding its way into every part of our lives. For the SaaS industry, it is no different…
In his yearly letter to Amazon shareholders, CEO Jeff Bezos referred to the topic on a couple of occasions, with regards to Amazon's own SaaS-based offering — AWS (Amazon Web Services):
"Big trends are not that hard to spot … We're in the middle of an obvious one right now: Machine Learning and Artificial Intelligence."
"Inside AWS, we're excited to lower the costs and barriers to Machine Learning and AI so organizations of all sizes can take advantage of these advanced techniques."
SaaS runs on data — a fundamental ingredient. AI and ML enable progressively automated means of operating through the mass-processing of such data (minus additional human resource).
Some of the possible applications of AI and ML for sophisticated SaaS marketing and customer experience (CX):
Hyper-personalization (on-site + off-site)

Chatbots

and assistants (say goodbye to long-winded sign-up forms)

Drop off alerts + triggers (to reduce churn)

Constant, hands-off A/B testing

Solutions that improve without manual input

Dynamic pricing

packages

Predictive analytics
You'll notice these all-encompassing technologies already power the following trends covered in this piece, to some extent — and they undoubtedly fuel the future.
The equal popularity of search terms "saas marketing" and "ai marketing" is an interesting observation. In five to 10 years' time, we will see vast uptake of AI in the SaaS space — and just about everywhere else!
'Standard' B2B marketing as we once knew it, is gradually becoming merged with ABM (Account Based Marketing) with the recent advances in technology.
Blanket approaches just don't cut it anymore — the potential to scale personalization exists today.
It's time to get on board if you aren't already.
Trend #4: Conversational Conversion
Offering targeted conversation not only buffs SaaS brands with a trendy image — it presents opportunity for faster, accurate lead gen and initial customer onboarding on a 24/7, 365 basis.
The future is one without bland contact or lead forms and annoying, relentless pop-ups that are of no interest to the individual visitor.
The future means a blend of interactive live chats and chatbots that analyze and predict visitor behavior, engaging at precisely the right moment, providing relevant content at the optimal time — in a similar fashion to how a human would converse.
The future is now. Check out Drift's popular chatbot tool: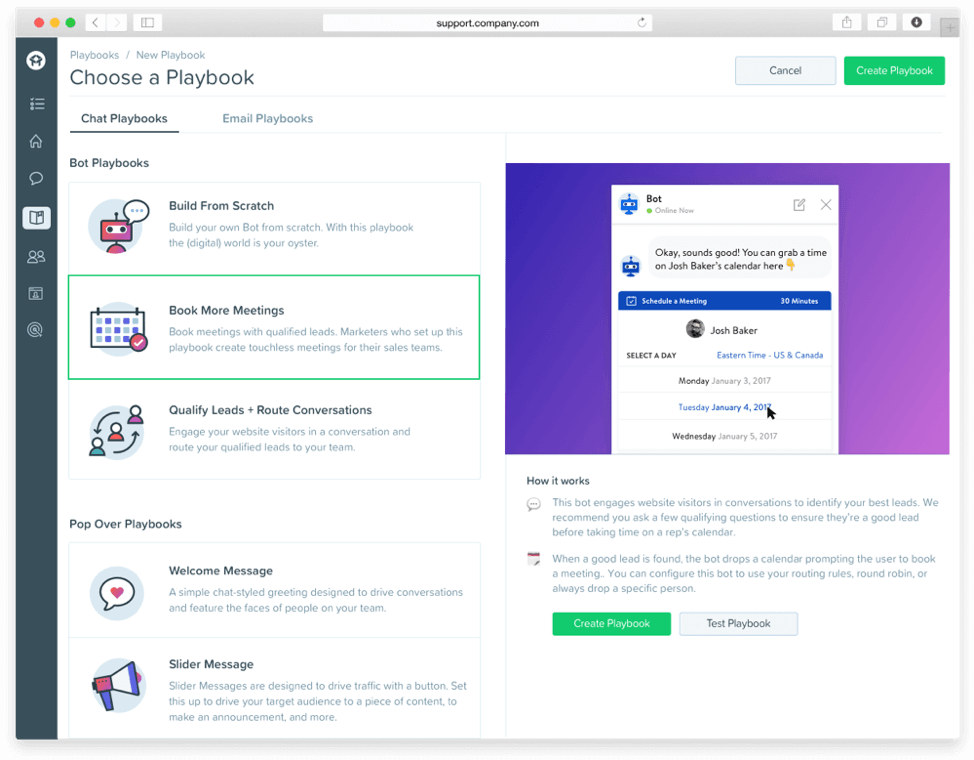 Drift already boast an attractive collection of SaaS-specific case studies — and it's not difficult to see why.
Aside from "human" conversation that delivers timely content, satisfies needs, qualifies leads, and converts… chatbots cater for the growing expectation of immediacy.
And they can do it more efficiently than any human (with the right setup and "training").
Digest this: five minutes is the ideal timeframe for responding to a lead.

After such time, there's a 10x drop in odds of getting in touch with them at all!
Respond in 10 minutes instead of five? Prepare for a 400 percent decrease in odds of qualifying the lead.
These are eye-opening findings from Drift's survey, where they reached out to 433 B2B brands to measure their speed of engagement: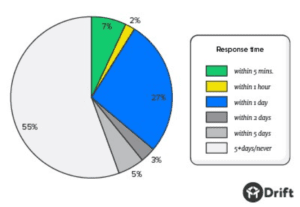 Taking into account the fact that customers want everything now, this level of service isn't conducive to conversion!
It also pays to be proactive rather than reactive: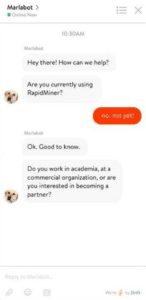 Chatbots can be "triggered" to make this happen.
Another intelligent chatbot model to examine is Intercom. They've amassed an impressive 20,000 business customers — and a fair share of top-tier clients in the SaaS industry.
Coupling this automated on-site conversation with off-site chat (e.g., chatbots via Facebook Messenger) enables lead gen, initial onboarding, plus customer support to run (somewhat) on auto-pilot.
Conversational commerce and B2B chatbots are only set to advance and proliferate as AI does the same.
The key is to sync your tech stack to offer a seamless omnichannel experience wherever possible — visitors, leads, prospects, and customers should enjoy an appropriate, unified journey no matter how often they switch device or channel.
Is your SaaS brand keeping up with the era of hyper-personalization as we head into the final half of 2019?
Trend #5: Granular Customer Profiling
This nicely blends the previous couple of trends — and follows the distinctive theme in modern SaaS marketing: 1:1 communication is the ultimate objective.
That means no second guesses. No haphazard ad campaigns that dive in for the hard sell. Just ultra-honed messaging as-and-when relevant…on an individual basis.
Ideal customer profiles (ICPs) are what all your marketing (and unified sales) strategies should align with; this is only possible when account, visitor, and/or customer data is collected and utilized over time — in real time!
This leads to:
Reduced churn

Increased upsells, cross-sells, and Average Contract Value (ACV)

Faster time-to-conversion following free trials and/or freemium usage
Once more, it would be a crime not to mention Amazon here.
While it isn't primarily an SaaS brand, Amazon's methods should definitely be replicated in yours. Everything Amazon does as a company is innovative and applicable to SaaS marketing.
Not many have a budget like Jeff Bezos … but Amazon's philosophy of knowing customers like close friends costs nothing to adopt.
Actually implementing the strategy behind such a perspective is only achievable through progressive customer profiling — and it paves the way to a level of personalization that is simply expected as we enter 2018.
B2B and B2C marketing tactics are more aligned than ever before. CMOs must take heed.
Whether we're talking inbound or outbound marketing, it's vital to not only target companies, but cater for the various decision makers within — similar to how a successful e-commerce brand operates when precisely targeting consumer demographics.
FlipMyFunnel is an ABM community advocating this account-based mentality in the B2B space … and it's a brand created by an established SaaS company that enables such personalization: Terminus.
Trend #6: Integrated Customer Success
Being customer-focused is not only a highly attractive trait that makes existing customers warm to you; it will undoubtedly boost revenue as a result.
When you are overtly devoted to your customers' success (not solely your profit), the rewards are multiplied.
It creates a desirable cycle: Visitors turn into customers. Customers buy more. They tell others. Others buy. They tell the world…
This dedication to customer success will only intensify as competition builds in the near future.
It's simply not enough to employ a good support team, or to offer proactive guidance that is siloed; value needs to be baked into the culture of your company and touch every aspect of the customer journey in order to compete with major SaaS brands that are already (fundamentally) providing such a rich experience…
Think: Buffer, HelpScout, Zest, and Groove HQ.
The positioning of the customer before anything else is often regarded as the greatest strategy for growth while sustaining minimal churn; customer success has been found to be 5x more valuable than sales.
Remember: Customers are constantly presented with choices. They can switch vendors at any time if you're not providing adequate value.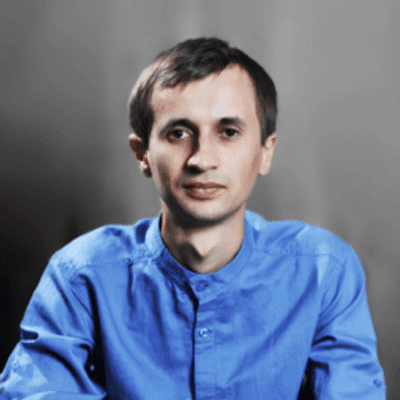 Claudiu Murariu runs a successful data-driven SaaS — his strategy for engaging customers in this way is exemplary:
"We set email triggers and based these alerts on the value that customers were getting from our product. Customers were using our product for lead generation.
Every customer would have a number of leads they usually generate each month. When that number saw a significant drop or increase, we would be notified and attempt to understand as quickly as possible what exactly happened. That allowed us to actually discover issues that our customers were not yet aware of, and fix them in time — while also responding to positive outcomes to maximize potential.
I think this is the reason why our emails were so appreciated. We actually focused on their value, not ours."
Trend #7: Vulnerable Thought Leadership
Being the expert positions your company ahead of the pack.
Innovative, educational content is the vehicle to truly get noticed — it's at the very heart of inbound SaaS marketing.
Terminus are again a prime example of this…
With their FlipMyFunnel initiative, they were able to rapidly grow both brands to the point where their (now sizeable) conferences boasted 25 sponsors and 35 speakers last year alone.
Thought-leading content fosters credibility and gains recognition for the company and service you represent.
For inspiration, just check out Shopify's vigorous library of go-to content resources. (They've grown their once-SaaS brand 10x in only three years).
What could possibly be even better than distributing pure industry knowledge and new concepts..?
Being vulnerable and 100 percent transparent (sharing the good and bad) adds an endearing dimension to this strategy. It instantly shows existing and potential customers you are human and not a faceless software corporation.
Claudiu Murariu aptly described the key to extraordinary, visibility-focused SaaS material:
"Delivering content that no one else can."
This simply cannot be emphasized enough!
And, aside from company-orientated, inbound content that influences the masses — we're also seeing more and more personal brands being formed in the SaaS space. Here are some of the most notable (and very transparent) examples of this nature of content marketing:
Notice the 50/50 split of founders and team members?
Introducing the workforce to customers in this manner is a fantastic way to add further warmth, authenticity and vulnerability to your company brand. As a CEO, it shows you are invested in your team and willing to enable them to build their own presence.
This is how brand influencers are born.
[NOTE: Remember to diversify your material. Video marketing is a surefire approach for maximum engagement this coming year onwards.]
Despite the numerous advantages and growth of content: In the SaaS industry overall, there is still room for uptake of educational marketing (with 11 percent of the world's largest SaaS companies operating without a blog at all!):2018 may be the year they feel some pressure to play catch-up.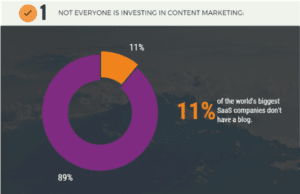 2019 may be the year they feel some pressure to play catch-up.
The buzz and dynamics of SaaS make it the perfect fit for addictive, sincere content that draws attention like a magnet.
Of course, any content marketing should be part of a robust and valuable content strategy, so that it benefits from and provides opportunity to promote your entire content ecosystem. We can help with that.