Website migrations are a common practice — but all too often, they get bungled. As a marketing director, you're often tapped to lead migration efforts (or it's required due to your site redesign), which can be a daunting, risky task. This four-part series explains how to plan, execute, and monitor a site migration like a pro, with tips and insights from my experience in SEO and specifically site migrations.
If you don't execute a site migration correctly, you risk losing thousands — even millions — in revenue due to bad UX, lost content, and the undoing of all the SEO work you've done so far. Your keyword rankings could tank and your traffic along with it. That's exactly what happened to one company — and why they turned to us to save the day. 
In Part 1 of this guide to website migrations, it's all about setup and planning. Benchmarking and goal setting make up the first phase. 
But first, let's go over some basics.
What is a website migration?
A website migration occurs when you make significant changes to your website in a manner that affects search engine visibility. These changes are typically to the site's design, location, UX, structure, platform, and/or content. 
The most significant occasions occur when content will be moving to new URLs, which can mean loss of keyword rankings, organic traffic, and ultimately, revenue. If Google understands page X is about topic X, and then it can't find it anymore, there's no reason for Google to continue ranking that page highly for relevant queries.
Why might you need a website migration?
Because these changes can impact your website's rankings in search engine results, you need a good reason to undertake a website migration. In general, reasons include:
You need to update your framework or CMS.

If your platform is outdated and negatively impacting your site's performance, you might need to migrate to a new framework in order to provide your customers with a good UX.

You want to change your site's design, navigation, or structure.

If your customer journey isn't funneling visitors through the site effectively or the design isn't clear enough, you'll likely have to migrate it.

You've acquired a new brand.

Integrating the acquired company's digital assets into your main site makes for a seamless user experience. 

You want to update to a responsive site.

You should consider designing and optimizing your website for mobile first and desktop second, with responsive design (and not on an outdated m.domain).

You want to move to a new server.

Perhaps your server isn't performing the way you want it to. Migrating your site to another server can be a solution.

You need to move from HTTP to HTTPS.

If your site isn't secure, most users will see a warning in their browser before they can land there—and that can cost you business. Clearly, migrating to an HTTPS is essential.

You want to change the domain name.

Changing your domain name isn't something you should do on a whim, but if you do it, you'll need to migrate your website.
In my experience, the most common reasons for a site migration are acquisitions. There's often a lot of SEO value to be mined when you acquire a brand by strategically redirecting the acquired company's site to your own.
And the most difficult migrations involve changing a brand name and/or domain. Google will struggle to understand how the new site is related to the old site, so it's imperative that every precaution is taken to provide the best roadmap possible.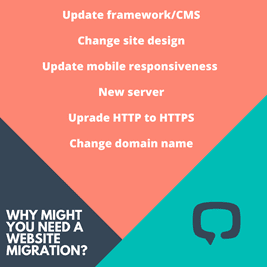 How much does a website migration cost?
The costs of a website migration are challenging to estimate, as they're different for every project. They can vary from as little as $225 to tens of thousands of dollars, depending on the scope of the project. Some agencies charge by the hour, while others charge a flat fee for the project. Beware of a flat fee. Each migration has too many unique components to reliably provide the service with a canned offering. Digital Current considers a number of angles when scoping what's necessary to maintain as much SEO equity as possible.
When quoting a price for a site migration, we consider the number and type of pages that need to be migrated, whether or not you have specific databases that need to be migrated, whether or not a theme needs to be converted, and how much optimizing needs to be performed. The amount of implementation and web dev support needed will influence cost, too. 
Why is it so important to do your website migration correctly?
When you commit to a site migration, it's critical to do it correctly. Ultimately, you want to convert more, whether that's prompted by an improved customer experience, better branding, or more informative content.
A poorly executed migration can have the opposite effect: leading to losses in search engine page rankings, a bad UX, broken internal links, slow website speeds, and lost content. Ultimately, these issues will likely result in a loss in traffic and worse — fewer conversions.
And when the shoe drops, everyone's looking at the marketing director for answers — and solutions. 
To understand just how dramatically a botched website migration can affect a company, consider the following case study. Like you, this marketing director was approaching a major site migration. Unlike you, this marketing director may not have done their due diligence and ended up with a failed migration that cost them even more to fix.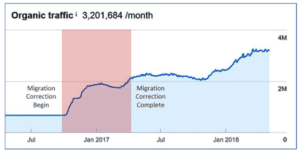 A major hotel chain wanted us to migrate 14 sites into the architecture of the main brand website to improve the CX and brand recognition, as well as reduce maintenance and overhead costs. The first company it hired to perform the migration didn't have sufficient SEO knowledge, which resulted in a dramatic loss of traffic and a poor user experience. 
Then the hotel chain turned to us at Digital Current for help. Within four months, we cleaned up the website, audited the content, and consulted with the hotel chain to create the high-performing website they wanted.
If you want to avoid their fate — with months of wasted time and millions of dollars lost — keep reading. 
The first steps for a successful site migration: benchmarking and setting goals
So how exactly should a marketing director go about implementing an SEO migration plan? You begin with benchmarking — or setting baseline metrics of performance of the old site — and goal setting— or outlining the objectives of the site migration to understand what success looks like.
Benchmarking
To begin benchmarking, you must create a report that records the state of the site 90 days before the migration. This report will capture all the different metrics and rankings to allow adequate measurement of the new site's performance to mitigate risk and loss of equity.

The data sources and information points you collect should include (but aren't limited to):
Clicks, impressions, CTR, and average position for the last 90 days by page

Clicks, impressions, CTR, and average position for the last 90 days by query

Domain and page-level authority scores from sources like SEMRush, Ahrefs, Moz, etc.

Number of backlinks to each page from sources like SEMRush, Ahrefs, Moz, etc.

Coverage errors

Mobile usability errors

Sessions, users, bounce rate, pages per session, average session duration, and conversions by every major channel (organic, direct, referral, etc.) for the last 90 days

Sessions, users, bounce rate, pages per session, average session duration, and

conversions

by landing pages

Keyword ranking tool (SEMRush, Ahrefs, ect.): number of organic keywords and number of backlinks

Number of referring domains

Site crawl: all meta data, metrics, and scrape for on page content as a backup
Goal setting

When you've established the baseline of what you're going to measure the site's future performance against, it's time to set realistic objectives. Keep in mind that traffic doesn't necessarily equal conversions. That's why it's critical to measure the right KPIs that correspond with your business goals to show the real value improvement.
As an experienced SEO and site migrator, here's the most important piece of advice I can give marketing directors approaching a migration at this stage:
You need to set practical goals and deadlines. The biggest SEO responsibility during a migration is to maintain the site's SEO value as much as possible. Get the entire team to understand that practical goals around zero redirect chains and efficient operations will be the biggest drivers of SEO success during the migration. Think of it like a doctor: Do no harm.
Different industries will have different considerations, too. SEO for SaaS is much different than SEO for ecommerce, for instance. These site migrations must be approached in slightly different ways.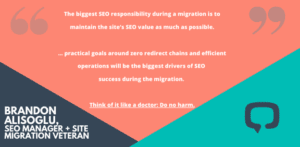 Up next in Part 2: Keyword research for site migrations
In the next part of this series, we'll take a look at using keywords to determine your new site structure and help project your potential traffic goals. Read part 2 now! 
We're also about to release a downloadable Site Migration Checklist with the 20+ essential steps to pulling off a successful site migration. It's everything a marketing director needs to know about approaching this risky endeavor. 
Sign up for our email newsletter to be the first to know when the must-have Site Migration Checklist is released.