We helped three college students on a limited budget take a domain with one page of content to Page 1 of the SERPS for four of their top keywords. Here's how we did it.
If you've ever played Minecraft, you know how devoted people are to the game. Block by block, they build fortresses, mansions, cities, and entire worlds, all while trying to find food and fending off enemies. Minecraft is a virtual sandbox; there are materials and creatures everywhere, but ultimately, the game is what you say it is. Many people play alone in worlds procedurally generated by the game. They also build their own unique worlds, host them on servers, and invite others to play along.
This quest to bring servers and players together motivated three college students to start FunMinecraftServers.com.
Like true Minecraft aficionados, they had limited resources and a big, open-ended problem to solve. They quickly figured out that to become serious players in the Minecraft sphere, they would need a serious marketing assist.
With the help of Digital Current's SEO strategy, they took a domain with only one page of content to the first page of Google's search results. The lessons we learned can teach you a lot about tackling SEO on a limited budget.
The Challenge
The owners of FunMinecraftServers.com wanted to build a directory of Minecraft servers for players to visit their site and join ongoing multiplayer servers. They also wanted to make their site profitable by offering promoted server listings for a fee.
Unfortunately, the domain had a virtually nonexistent backlink profile and an underperforming site design. These challenges, in addition to its incredibly thin content, trapped it on Pages 3 to 5 of the search results.
The ultimate challenge was to get to Page 1 of Google's search results and drive traffic.
The Solution
The Digital Current team started out by performing an SEO audit. We took a look at both on-page and off-page rankings factors to uncover what was getting in the way of better search results.
The team found almost no inbound links, and the site didn't crack the top 20 for any of its target keywords. We advised the client to start with one key element of Digital Current's Five-Pillar Marketing Strategy: content development.
More and Better Content, Block by Block
Our Digital Current strategy team started by building the domain's content assets, focusing on three main types of content:
Core pages for the website, using focus keywords that offered sufficient depth and length for the content.
Blog posts, again emphasizing focus keywords and covering evergreen topics that would interest the Minecraft community.
Off-page content, published in places that would appeal to potential customers, building inbound links and drawing traffic back to the home domain.
Your core pages should clearly explain your domain's purpose and your product in enough depth to answer most customer questions while incorporating your keywords in an unobtrusive way. Make sure each page has a clear and useful message. The person who searched for your page should come away having achieved their search objective.
In a niche space like Minecraft, it can be tough to find a content creator who can combine professional quality with in-depth knowledge of the topic. The reader community may be forgiving of grammar, spelling, and punctuation errors, but Google views them as signs of questionable content quality.
Working with an agency means having the resources for the creation, revision, and publication of content all under one roof, which tends to deliver content of much higher quality. The agency will work with writers who are experts in various subject matters as well as SEO.
If you're on a tight budget, you don't have to roll out all of your new content at once. Instead, publish content in stages, starting with core pages and then blog posts. Then, publish off-page outpost content that links back to the hub content you've already built on your domain.
Optimization: Creating Content for Two Audiences
The owners of FunMinecraftServers.com understood that their content had two audiences: visitors and search engine bots. They partnered with our Digital Current team on the next marketing strategy pillar, Optimization, by providing us with some of their own desired focus keywords.
We started with a list of key terms that included "Minecraft servers," "Minecraft best server list," "online Minecraft servers," and "Minecraft servers to join."
Over time, thanks to new and rewritten content, pages showed significant search rankings gains for many keywords. For the keyword phrase "Minecraft server list," a phrase that earns 90,500 searches per month, the site went from not even being in the Top 100 to ranking in seventh position on Page 1.

Pages also started earning significantly higher numbers of clicks and impressions within only three months:

Optimization is about a lot more than keywords. You need to optimize for elements like design, page-load speed, and mobile-friendliness.
An initial SEO audit often reveals issues with coding, design, and page-load speed that can negatively impact a domain's Google performance. For instance, incorrectly coded or missing title tags can make it more challenging for Google's bots to interpret your content.
Our team recommended ensuring that title tags for every page used correct HTML formatting. Correctly formatted title tags should incorporate keywords in addition to being enclosed in HTML title tags. For example:
<title>Page Title Using Keywords That Will Appear in Google Results</title>
Also, several pages had duplicate titles along with meta descriptions. Our team recommended choosing unique titles for each page and writing individualized, correctly formatted meta descriptions as well.
Another issue our team noticed was that FunMinecraftServers.com was splitting its traffic between two URLs: www.funminecraftservers.com and funminecraftservers.com. We recommended performing a 301 redirect to funnel all domain authority to the www URL.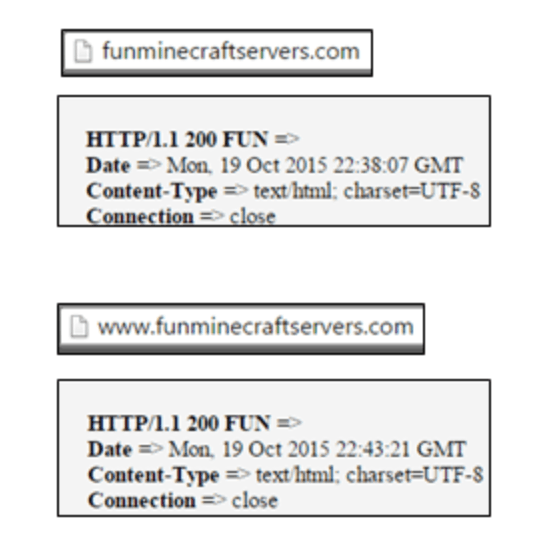 Slow page-loading speed or issues with how your pages render on mobile devices can also hurt your search rankings. High-resolution images, without some sort of caching or image compression solution, can slow down your page-load speed significantly. Also, today's content also has to be easy to read and navigate on mobile devices, particularly since Google's mobile-friendly search algorithm update.
Your SEO specialist can help you with all of these challenges, but you can also do some of the work on your own:
Fix errors displayed by Google Search Console. Google Search Console displays certain errors, such as with structured data markup, that could lower your search rankings.
Switch to responsive design. If you're using a content management system like WordPress, you can install a theme that's already programmed for responsive design. With responsive design, the appearance of your pages automatically adjusts to whatever device the visitor is using, requiring no separate mobile site or coding from you.
Compress your images. Use a tool like TinyPNG to compress high-resolution images into smaller file sizes. Then, publish the smaller images to your web pages to speed up page-load times.
Building Authority and Trust
After building an optimized content library for FunMinecraftServers.com, the Digital Current team implemented the next of our marketing pillars: authority development.
When Google recommends pages to searchers, it relies on signals that show the page contains authoritative, trustworthy content. For search engines, the biggest sign of trustworthiness is a high-quality backlink profile.
One of FunMinecraftServers.com's biggest challenges was its complete lack of inbound links pointed at its domain. Using a targeted publication strategy, we helped build the domain's backlink profile.
The strategy team researched medium- and high-authority sites that centered on Minecraft and Minecraft-related topics. Then, we built relationships with publishers to provide them with content containing links back to FunMinecraftServers.com's blog posts and core pages.
For example, if the SEO team wanted to help a FunMinecraftServers.com page rank better for the keyword phrase "Minecraft servers online," they would send a clear keyword message by:
Using "Minecraft servers online" as anchor text when hyperlinking back to the FunMinecraftServers.com domain.
Linking back to a page that incorporated "Minecraft servers online" in places like the title tag, meta description, image alt text, and URL as well as throughout the body of the content.
Connect your keyword choices to content rollout to get more done with less work. For example, create, optimize, and publish your core pages using your priority keywords. Then, add blog posts with more long-tail keywords.
Building your keyword portfolio and content library simultaneously keeps your SEO strategy focused while helping you accomplish more in less time. If you're on a tight budget, start with your keyword research, and then move into content creation and optimization.
Once you have a set of strong pages on your core domain, start publishing off-site to build your backlink profile, using the keywords you've already established on your domain.
Results You Can Measure
One of the biggest contributors to the domain's success was the client's willingness to implement our SEO strategist's suggestions consistently. Even with their limited digital marketing budget, FunMinecraftServers.com achieved big search engine and revenue gains in a short period of time.

Better Search Traffic
Pages shifted from Page 3 of search results to Page 1 for target keywords, and the site grew from nearly 5,000 visitors per month to almost 28,000 monthly visitors.

Improved Authority and Trust Metrics
In addition to boosting search rankings, we also saw big increases in both trust flow and citation flow for pages all over the domain. Citation flow scores predict how influential a particular URL is based on the number of sites that link to it. Trust flow predicts the trustworthiness of a URL, from the search engine's point of view, based on the number of trustworthy domains that link to it.
Here's how FunMinecraftServers.com did:
The domain's trust flow score increased from 3 to 13.
The citation flow score grew from 16 to 37.
More Revenue
The site now generates more revenue per month from its Premium server listings thanks to more organic search traffic.
Partner With Digital Current for Your SEO Solutions
Ready to see what our Five Pillar strategy can do for you? Start with a free SEO audit today.