Social media marketing may seem more in style, but email marketing remains the best bet for good ROI, and in 2017 it might just be making a comeback.
As marketers, there's a lot of pressure to master the latest trends. While I'm all for innovation and evolving, there's a risk here of neglecting the tried-and-true for the flashy and formidable. The flipside of "embracing newness" is "scorning oldness." Yet, it's true in marketing, as in life, that this can be a very short-sighted approach.
While the glorious tales of marketing prowess on Facebook, Instagram, or Snapchat may have garnered more attention over the past few years, email has quietly been expanding its influence and has been playing a more effective role in helping businesses do business.
If these two digital marketing tools were pitted against one another — I'd easily bet on email marketing in 2017 and beyond. While social media still has a lot of potential, just like any 20-something, email has been wizened with decades of experience, has learned a few lessons over the years, and appears to know how to work within its given digital environment quite well.
How Email Sizes Up Against Social Media
This last-generation method of getting leads and maintaining current customers has never really gone away. No matter how addicting Facebook becomes or how pretty Pinterest is, there's something about good, old-fashioned email that just can't be captured in social media.
At least this feat hasn't been accomplished yet. When MailMunch surveyed internet marketers last year, they found that 60 percent of respondents believed that email outperformed social media.
Those are the subjective numbers. A look at the performance and user stats makes the picture even clearer:
Email has 2.6 billion users compared to Facebook's 1.7 billion, and Twitter's 313 million.
58 percent of people check their email before anything else, while 11 percent their Facebook accounts and 2 percent check Twitter first.
The average email click-through rates for email sit at 3.57 percent. For Facebook, they are .07 percent and for Twitter, .03 percent.
Email gets more conversions. On average 66 percent of users make a purchase after email messaging, 20 percent for Facebook, and 6 percent for Twitter.
And, email comes with a better ROI: 21 percent compared to 15 percent on average for social media.
Email is also easier to use. Building up an email list takes less work than constantly priming your social media accounts for followers.
Why Email May Become Even More Important in 2017
The honeymoon with social media may be over. That doesn't mean that society's love affair with social media networks is over. It just means that perceptions may be changing.
Social media is not as new and exciting as it used to be. Not as caught up in the rush, marketers are looking at the metrics more. Digital marketers are starting to take note of what the numbers are saying — email is hands down more effective. Users and brands are also starting to take issue with the direction that social media is going in.
Joe Pulizzi, founder of the Content Marketing Institute, says that some of the big social media influencers are becoming frustrated with all the algorithm changes that social media channels have been making to accommodate the shift to paid advertising.
2016 saw a push towards paid ads and revenue growth. While on one hand, this gives brands the ability to spend less time on social media — they can use paid promotion to get their brand recognition — it also diminishes the freedom and dynamism that this medium is known for.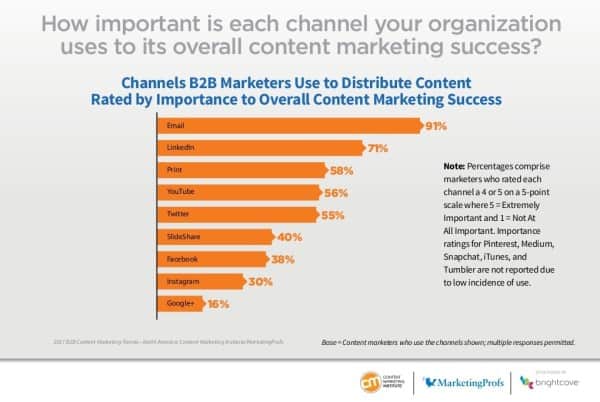 Meanwhile, major media players like The Washington Post and The New York Times are pouring their energy into their e-newsletters — The Post has 75 newsletters alone. Meanwhile, the Times has a dedicated staff of 12 for email newsletters. The Content Marketing Institute conducted a study of B2B marketers and found that 91 percent of respondents rated email as their most effective content distribution channel.
Why Email?
The obvious question is, why has email survived? It's easy to think of email usage as oversaturated. Overflowing inboxes are one of the most universal dilemmas of the modern era. We all waste time cleaning out our email accounts and sighing at all the pointless messages. Who wants to read their favorite brand's news updates along with their work emails? But, the reality is, email is functional and has become interwoven into our very digital lives.
Today, consumers can check their email messages on their smartphone while waiting in line for their soy latte on their way to work just as easily as they can browse Facebook. Email also continues to be the preferred mode of communication for everyone older than the millennials. And professionals in general are more likely to conduct a conversation on their private email account than Twitter or Facebook. Email is just more personal.
It's also more official. From making business connections to collaborating with co-workers and getting updates from the boss, email is the professional, preferred channel. People may meet through LinkedIn or Facebook, but for follow-up communication, email is what people use.
Third, consumers are used to email for receiving promotional messages, updates, checking purchase info, and setting up transactions. Email has been more deeply embedded in the sales process, for both B2B and B2C markets, than social media sites may ever be. People look for and expect this type of interaction on email.
Making Peace Between Email and Social Media
Email marketing may take center stage this year with more and more marketers realizing that all those complex social media efforts haven't made as big of a dent as the email lists they already had in their back pocket. Still, this doesn't take away from social media marketing. Not at all.
It's about recognizing that they both play a vital role. Social media is still great for creating and sharing your best content. It may not be as measurable, especially in terms of direct ROI. Still, many email newsletters and email campaigns would have less of an impact if the social media branding groundwork hadn't been laid in the first place, creating interest in a brand and boosting likability.
Chad White, the research director for Litmus, points out that each works at different places along the sales funnel. He says email is a low-funnel channel, perfect for sending out discounts and promotions. Social media is a mid-funnel channel. This is where consumers expect news, entertainment, and announcements.
Email may be where you can more easily initiate and close sales. Social media is for shares, and for adding more depth and color to your digital marketing campaigns. Embrace both email and social media for all they are worth. And they are both worth a lot if you can capitalize on the strengths of each.
Are you focused on getting the biggest impact from your email marketing in 2017?