Quora is an effective avenue to boost your brand's presence online. Learn how to best use the Q&A site to boost traffic, authority, and SEO.
It's difficult to find an answer to a very specific, nuanced question online at times.
Google searches often return results that help answer a question broadly, while Yahoo Answers are usually more specific but almost always outdated.
The lack of quality answers to the vast range of questions people have today is why Quora rose to prevalence. As a niche social network, Quora allows users to ask and answer questions about any topic.
Ideally, the users answering a question have expertise and experience on the topic, which is especially helpful when answering more complex questions.

Quora users are able to comment on the answers shared and upvote the ones they found helpful, which brings the most relevant and useful responses to a question to a wider audience.
A mix between a search engine and a social network, Quora is focused on helping its users learn and share their knowledge with its audience of over 200 million monthly U.S. visitors.
This has led to many active Quora users getting broader recognition for their expertise since the platform allows them to share what they know and interact with an audience.
Companies, particularly those that are B2B focused, can achieve similar benefits by being active on Quora in the right way.
"Some marketers abuse Quora as a means to just drop a link in an answer, but Quora is so much more than that," says Jordan Kasteler, the director of marketing at Hennessy Consulting. "If your answers there are relevant, then certainly you can drop a helpful link, but the most important benefit of Quora is establishing your credibility, authority, and knowledge."
Learn how Quora can be used to develop an organization's reputation in its industry, drive qualified traffic, and improve its SEO footprint.
Empower Brand Ambassadors
"When you ask a question on Quora, you aren't looking for a 'business' to respond. You want a person within a business to write an answer, someone with expertise," says Nicolas Cole, Quora power user and the founder of Digital Press, a ghostwriting and influence agency.
To begin participating on Quora in a way that's non-disruptive and aligned with the way users are active there, select individuals at your organization to be active on the company's behalf.

These individuals should ask their own questions on Quora and answer the relevant questions of others to build authority for themselves and your organization concurrently.
"The number-one challenge I see from brands is an apprehension to personalize themselves," says Rachel Pedersen, a leading social media strategist and podcast host. "CEOs and founders need to be willing to either become vulnerable as the face of their company, or hire someone who is willing to do so."
Whether company leadership or another employee elsewhere in the organization is ready to become active on Quora, or both, they need authority to take action on the network.
Give them permission to be active for the company on Quora, as well as training and guidelines as to how they should use the channel appropriately.
It's important to note that your company and any brand ambassadors should review Quora's major policies and guidelines to ensure they are using the platform correctly and effectively.
There aren't shortcuts to success on Quora and it shouldn't be used as purely a means of driving people to your website, that'll quickly become obvious and get your account flagged.
Instead, your organization and ambassadors should use Quora as a way to provide value to others based on what you know and what they are curious about. It's more than acceptable to direct users to additional resources off of Quora to drive traffic but don't overdo it.
There are two ways to have brand ambassadors active for your company on Quora, first have an employee or leadership create their own personal account and start using it.

For example, Ong Si Quan is a content marketing manager at ReferralCandy who's a very active Quora user whose answers are viewed over 50,000 times a month.
To date, he's answered 297 questions on a variety of topics from personal to professional, many of which relate back to ReferralCandy's expertise.
He's representing himself and the company's interests on Quora which helps build his authority as a marketing expert and the company's footprint as the leader in referral marketing.
Notice that his title and the name of his employer are included prominently as the headline of his profile on Quora, which shows up at the top of all the answers he leaves on the network.
Even if an employee acting as your advocate leaves your company eventually, their title at the time of answering a question will stay the same even if they've updated it on their profile.
A short description and a link to the company's website is purposely featured at the front of his bio on his profile as well to further highlight he's a representative of ReferralCandy.
Another way to have representatives active on Quora is to create an account for your brand and have specific individuals at your company craft the answers shared from that same profile.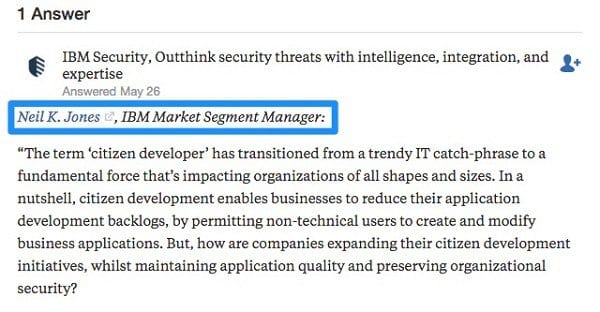 For example, IBM Security has a Quora account that answers questions about outthinking security threats online. Each answer provided is actually answered by a different staff member as seen by their name included at the top of an answer from the account.
Every answer ties back to the expertise of IBM Security, but still feels personal as answers are written conversationally and labeled with the name of the staff member answering the question.
For additional context, add a link to the employee's LinkedIn account to help readers verify who the person is and where their expertise lies.
Each of these approaches to using Quora makes sure to emphasize that an individual is answering questions for other users and that is a personal exchange of information.
Without that context, it may come off as disingenuous or salesy for a company to answer questions on the platform, which is why it is important to be respectful of how Quora is used.
Consider how each approach to using Quora requires a different time commitment and resources.
While having employees run their own accounts on Quora allows your company to answer more questions from a variety of viewpoints, it may be time consuming to moderate multiple accounts.
The other approach where you're answering questions from a company account is certainly more streamlined, branded, and more easily moderated, but at times requires more coordination and collaboration to execute.
Ask and Find the Right Long-Tail Questions
Once you've decided which members of your team will be active on Quora and from which accounts, it's time to ask the right questions and identify the right questions for answering.
When investing time as a business on Quora, it's okay to ask or answer the occasional question that is off-topic or loosely related to your expertise but overall, it's important that a majority of your activity on the network ties back to the topics that resonate with your audience.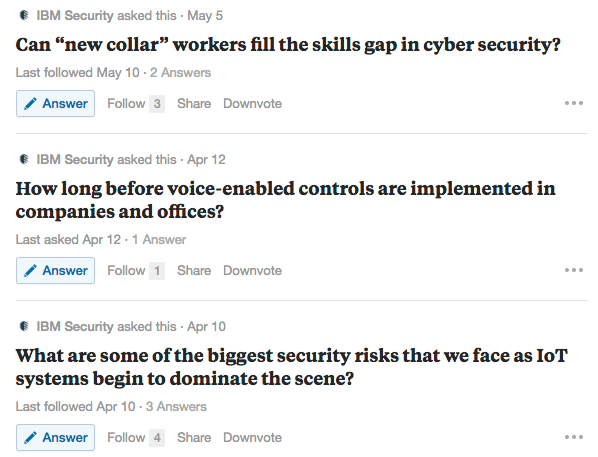 Start by asking a few questions on Quora to genuinely participate in a dialogue on the network. Ask questions that relate to the interests of your customer base so there's a clear connection as to why a member of your team would ask it in the first place.
Next, search topics related to your company's expertise to narrow down the questions you're reviewing to potentially answer.
For instance, if you're a health foods brand then you might review the following topics for questions to answer: healthy eating, health, healthy living, healthy recipes, or healthy exercise.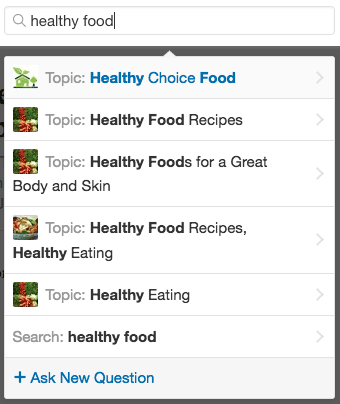 Choose questions that are short, but also make sure to select long-tail questions as these types of questions aren't often answered elsewhere online and are less competitive to rank for on Quora or the search engines.
Long-tail questions are questions that are lengthier like: "What is all the liquid gushing at the base of a rocket as it is ignited and lifts off? Why is there a need to seemingly try to extinguish the flame?" Or "In mainland China, how common is it for retired people to move into rural areas (especially the central and western regions)?"
Select questions that have already been answered and have a number of upvotes to understand which types of questions are popular on Quora.
Answering these questions again is still beneficial as it's an opportunity to provide more depth and your unique perspective on a subject, but with confidence that people are interested in this particular topic.
Also choose to answer questions that are new and have never been answered before to set the tone and discussion around that particular subject area.
There's a chance that a new question may not be seen by as many people. The risk is worth it because there's a chance to earn more visibility if it gains traction as you've provided the first and only answer at that point.
Select a mix of new and previously answered questions to balance reaching the right amount of people, while building authority around untapped subject areas.
Answer Questions in a Thorough, Personal, and Consistent Manner
Besides choosing the right questions, it's critical to respond with the right answers consistently, that are comprehensive and tie back to the person's personal experience.
To succeed with driving attention to your answers on Quora be thorough with your responses. There isn't a specific word count to aim for but instead, answer the question as short or as long as it needs to be to accurately respond to the question.
However, many answers on Quora are brief which presents an opportunity for a brand ambassador to stand out for the right reasons with a complete answer. Here's advice from Nicolas Cole, a top writer on Quora, on what makes a strong answer:
"Where most people fail on Quora is they treat 'answering a question' as a three-sentence response. Success on Quora, and building thought leadership period, isn't just about 'answering the question' in a few lines, metaphorically speaking.
It's about using that question as a starting point to really flex what you know, and teach the reader or user something valuable. Tell them a story. Bring them to a moment in time that is going to make them sit there for a moment and go, 'Wow, that was really worth reading. I feel like I learned something new.'
That's what thought leadership actually is. It's not a press release, or just being active on Quora. It's about being able to write things worth reading, and share knowledge worth listening to."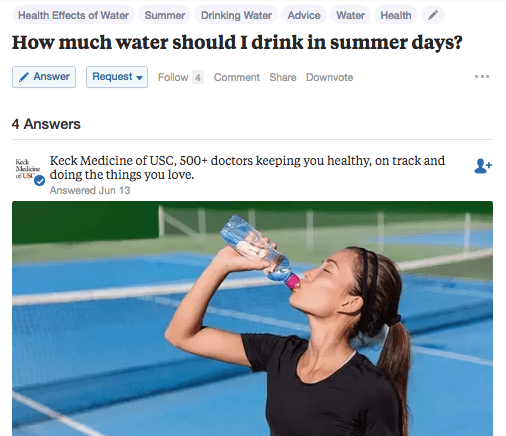 For example, Keck Medicine of USC answered the question "how much water should a person drink on a summer day?" very thoughtfully with the right amount of detail, included sources to support their viewpoint, and an image to help their answer stand out amongst other responses.
Though this answer from Keck Medicine may be extensive, it's missing the personal experience that brings an answer to life. Their answer might be missing this element because they aren't noting which member of their organization is replying to these questions, which is a missed opportunity to connect more deeply and personally with the Quora audience.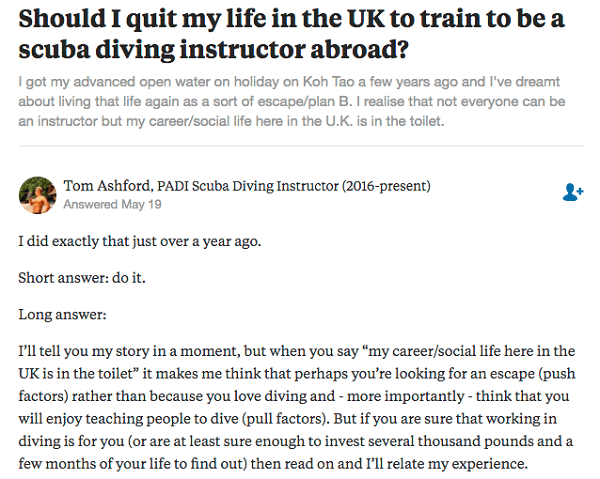 Here's an example from a PADI scuba diving instructor answering a question both thoroughly and with lots of personal experiences to support his response.
These types of answers are more memorable, trustworthy, and interesting to read when personal moments are included with a response because people can relate to the stories shared by other people.
Adding a personal touch to all of your answers is one of the most effective ways to provide additional context to the experience and knowledge you're sharing.
Consistency in terms of how often you're answering questions and the way you're answering questions on Quora is also important.
Share an answer on Quora a few times a week to get your company's ideas and expertise out there on a consistent basis.
Creating high-quality written answers takes time but it's important to commit to a regular cadence when using Quora to ensure you're gaining the traction and visibility you're after.
At a minimum, answer questions a few times a month, otherwise I'd suggest holding off until your team has more time to dedicate to responding.
From a stylistic standpoint, it'll be easier for a person to remember an answer if the tone, writing style and formatting is similar each time.
Think about what you can do stylistically with all your answers shared on Quora to help make them your own, despite whatever question is being answered.
This might mean including images as references throughout your answers, including a short and long version of your answer, adding the perspective of multiple sources and more.
The best way to come up with a consistent approach to answering questions is by observing how others answer questions on Quora and learn from what they are or aren't doing.
Source Answers by Linking to Pre-Existing Content
To drive authority to your arguments, traffic to your website and long-term SEO benefits, link to high-quality sources throughout your answers when possible.
Add links to your Quora answers to:
Suggest related content or continued reading on a subject. (Here's an example of this type of linking from Shannon Byrne.)
Act as a source for a fact, figure, idea, or argument. (Here's an example of this type of linking from Keck Medicine.)
Tie-in your company content, products or offerings in a meaningful way. (Here's an example of this type of linking from Cara Tarbaj.)
Think of the links added to your answers as a way to make them more useful for readers and occasionally as a means to drive qualified traffic to your website when used sparingly.
"Pause and ask yourself, of every 25 answers I am placing online, how many are highlighting 'my' brand and how many answers are just answering about the industry I am in," says Faisal Khan, an avid Quora user and a banking and payments consultant.
"The less of 'my' answers, the better," he adds. "Focus on the long-tail keyword questions people from your industry vertical are asking. Your brand will now start to appear more and more in the answers specifically geared towards your industry."
Start Blogging and Syndicate Content
Another way to drive visibility and earn authority on Quora is by blogging on the network with both original and republishing existing content.
While not as effective as answering questions, sharing original blog posts on Quora provides a way for an organization to explain its perspective on a range of topics, reach a new audience, drive SEO credibility with the inclusion of useful links, and build thought leadership.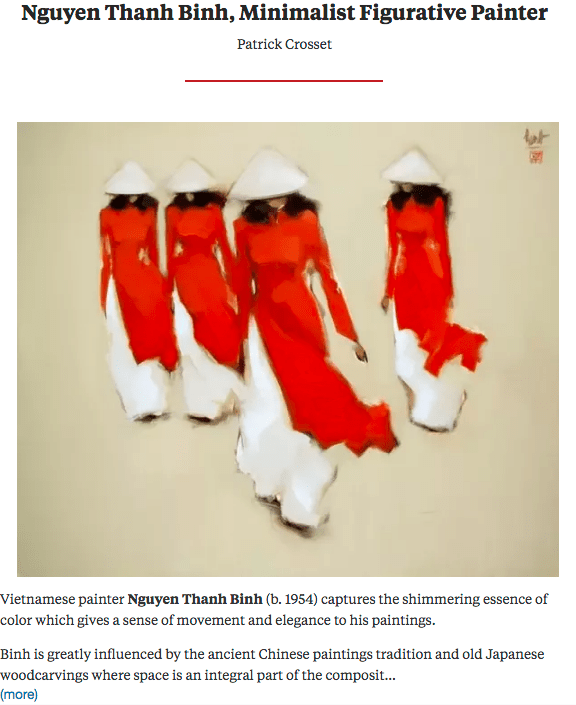 At the same time, an organization can also slightly rework its existing articles and share them on Quora again to get more traction from top performing content they've already invested in.
Include a link at the bottom of a republished Quora blog post stating where the article was published originally to alert the search engines that this is syndicated content, not duplicate content.
Here's a list of Quora blogs to reference for inspiration on a variety of topics like art, photography, business, media, design, food, and more.
Build Relationships With Quora Power Users
Success on social media is determined by the relationships a company forms with a network's users and the community they become a part of, same goes for Quora.
The first part of networking with power users on Quora is by being consistently active on the channel by answering questions consistently across the same types of topics.
In the long term, relevant Quora users will ideally recognize your organization as trustworthy and a reliable source of information due to the many high-quality answers you've submitted.
The second part of building relationships with Quora users is by directly interacting with ones active in your niche.
Engage with prominent Quora users by following them, answering their questions, commenting on their answers, and referencing their answers and other content in your answers to build a rapport and familiarity with them.
For example, if your company expertise is technology, business, or parenting then it'd be prudent to connect with Anne K. Halsall on Quora, or, if you're focused on computer programming and specific programming languages then connect with Tikhon Jelvis on Quora.
Is your company already active on Quora? Have you conducted any research to see if there are questions asked about your expertise and industry on the network? Share how your organization plans to use Quora with us over on Twitter @DigitalCurrent, we are listening.