These competitive intelligence tools will uncover your competitors' digital marketing strategies. You can beat them at their own game — and identify amazing opportunities they haven't even thought of yet.
Competition is stiff in digital marketing. From SEO to social media, more and more businesses are getting into the digital game every day. It's no longer a question of how many businesses are engaging digital marketing, but which tactics they're using and how much they're investing. Gaining a competitive advantage is harder than ever before; maintaining that advantage in digital marketing has never been more challenging. You need to know what your competitors are doing. You also need to know how to stay one step ahead of them.
Competitive intelligence tools give you a snapshot into your competitors' digital marketing strategy, including how they execute SEO, social media strategy, advertising (PPC) and content marketing. They provide insight into where your competitors are succeeding, so you can learn from those successes. They show you where your competitors failed, so you can avoid the same mistakes. They show you where your competitors haven't gone yet so you can claim new territory. They're a necessity, basically.
These eight solutions, ranging from free and basic to enterprise appropriate, can help you launch your business into the top spot — and stay there. You'll find a mix of tools for SEO, PPC, social media, content marketing and more.
*Disclosure: We only feature services and products we honestly believe in and our perspectives are genuinely our own expert perspective. This post may contain affiliate links from which we earn a small commission, at no additional cost to you.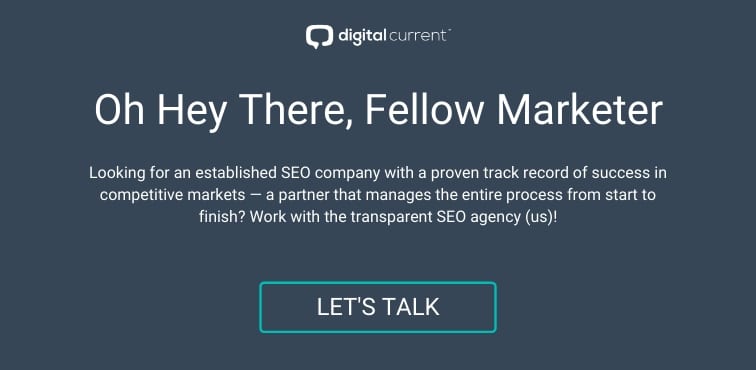 1. SpyFu: for SEO and PPC Keyword Competitiveness
SpyFu is a keyword research and tracking tool that's competitively priced for small and medium-sized businesses. In addition to finding keyword ideas for both AdWords and organic search, and monitoring keywords for your domains, you can set up projects monitoring groups of keywords for rankings, ROI and traffic referral performance.
Where SpyFu really excels for the price point is in its competitive intelligence capabilities. A tool called Kombat, available for both PPC and SEO research, shows you where your top keywords overlap with your competitors. SpyFu can also generate what it calls a "keyword universe" to show monthly clicks, monthly costs, click-through rates and cost-per-click for both current and recommended keywords. You can create custom reports, entering keywords and multiple competitor URLs, and run the reports one time or set them up as recurring. Subscriptions start at $33 per month.
2. SEMrush: for Getting Intel on Competitors' PPC Spend
Have you ever wondered how much your competitors are spending on PPC — and how they're allocating their budget? With SEMrush, you get the lowdown on exactly that and more. SEMrush has many uses, but analyzing your competitors' PPC strategy is one of its most valuable. Its Advertising Research Tool looks at competitor PPC spend to help you gauge what kind of  budget you would need to match or beat them — and it even shows you budget seasonality, so you know during which times of the year your competitor devotes the most money to certain PPC strategies. Of course, the tool lays out which keywords are in play and how much they cost per click.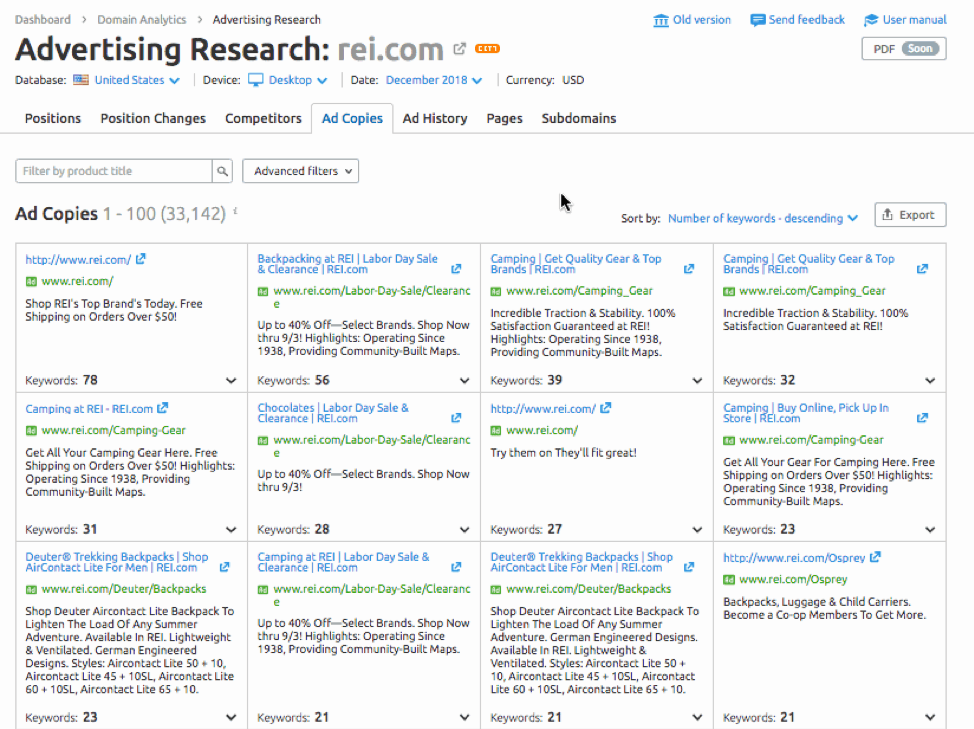 Another standout feature of SEMrush is its ability to show you ad copy and landing pages associated with competitor PPC campaigns. Not only, then, can you evaluate keyword efficacy and cost efficiency, you can drill down into the messages that work for your competitors. Then, you can emulate tactics that work or pivot to a perspective that differentiates your approach to the audience. SEMrush goes on to offer other PPC-centric features, too, including competitor discovery and ad localization, that give your PPC strategies a leg up in this uber-competitive landscape. SEMrush subscriptions start at $99 per month.
3. Moat: for Seeing Competitors' Digital Creative
Ad effectiveness isn't just about keywords and copy; creative matters, too. Moat gives you an instant look at your competitors' ad creative, starting with their most recent campaigns and going back in time as far as three years. Best of all, you can see a competitor's digital creative for free simply by typing the company name into Moat and running a search.
Moat Pro goes beyond just recording how many clicks or views an ad receives and dives into the way audiences engage with the ad, providing you with ideas you can use for your own creative. With Moat Pro, you gain access to Moat's attention analytics, which measure how audiences engage with images, text and video in ads on multiple platforms, including mobile devices. You can also zoom out from individual ad performance to see your competitors' overall strategy, including their current share of voice in digital advertising.
In addition to providing metrics, Moat records heat maps for ads so you can see where audiences spend the most time while viewing an ad. You can set automated monitoring and receive reports on competitor ads, including getting an alert when they launch something new. Contact them directly for pricing and a demo.
4. BuzzSumo: for Understanding Competitors' Content Strategies
As you try to develop content ideas for your blogs, social posts and media, it's often good to see what audiences are engaging with most frequently — and what publishing strategies are working for your competitors. With free tools from BuzzSumo, you can search for key terms and see the most frequently shared content related to those terms, and you can filter your search by time period to see both what's performed best over time and to discover recently published high-performance content.
BuzzSumo's free tools allow only a limited number of searches per day. With paid tools, you can dig a lot deeper into competitor's content strategies. You can analyze a competitor's domain to find out what types of content they publish, filtering by elements like topic and publication time period, and you can create alerts so you're notified when they publish new content. Overall, BuzzSumo is a great tool for content marketing. Prices for BuzzSumo range from $99 to $499 per month.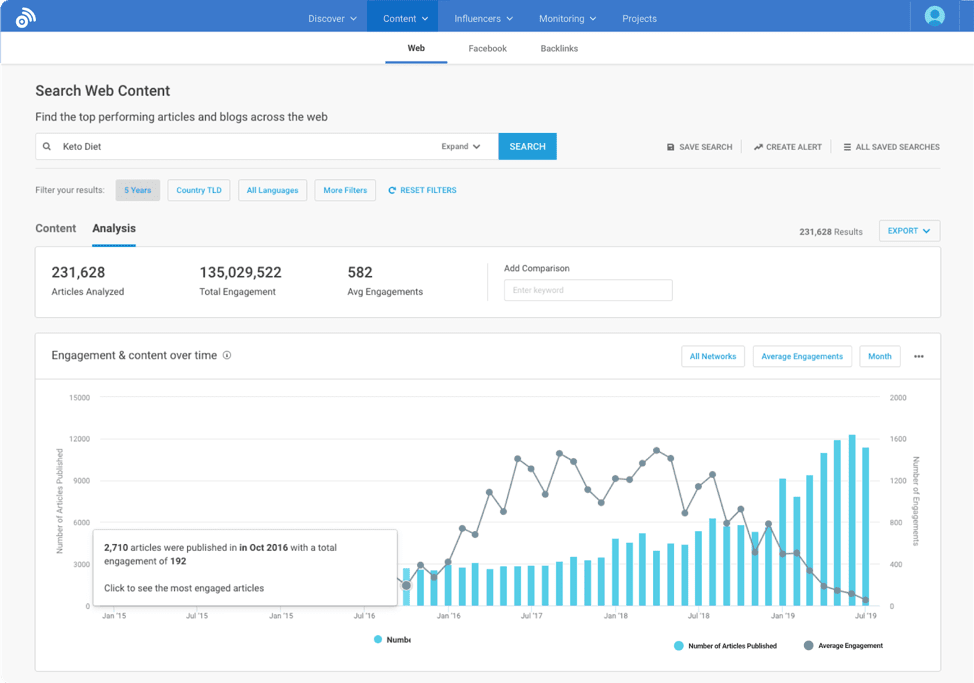 5. Rival IQ: for Competing Better on Social Networks
If you're looking for better ways to beat the competition on social media, Rival IQ gives you great insights not only into your own posts but also into theirs. You can see what your competitors' most successful posts are, how quickly they acquire new followers and their average rates of engagement. You can even see which posts they most likely boosted as part of their paid strategy, which helps you identify the types of posts they view as having the highest potential for engagement.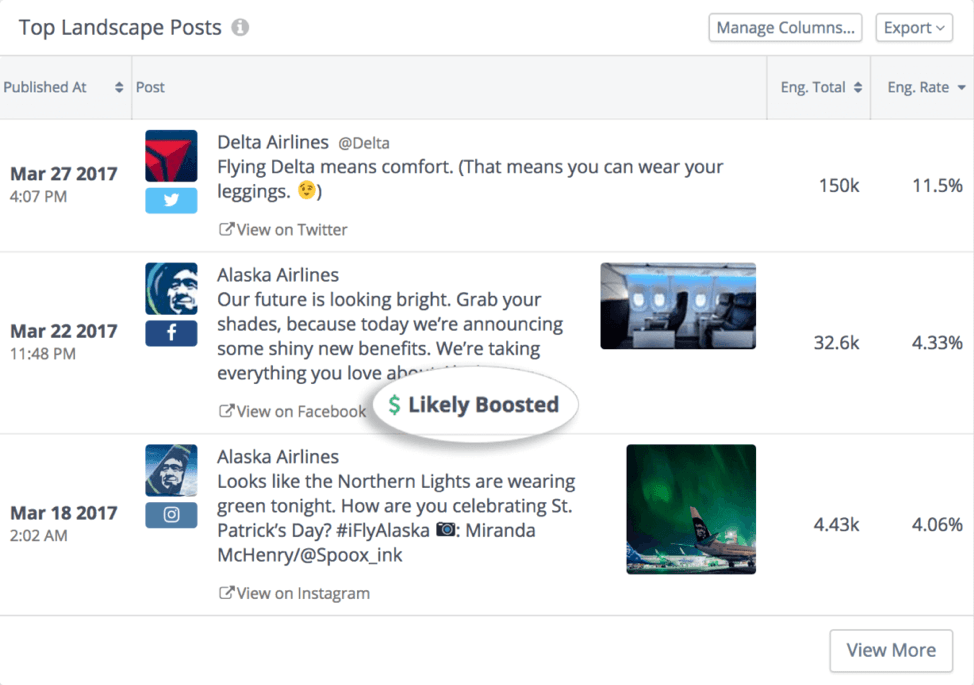 In addition to tracking post and hashtag performance, you can receive alerts when a competitor has a breakout post that suddenly goes viral. Monthly costs are based on the number of competitors you want to track and start at $199.
6. Brandwatch Analytics: for Understanding Share of Voice
Brandwatch Analytics is a tool that gives you a broad understanding of how you and your competitors are perceived online, both in terms of consumer sentiment and conversation volume. It shows you what people are saying about you and also lets you monitor what they're saying about the competition.
In addition to tracking your paid media campaigns and owned media work, including social channels, you can use Brandwatch's share of voice report to monitor earned media mentions. Sometimes, share of voice isn't a good thing. With Brandwatch, when people are talking about your brand a lot because they're unhappy with you, you can detect these changes in sentiment quickly and come up with a strategy to respond. You can also see how sentiment and share of voice is tracking for your competitors.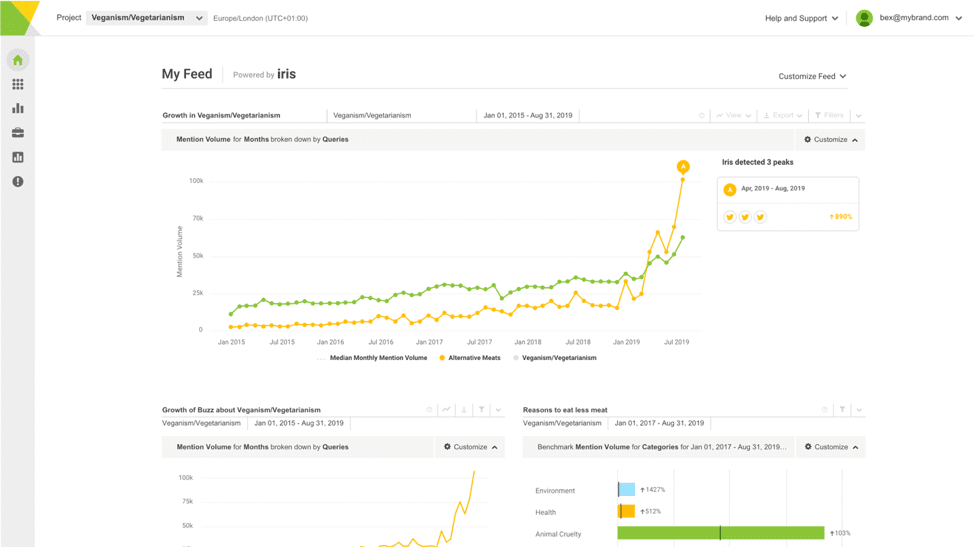 With Brandwatch Analytics, you can monitor competitors' negative mentions to identify places where you may have or can create competitive advantage. You can also identify positive things consumers are saying about the competition to get new insights into what potential customers really value and where you need to adjust not only messaging but even product development and delivery. To see the tools in action and to get pricing, contact Brandwatch to book a demo.

7. SimilarWeb: for Deep Insights Into Competitor Domains
Using SimilarWeb is almost like having a Google Analytics dashboard for your competitors' domains. You can see traffic numbers; top social, organic and direct referral sources; geographic traffic origins; and engagement metrics, like time on page and bounce rate. Additionally, you can go deeper and learn about your competitors' audiences. You can learn what interests them and which websites have similar audiences to theirs — good intel for plotting native ad buys with publishers.
In a world in which mobile has become more and more important, SimilarWeb gives you tools for investigating competitors' mobile app data. You can use the site for free to see up to five results per metric, a month of mobile app data, and three months of web traffic data. For deeper insights, including as much as 28 months of mobile app data and three years of web data, contact them directly for pricing.
8. TrackMaven: for All-in-One Marketing and Competitive Intelligence Tracking
If you're looking for a single tool that tracks everything, from web page analytics to ads to social metrics and even PR campaigns, TrackMaven is the comprehensive tool for you. In addition to tracking all things internal, it shows you how you're measuring up to your competitors. As an added bonus, it helps you identify influencers and track influencer campaigns.
With TrackMaven, you can analyze how you're measuring up to your competitors in terms of social engagement on specific topics. The tool delivers personalized metrics and reports for tracking competitors based on metrics that matter most to you; you can set up a feed of your competitors' activities, including alerts when they publish new content. Over time, you can track their performance on multiple channels and compare it to your performance. You can also test multiple messaging strategies for own your content and analyze which performs better.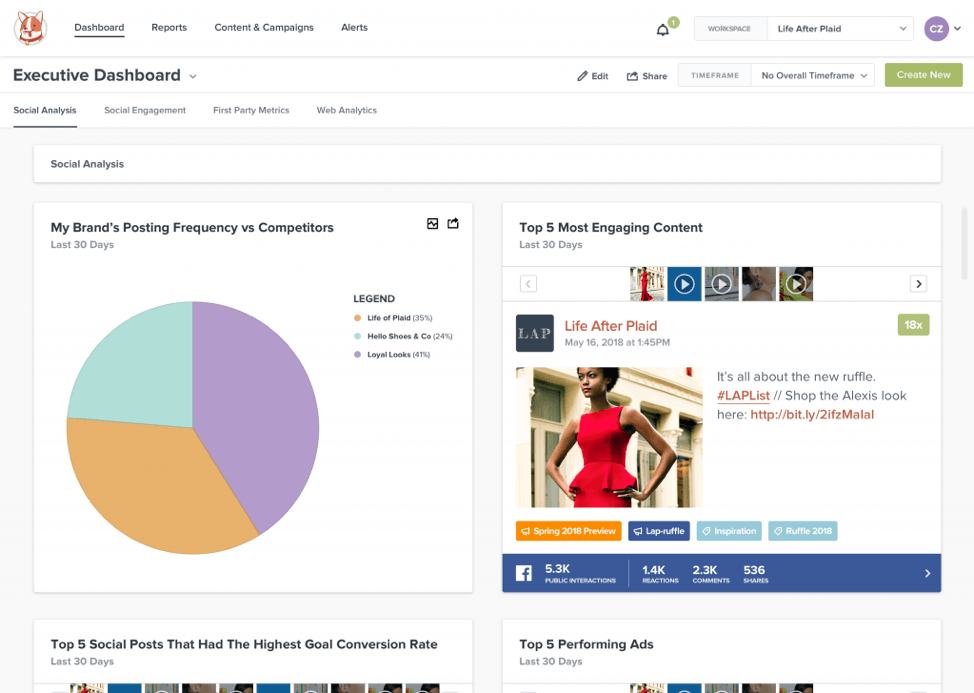 One of the best things about TrackMaven is its recommendation engine. Based on industry trends and your own historical performance, TrackMaven can help you identify opportunities for content creation, distribution, and more. Contact TrackMaven for pricing information.
Get to the Top — and Stay There
Competitive intelligence, like all of digital marketing, isn't a one-and-done process. It requires the right tools, and a commitment to ongoing monitoring and adjusting. Be consistent with your efforts, and you'll figure out what it takes to stay ahead of the competition. If you need the help of a digital marketing agency to bring it all together, Digital Current is here for you.