This core marketing strategy demands up-to-date analysis, planning and deployment for bottom line ROI — Get ahead of the content curve!
Content underpins everything we do online (as marketers, and customers).
It's a realization that presents both opportunity and threat; there is so much that Content Marketing can achieve for a business, many documented methods and formats to utilize, plus ever-increasing levels of saturation…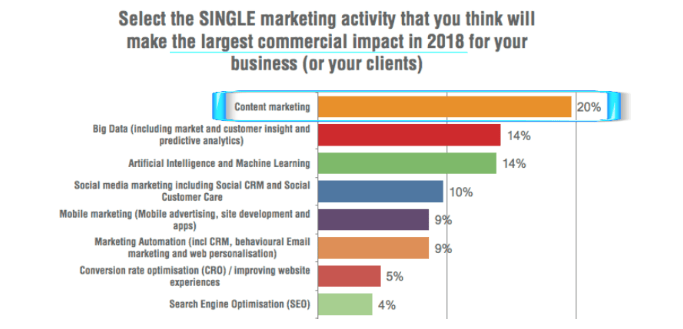 (Graph & Data Source: Smart Insights)
During a collective 'scramble' for attention and market share, this content saturation inevitably brings frequent change with regards to what works best.
And with this change? Confusion / rushed marketing.
"Up to 65% of B2B marketers don't measure Content Marketing ROI…"
(Source: Content Marketing Institute)
"Then, what is the point?" I hear you cry.
No analysis leads to second-guessing, and perhaps incorrect conclusions as to what brought any success to a business.
Still, it gets worse: 18% of the 870 (primarily B2B) companies surveyed by CMI were actually unsure of whether they measure Return on Investment (ROI) from their content efforts…
Staggering!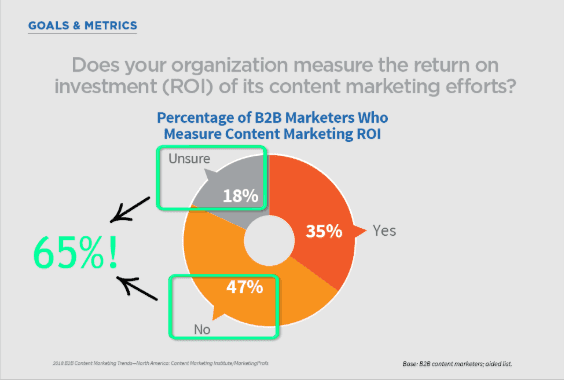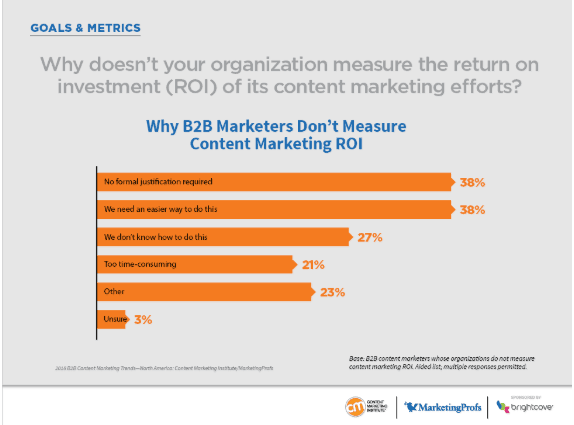 (Graph Sources: Content Marketing Institute)
When paired with the fact that brands are continually allocating more budget to overall marketing (year on year), these stats leave a lot of room for justification and improvement where Content Marketing is concerned.
"The Content Marketing industry is set to be worth $412bn by 2021, following a four-year growth spurt."
(Source: The Drum)
With masses of stand-out material being published in 2018, and a rising sea of competition — how do B2B marketers truly ensure differentiation, while maintaining precision focus — and engaging the right audiences for the best return?
Taking into account this encompassing question, the modern CMO's role can become undoubtedly difficult…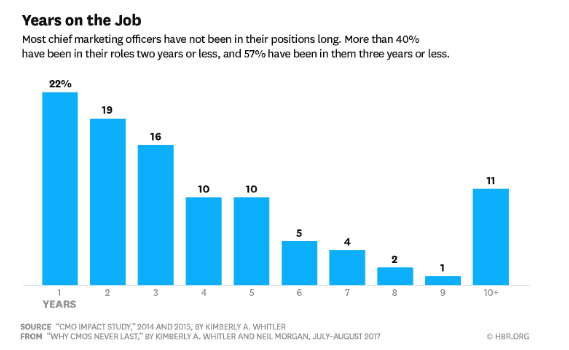 (Graph Source: HBR)

Let's make it easier.
Here are 3 prime B2B Content Marketing shifts to inform your strategy as we head further into 2018 and beyond — your ROI depends on it!
First up, the most notable change of all…

Shift #1: The Buyer Journey (Evolving)
I discussed in my previous article that B2B customers are becoming more aligned with the habits of B2C consumers, and additionally — it's vital to cater for multiple decision makers within an organization.
Mobile usage is rife, attention spans are dwindling, content consumption is adapting, and the journey from discovery to acquisition can be complex to optimize.
Intelligent Account-Based Marketing (ABM) lends itself perfectly to this situation; allowing marketers to form 1:1 communications within target accounts in a manner that is scaled.
However, it's an organization's ability to intimately understand customer behavior that ensures such a potentially-valuable marketing strategy delivers…
That said: The recent CMI research also indicates that typically rigid buyer journey models are becoming an outdated concept.
"B2B marketers reported a decrease in 'crafting content for specific points in the buyer's journey' (53% in 2017 vs 41% in 2018) — A year-over-year drop."
(Source: Content Marketing Institute)
What does this mean?
Once-upon-a-time, it was workable to almost assume touchpoints of possible customers and serve them with content deemed most applicable at any given stage in their journey.
Well, we're now seeing a progressive transformation in the way Content Marketing is strategized, as a result of high customer expectations.
Let's take a look at an example of the 'traditional' B2B content model: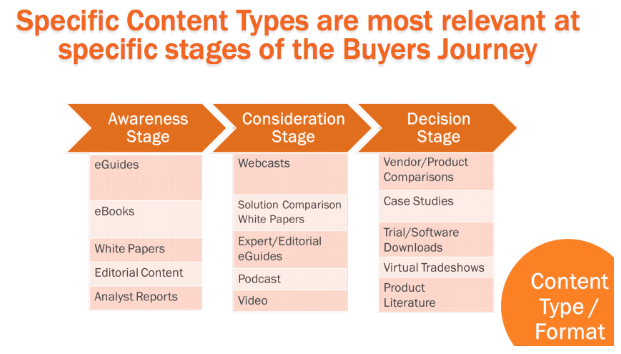 (Infographic Source: HubSpot)
Of course, this is ideal to form an initial guide for any content team; a starting point that provides basic direction…
But today, such a simplistic model just doesn't fit modern buyer behavior.
The modern customer is sporadic, time-poor (through either choice or force), and highly demanding (due to sheer choice and empowerment).
"60% of B2B buyers claimed 'vendors send too much material' and 54% said 'much of it is useless.'"
(Source: Forrester)
Instead of an inflexible content plan, it makes much more sense to apply the ABM mentality; meeting customers with content THEY want, at a time THEY would like it — on THEIR preferred channels and devices.
It's true 'real-time' Content Marketing, above and beyond merely reacting to worldly events (as the marketing term usually implies).
The following is a much more detailed version of 'the new buyer journey' that not only provides suggestions as to what nature of content may suit — it also focuses on two major influencers of decision-making:
Trust and time.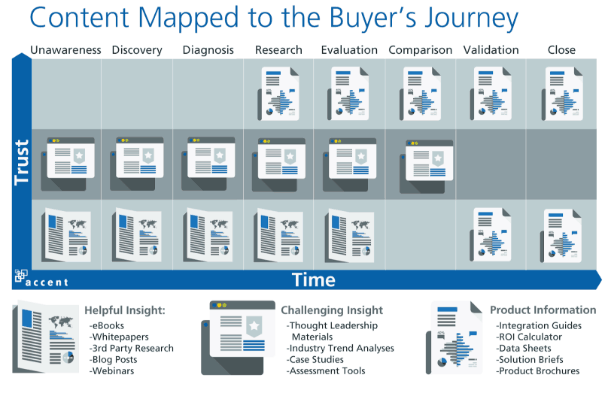 (Infographic Source: Accent Technologies)

(Graph Source: LinkedIn Marketing Solutions)
So, rather than attempting to create a broad range of material before casting a wide net that appeals to some buyers right now — use trust, time and actions as data-driven triggers to distribute the most relevant content at the optimal moment, per individual.
How?
1) Hone in on your current audience / customers and request their help, collecting rich data using open and non-leading questions (while incentivizing them to do so)
2) Generate tailored content that solves their real problems in formats that captivate their buyer personas and psychographic profiles (specifically)
plus
3) Utilize the most up-to-date tech to dynamically serve this material at the best times (which are your audiences' preferred moments — on a 1:1 basis) while consistently evaluating performance
It's always straightforward to read, and tougher to implement…
Here are some steps to propel your new content initiative.
First, gain your core audience insights and visualize. This example shows how you might visualize preferred content formats across age ranges: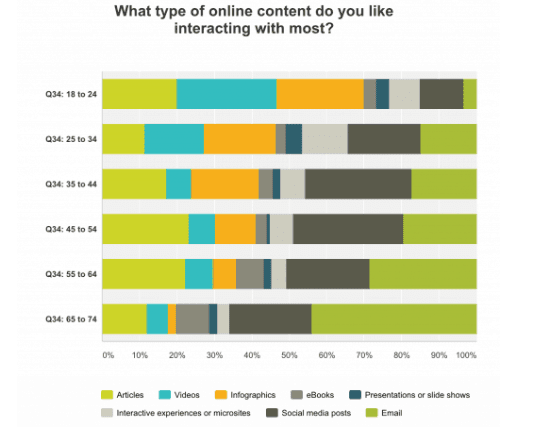 (Graph Source: Convince & Convert

Aside from this primary research, conduct secondary market research to further inform your decisions.
For instance, this proprietary LinkedIn study is clearly reputable and very helpful for B2Bs: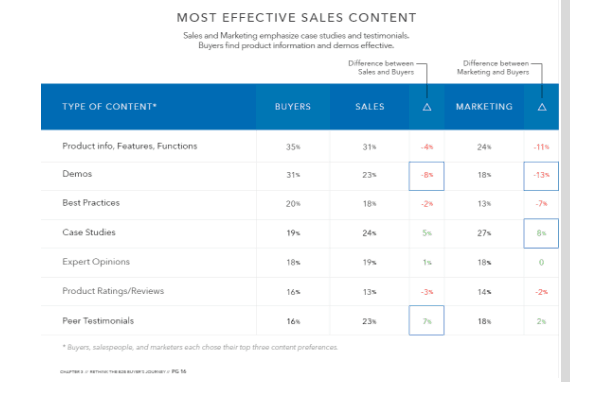 Next, use the gathered insights to craft varied types of content in 100% sync with your audiences (including non-customers, subscribers, leads, prospects, and existing customers).
[This is definitely not a quick process when meticulously strategized, so consider hiring an agency to do it for you.]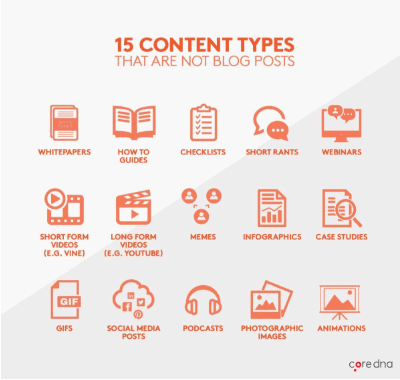 (Graphic Source: Coredna)
A striking infographic from Smart Insights illustrates more content ideas that may suit each stage of the 'buyer journey', along with emphasis towards your ultimate business growth engine: Retention.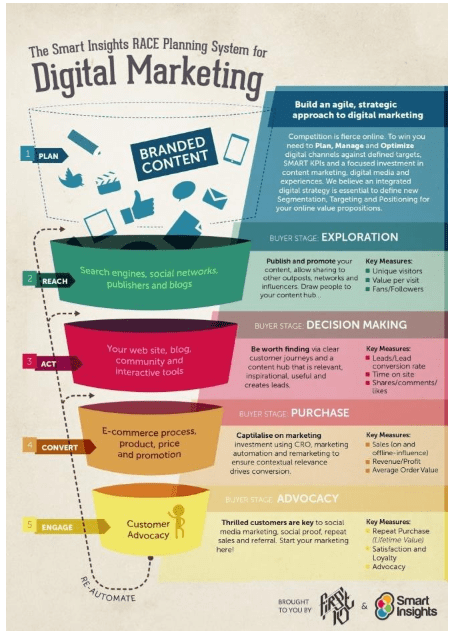 (Infographic Source: Smart Insights)

Now, moving onto the selection of sophisticated tools for the job…
As mentioned earlier: Relevant content is to hit at exactly the right time, which is also indicated within the infographic above. (Notice 're-automate' after customer advocacy has been achieved?)
Success in this area simply isn't possible without the marketing technology (martech) we have to hand today — and there are beneficial changes here, too…
Shift #2: The Martech Landscape (Consolidating)
Any marketing team will be familiar with the over-abundance of available tech; it is both a curse and blessing.
Make the right choices, and harvest positive returns. The wrong choices may result in a lot of lost time and investment…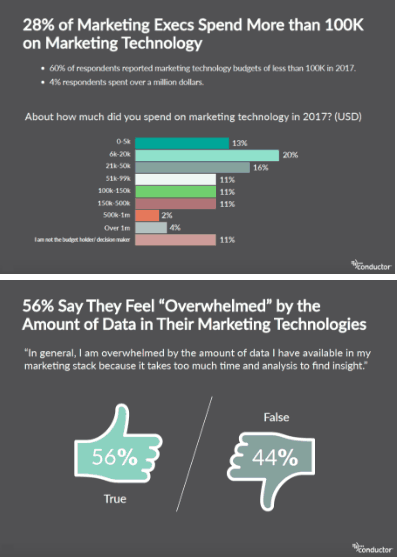 (Infographic Sources: Conductor)
"It is estimated that the average marketer uses 100 different pieces of software each month, and they don't even know 90 of them…"
(Source: ClickZ)
If only it were an easy task to select tools and actually make the most of each.
The story is no different when drilling down into Content Marketing-specific offerings.
Just check out the rather wide second column from the left — showing the crowded state of the Content Marketing / experience tech vendor space as of last year: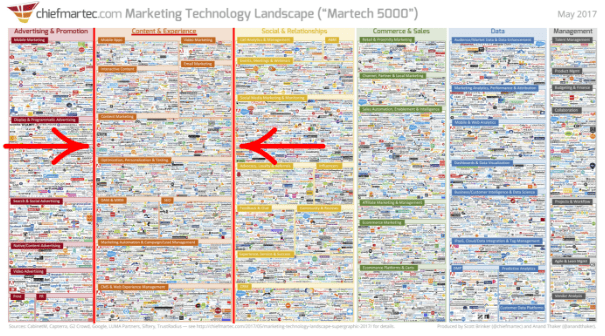 (Infographic by Scott Brinker | Full Graphic Here)
Thankfully, a relatively new Software-as-a-Service (SaaS) model known as Platform-as-a-Service (PaaS) is paving the way to simplified tech stacks.
I detailed vital SaaS trends here — but to summarize, PaaS is typically where bigger, renowned vendors like HubSpot, Marketo and Adobe expand their offerings to allow smaller / niche SaaS brands to build products 'on top' of their already-established industry platforms.
This comes with obvious advantages for all parties.
In addition, there have been a considerable amount of partnerships and acquisitions involving major companies…
Ken Parnham (General Manager for Europe at Near) was interviewed by Digital Marketing Magazine, in which he revealed a fascinating observation.
At the end of 2017, he forecasted martech consolidation and collaboration to continue:
"This year saw a spate of mergers across the marketing and advertising technology sectors; with a record-breaking 115 deals struck in the first quarter alone. Moving into 2018, consolidation momentum will continue at the same pace.
Falling martech stocks have brought company valuations down to a more realistic level, and for larger players, it now makes more sense to enhance capability by buying up smaller vendors."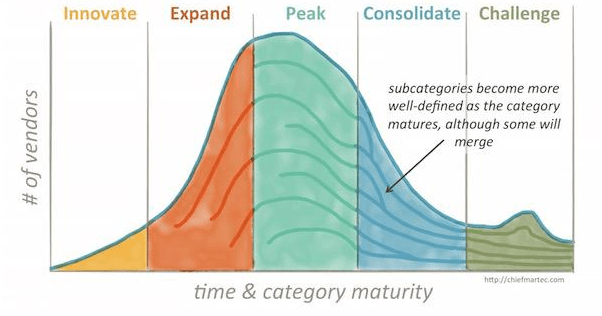 (Graph by Scott Brinker)
Forrester studies also align, and fairly recently:
Marketo bought ToutApp (personalized sales, content and analytics software)
Oracle bought Moat for a speculative $850m (an adtech measurement firm)
Snap Inc bought Placed for a reported $200m (a location-based marketing and analytics platform)

Importantly, this overall convergence trend spans martech, adtech and the particular subset most applicable here: Content Marketing Platforms (CMPs).
Forrester states that many current CMPs have significant B2B customer bases, describing their niche solutions in this way:
"CMPs help marketing teams collaborate on a content strategy; orchestrate the numerous, concurrent streams of activity by content creators, curators, and distributors inside and outside of the company, and optimize downstream cross-channel distribution to key audiences."
Popular CMPs to check out:
Interestingly, ScribbleLive also gobbled up Linkdex (a hugely successful SEO platform) and also Visually, in 2016 — another two examples of multiple heavy hitters in the content space now standing as one.
Expect to see more exciting developments as collective martech companies progressively combine specialties into 'mega SaaS' packages, fusing the management of core marketing activities into fewer digital interfaces.
The particular description of this scenario (below) is both accurate and humorous!
Note the inclusion of 'personalized messaging across all media':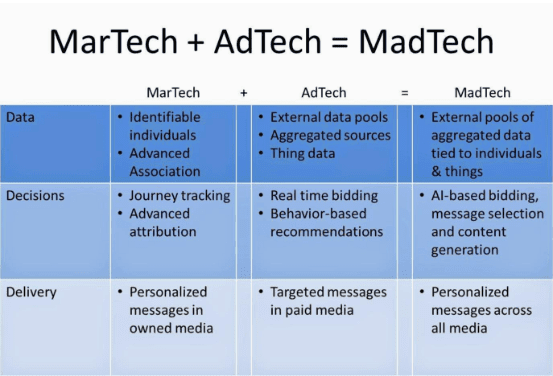 (Graphic & Terminology Source: David M. Raab)
[Keep an eye on big Content Marketing acquisitions and latest news here, and decide to either jump onboard with a CMP now — or await future 'holistic' mergers.]
The aim in 2018+ is to reduce the amount of tools in your tech stack, while ramping up content creation, personalization and distribution.
It's a winning formula.
Bringing us nicely onto the final big shift in Content Marketing!
Shift #3: Content Formats (Diversifying)
Diversifying yet requiring more focus, that is…
I'll explain more in a tick.
As the market matures, pressure mounts to get noticed — it's certainly not effortless.
Generally, whichever type of Content Marketing is trialed, it needs robust planning and adequate time to be optimized post-launch, before it performs as intended…
"It can take 12 – 18 months to see Content Marketing results."
(Source: Content Marketing Institute)
12 – 18 months plus the groundwork beforehand!
This long-term commitment can understandably cause strain if your B2B isn't well-prepared.
Even the most successful Content Marketing professionals in tech need to constantly adjust and adapt their strategies, as the eye-opening CMI study also discovered: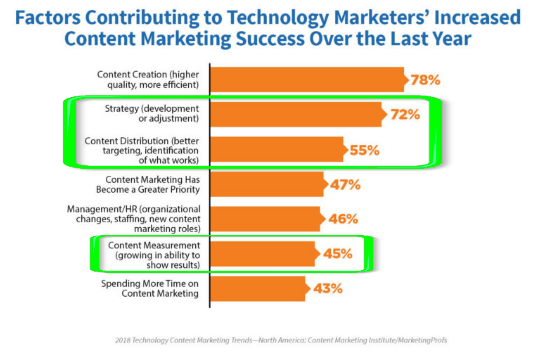 (Graph Source: Content Marketing Institute)
So, the burning question of efficiency: What content to apply, and how to disseminate it effectively?
It's never a one-size-fits-all job (as I'll soon reiterate) — but let's take a look at some of the latest B2B trends to guide any marketing strategy…
A massively insightful 2018 B2B Content Preferences study conducted by Demand Gen Report indicates the diverse methods of consumption that buyers favor today, with emphasis on a few main content formats per stage in the buyer process.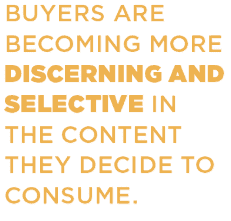 It continues to inform:
"As B2B purchases grow longer and more complex, buyers are becoming increasingly selective in the content they are consuming and the amount of time spent with each piece of content. To that end, B2B buyers continue to rely more on trustworthy sources, industry influencers and their peers to educate themselves…"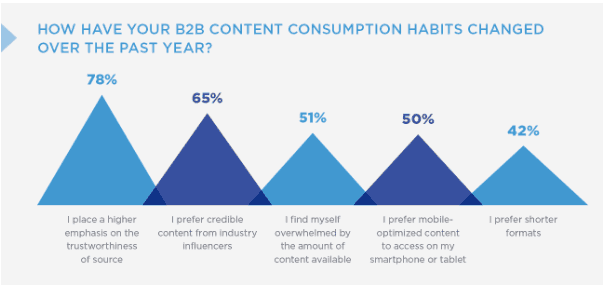 (Infographic Source: Demand Gen Report)
Evidence that again, trust is paramount.
And not only this conclusion is drawn — more than 50% of respondents are overwhelmed by the saturation of available material.
ACTIONS: Concentrate on reinforcing credibility, partner with like-minded industry influencers, and produce mobile-first content at a rate that suits your unique audience.
Further key highlights from the survey, wonderfully authored by Brian Anderson (polling answers from ~170 high-level B2B marketing representatives across multiple verticals) include:
Just under 50% of buyers rely on content to research and make purchase decisions
Over 60% said they prefer podcasts at the top of the funnel
Almost 50% said webinars were valuable to them in the mid-stage of their buying journey
Nearly 70% of buyers agree that companies should make it easier to access their content — from fewer form fields to single-click content downloads
The majority of buyers will spend no more than 5 minutes digesting most content formats — while it takes the consumption of 3 – 5 pieces before contact is made with a salesperson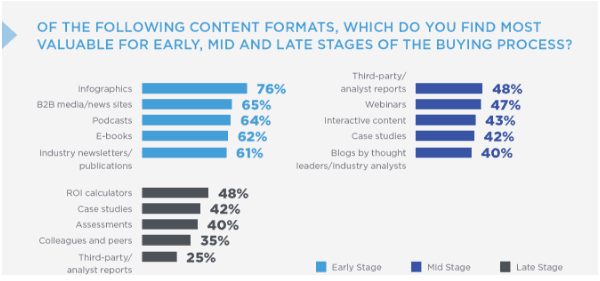 (Infographic Source: Demand Gen Report)
I highly recommend grabbing the entire guide for yourself (there's much more to see) — it's one of the best pieces of researched content I've come across to date!
This example in itself, is an apt demonstration of how truly epic content succeeds…
[Get the in-depth B2B Content Preferences Survey from Demand Gen Report right here.]
[And discover tons more Demand Gen Report B2B resources here.]
Hopping back to the data…
Interestingly, video isn't expressed very prominently (and not at all as a stand-alone format) in the above findings.
Yes, the hype around video is huge and justified — but let's not forget the amount of non-motion digital content that is still created and consumed every single day (to the tune of 5+ million blog posts)…
Reverting back to my first sentence of this final big Content Marketing shift:
Diversify with focus.
Fail to know your audience, and risk wastage…
Check out the amount of B2B marketers applying video as part of their content strategy: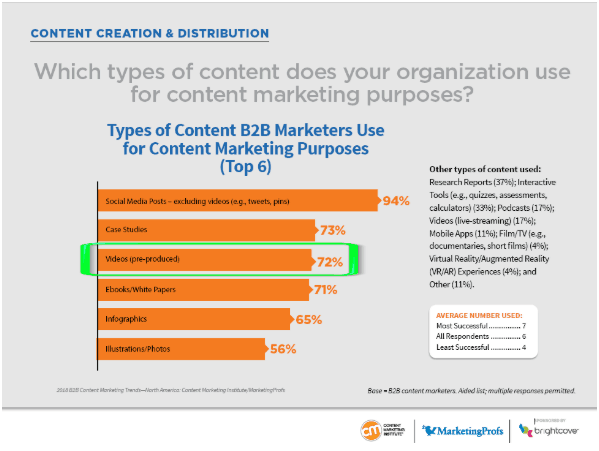 (Graph Source: Content Marketing Institute)
Bear in mind the respondents are also using live streaming and other video content, among an increasing array of formats (listed on the right-hand-side)…
Now take a look at their disclosed top-performing content types: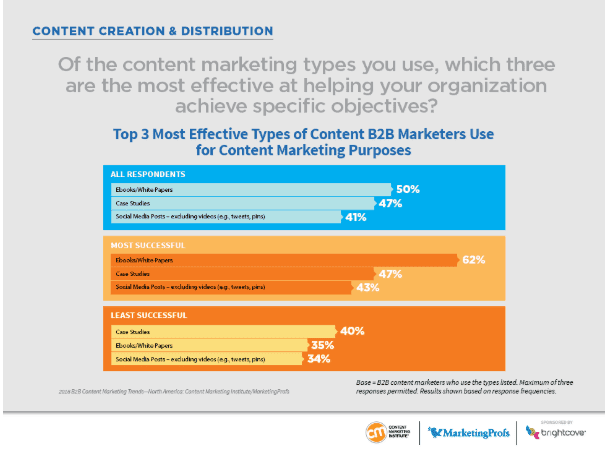 (Graph Source:Content Marketing Institute)
Video is nowhere to be seen in the top 3 achievers — yet 72% of studied B2B Content Marketers deploy it!
Of course, this finding could be the result of a number of shortcomings; lack of measurement and/or attribution of conversion credit across channels, no dedicated team, video marketing infancy…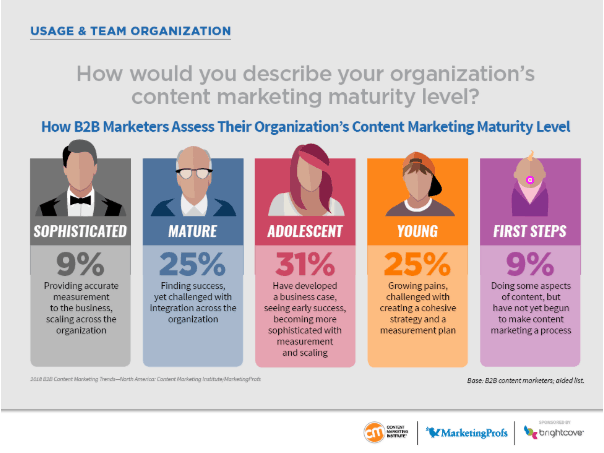 (Infographic Source: Content Marketing Institute)

…Or simply: Video isn't what their specific audiences prefer.
ACTIONS: Stay up to date with latest industry trends and the current state of content diversity, but jumping to build all new types of possible material (because everybody else appears to be) isn't beneficial to neither efficiency or growth…
Pin it down and deliver just a few content types insanely well, instead of many fragmented pieces done poorly.
Stick to content assets you know your audience wants, and experiment with fresh formats after sharing ideas with them / requesting their input.
Make your audience part of the process — it works wonders for loyalty!
BONUS STRATEGY 1
How about a smart, low-risk method to test new formats, like video?
Prolifically extend on whatever content already works very well by creating different formats on the same successful topics…
Think: Content repurposing on steroids.
It can be referred to as 'Big Rock Content', coined by LinkedIn's own Head of Content & Social Media Marketing (Jason Miller) at NewsCred's very own marketing event in London.
NewsCred (one of the most established CMPs mentioned earlier) covered the topic brilliantly, thanks to the company's Editorial Strategist (Nick Jones).
The visuals explain all!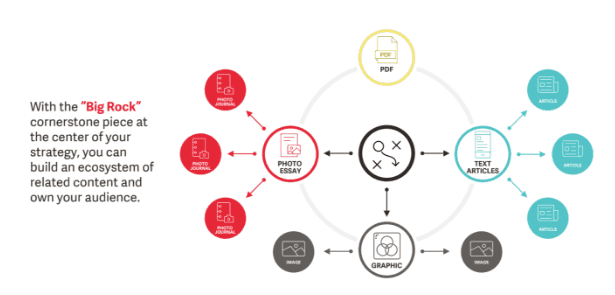 (Infographic Source: NewsCred Insights)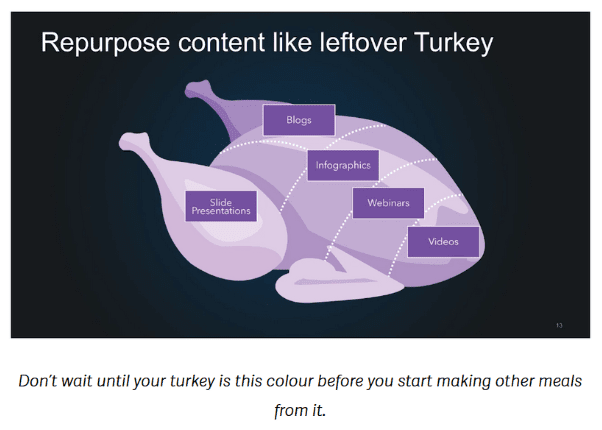 (Infographic Source: NewsCred Insights)
One of the best examples of this working model in the B2B marketing world?
Smart Insights uses a two-pronged strategy of sheer content value AND volume, together.
This UK-based company has seen rapid bottom line growth over the last couple of years — and clearly, the team realizes the major importance of Content Marketing (publishing multiple, phenomenal articles each day and packaging all media formats into an array of industry-leading 'toolkits'):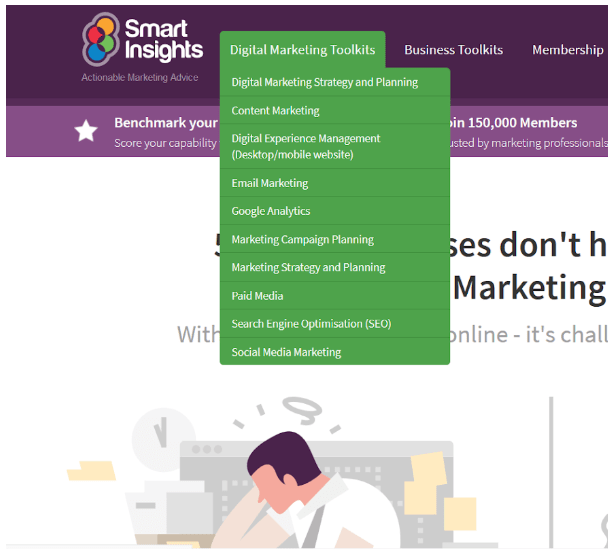 BONUS STRATEGY 2
Once you've focused your B2B content creation strategy to your audience and crafted in-depth, targeted assets…
What about gaining relevant visibility?
It's a vital step; one that commands industry knowledge and a thorough approach…
Content distribution is becoming ever more difficult as content supply progressively outpaces demand.
Getting noticed today can be an uphill struggle, no matter how striking your material.
To master the art of significant yet applicable content exposure, it pays to unify all the media options available per every piece of content: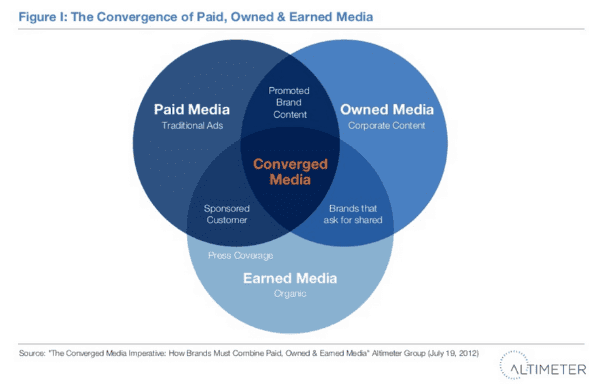 (Infographic Source: SlideShare via Altimeter)
This methodology isn't just a model for your Content Marketing, it shapes your internal processes and team structure — breaking down any silos along the way.
Isolated marketing will always lose against competition applying converged media that dominates the battle for attention…
Discover how to clarify your B2B content distribution strategy (along with all the modern tech + tools to help you deploy it), right here: